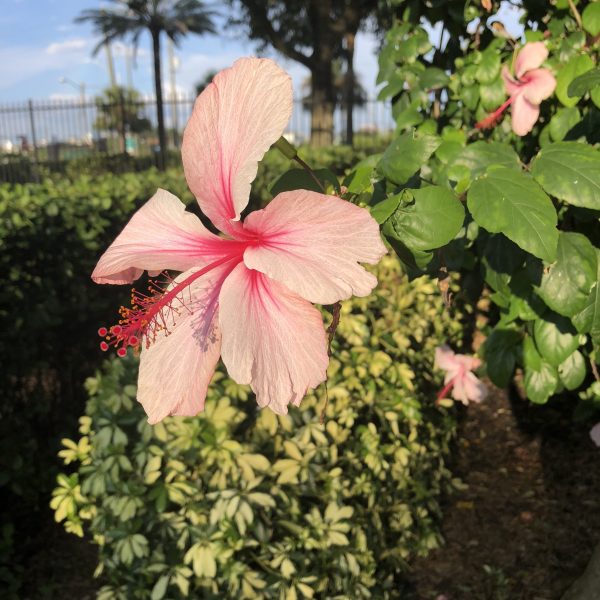 Loving… that I finally sold my sectional! I listed my sectional for sale the first weekend in September and I heard crickets for weeks. I kept lowering my asking price, took some better photos, but still, nothing. Until last weekend, when all of a sudden, I received a flurry of messages inquiring about it! I finally sold it to a woman on Saturday, and she and a few friends came by to pick it up. And, just like that, no more sectional! I'm really glad it's finally gone – my apartment feels so much bigger now! I've ordered a new couch, but it's going to take six weeks to get here. Womp!
Loathing… the heat. Oy vey, September is always a fairly miserable month in Florida because the heat is always so intense. We're regularly seeing heat indexes over 100 degrees with UV levels in the high to extreme range. And forget about the humidity. It's not fun. Very thankful for air conditioning, both in my car and in my apartment. (I always seem to forget that AC isn't a given in every part of the country. You'd never rent/buy in Florida without central AC!)
Watching… not much lately. Wednesday was the Big Brother season finale, and I was really, really happy with the person who won. But I'm not really sure to do with my time now that I'm not watching Big Brother three nights a week and scouring Reddit forums for theories. Maybe I'll be able to finish season three of Mad Men before the end of the year, heh.
Listening to… the Presidential podcast. Has anyone listened to this? It's a documentary-style podcast about our presidents – going chronologically, each episode explores a president, how he got into office and the legacy he made. It starts with George Washington and ends with… well, you know who it ends with. It's fascinating and I love that it's not too dense and is easy to digest. However, it's not a podcast I can put on in the background while I'm working. It requires active listening, so I typically listen to episodes while I'm on a walk. The podcast originally published in 2016, so I'm a little late to the game, but wanted to throw it out there for anyone looking for an interesting podcast to listen to!
Anticipating… finally getting a kitten! I think I am ready to start making the serious preparations to welcome a new kitty into my life. I've been emailing back and forth with a catpert (I trust you to figure out the portmanteau) to figure out exactly what I need and what I should expect. As someone who has never owned a cat, I am flying blind, so it's nice to have a catpert to help me figure this all out! I am planning on placing a big order on Chewy.com today and maybe even visiting a shelter to scope it out this weekend. Maybe. (Also, my catpert has brought up the idea of welcoming two kitties into my life, instead of one. Please leave your argument for or against this decision in the comments.)
Grateful… for all the time I get to spend with my mom. Lately, I've been realizing how special our relationship is and how lucky I am to have her as my mom. I've always known that we have a one-of-a-kind relationship and that not many women get to have this type of closeness with their mothers, but it's just been hitting me at different moments about how amazing our friendship is. She's always been my most favorite person to be with, and I feel like our bond is just growing stronger as the years pass. It's a beautiful thing.
Needing… to upgrade my workout clothes. Most of my workout clothes I've had for years and years (I won't even tell you how long I've had one of my sports bras…), and it's just time to start replacing the clothes and buying stuff that makes me feel really good. I'm not talking about dropping a ton of money at Lululemon (I doubt they have my size anyway, sigh) (that sigh is towards Lululemon's terrible sizing standards, not towards my own size), but just finding shorts and tanks that make me feel comfortable and confident when I wear them.
Tell me something you're anticipating right now!