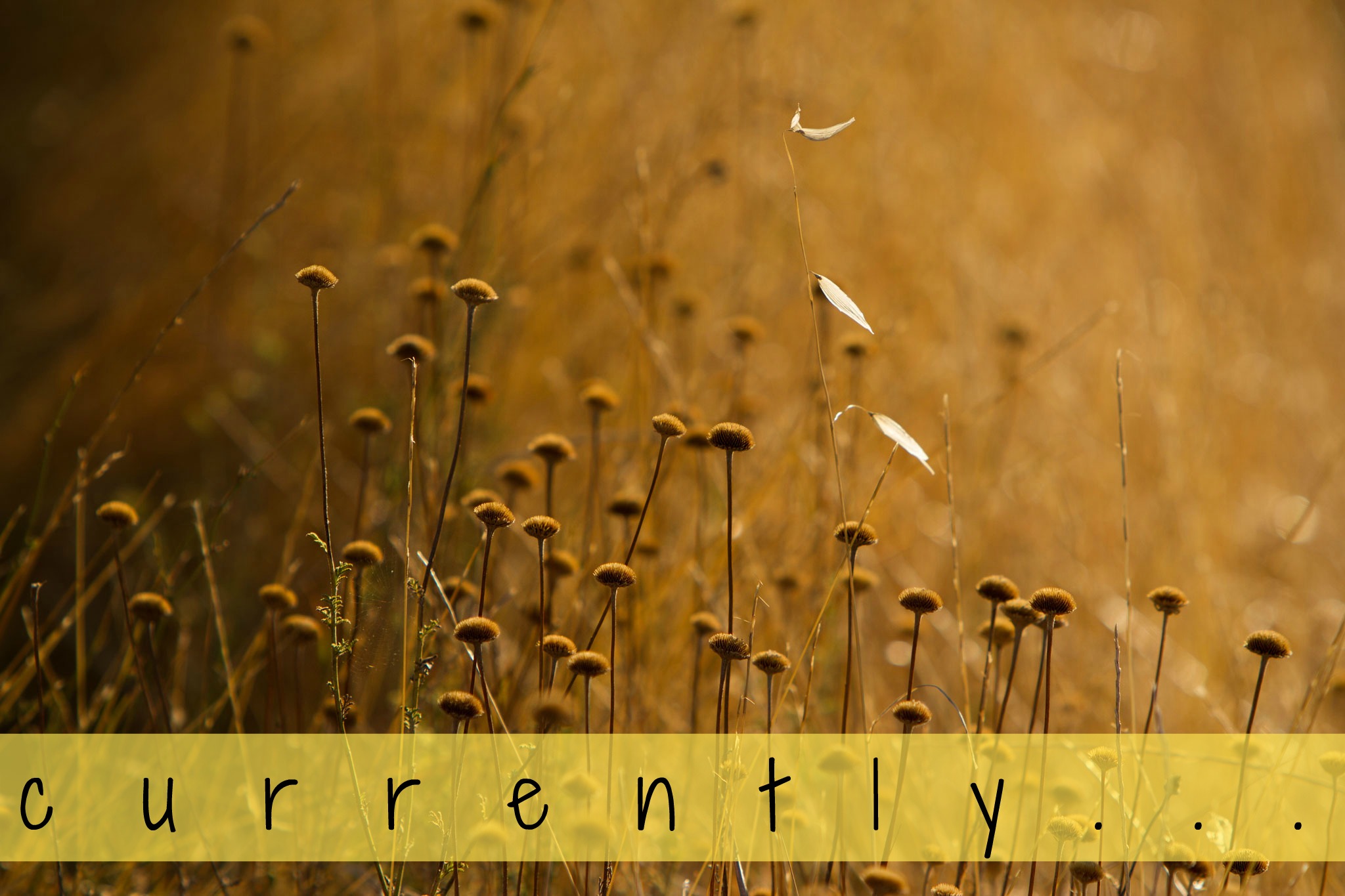 Happy Monday! I hope everyone had a wonderful weekend. Mine was rather low-key, but I managed to sneak in two long naps, two long workouts, Scandal bingeing, and lots of cleaning and organizing. Let's kick off the work week with a fun currently post to see what I've been up to, eh?
Feeling…  sore! I pushed myself hard in my workouts this weekend, getting in both cardio and strength workouts. I made up two different circuits, one for the lower body and one for the upper body, so I could do them on back-to-back days without working the same muscle groups. Between all the squats, lunges, burpees, mountain climbers, shoulder presses, tricep kickbacks, push-ups, and bicep curls… I am hobbling around like an old lady. Walking is hard, sitting down is hard, opening a door is hard, rolling over in bed is hard, using a mouse is hard. But it feels oh so good. I love strength training SO much!
Reading… The Husband's Secret by Liane Moriarty for book club. I hadn't heard about this book at all, until one of my friends brought it up as a suggestion during our January book club meeting. And then I started hearing about it everywhere! Isn't it funny when that happens? I'm only about 150 pages in, so I don't have an opinion yet, but I do love the author's writing style. Very personable!
Watching… the latest Scandal episodes! This weekend, I got completely caught up on season three and whoa, it's a crazy one. There's so much drama! And intrigue! And I never know what's going to happen next! I am hooked, you guys. (The best part, though, has been texting with Amber since we're both catching up on the show and having someone to go to with "WTF was up with THAT episode?!" Ha.)
Anticipating… MY NEXT CRUISE! It may seem like this was a spur of the moment decision, but I've been canvassing the Carnival site for months now looking at cruises. My mom and I decided on a 5-day cruise that leaves in early May. It will travel to Key West and to two stops in the Bahamas, Freeport and Nassau. I am just. so. excited. I really, really needed something fun and exciting to look forward to. We probably won't go too crazy with excursions like we normally do (and there's really not a ton of interesting Bahamas excursions, to be honest), but five days of sun, relaxation, and getting away with my favorite person? The best.
Listening to… Can't stop, won't stop with this song by one of my favorites, Christina Perri. I am so excited about her upcoming album.

Planning… to start my first (paid!) freelance writing gig very soon. An opportunity came up this past week and it was the perfect timing for me.  Perhaps I can finally get that freelancing side hustle going this year, like I keep saying I'm going to do?
Wishing… for my tax refund to be deposited! I'm hoping it will come sometime this week so I can get those darn credit cards paid off. I know I will feel so much better once that happens. Plus, I'm putting some of my debt goals on hold for the rest of February/March to pay for my cruise (I know – I will never be the poster child for personal finance, but whatever, I need this cruise for my mental sanity.) so that will help me to feel a little less of a slacker.
Thinking…  a lot about healthy living. I'm writing a post about this for Wednesday, but I feel like I always start off the year super motivated and energized and then it all feels overwhelming and eating healthy day in and day out seems so dang hard. And that's when I lose it and just give up. But I am committed to my health and to losing weight, and I know I cannot give up, even when every day, hour, minute feels like a challenge against myself. My health is too important! When it's difficult, that's when I have to dig in and find some place inside me to keep fighting. One quote I keep coming back to is one that Nicole of Life Less Bullshit said in her goal-setting workbook: big, sexy change happens one unsexy step at a time. I'm in those unsexy, annoying, hard steps but that just means my big, sexy change is on it's way.
Loving… lazy weekends, sunny days, Dr. Pepper, after work bubble baths, vacation anticipation, getting organized, Project 365, and the sweetness of a silly crush.
How was your weekend? What are you currently reading and/or anticipating?