Prepare yourselves, friends! Today's post is going to be a long one, but it's one I've been wanting to write for a long time. As I've mentioned before, I am a voracious listener of podcasts. I started listening around February or March of last year, and it's an obsession. Currently, I have 26 shows that I am subscribed to and I can only see that list growing and growing. I wanted to take the time to recommend some of my favorites to you guys, just in case you a) want to start listening to more podcasts but aren't sure where to begin, or b) are as obsessive about podcasts as me and want more shows to add to your feed. I've broken these down by categories, so enjoy!
Interview-style podcasts

> The Lively Show: Blogger Jess Lively interviews guests all about their lives and work, with an emphasis on intentional living. She has an eclectic mix of guests (the variety has been even better in the second season, which I appreciate) so she's not just interviewing bloggers and creatives, but also business leaders, authors, and nutritionists. Her interviewing style is unique, which is what I love about this podcast. I take away something to reflect on from each episode.
> Death, Sex & Money : Host Anna Sale interviews famous people and regular people about their thoughts on – you guessed it! – death, sex, and money. (As the tagline says: "the things we think about a lot, and need to talk about more.") I love the variety of guests she interviews – one week it might be Jane Fonda and the next week just some regular girl talk about her father's death. And, like Jess, she has such a unique interview style where she asks tough questions that other people would probably shy away from.
> Nerdist Podcast: One of my long-time favorite podcasts! Comedian Chris Hardwick interviews famous celebrities about how they got to where they are today. Definitely one to listen to if you're into comedy.
Chit-chat podcasts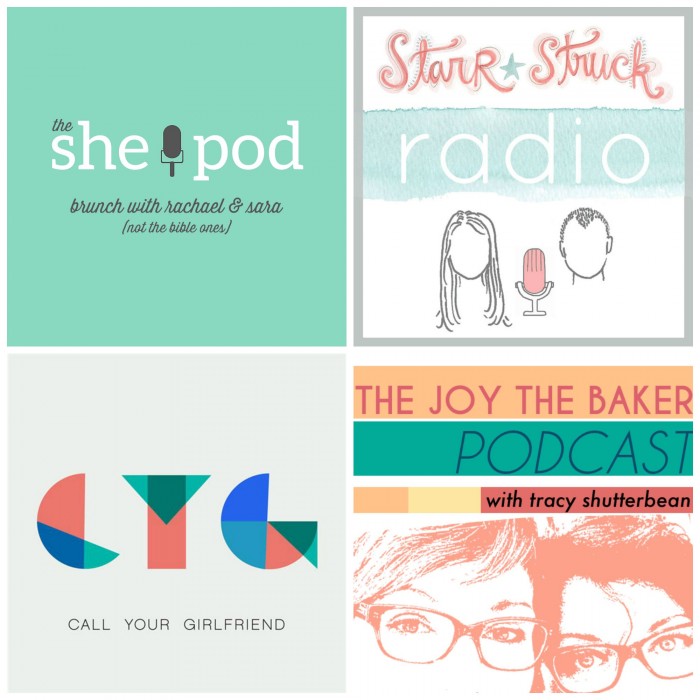 > The Shepod: Two girlfriends living in L.A. (Rachael and Sara) come together every Sunday for brunch and chit-chat. They talk about what's going on in their lives, as well as what made their "gross list" for the week and take a look back to some "90's nostalgia." All in all, it's 45 minutes of fun and I love sitting down with these girls once a week!
> Starr Struck Radio: A married couple – Mary Catherine and Ben – come together once a week to discuss "adulting" topics, like the challenges of buying a home, whether or not to have kids, and being an effective manager of your time. I really like the male perspective this show brings because so many podcasts in this vein are female-focused. Having the two perspectives provides a balanced look at the topics, and they are just really fun together.
> Call Your Girlfriend: Two long-distance besties sit down twice a month to chat about what's going on in the world. There's an emphasis on pop culture and feminism, which I appreciate, and I just enjoy their back-and-forth dialogue.
> The Joy the Baker Podcast: One of the first podcasts I ever started listening to and I love it so. Two friends and bloggers – Joy and Tracy – sit down for hour-long chats about… anything, really. It's always so random and the two of them are hilarious together, so I giggle throughout each episode. Their shows have been few and far between lately (I think they've only recorded 4 podcasts this year…) but I'm a loyal subscriber, so anything I get from them makes me happy!
Storytelling podcasts

> StartUp Podcast: This follows different startup companies through the trials and tribulations of forming and developing their company. The first season, which I'm listening to now, follows Alex Blumberg as he starts his podcasting company, Gimlet Media. I didn't think I'd get sucked into this show as much as I have because business podcasts aren't my thing, but I love the storytelling format and love the honesty with which Blumberg tells his story.
> Serial: I mean, if you don't know what this podcast is about, I welcome you back into the land of the living. Listen. Now. Before you do anything else. This is the best podcast out there, hands down!
> Undisclosed: The State Vs. Adnan Syed: This podcast is basically a spinoff of Serial, where Rabia Chaudry (the one who brought Adnan's case to Sarah Koenig of Serial) along with two law experts, Susan Simpson and Colin Miller, revisit Adnan's case, piece by piece, revealing new information as they go along. The first few episodes were a little shaky, but it's gotten really good as they've found their footing and they've revealed some startling information that wasn't covered in Serial.
Bookish podcasts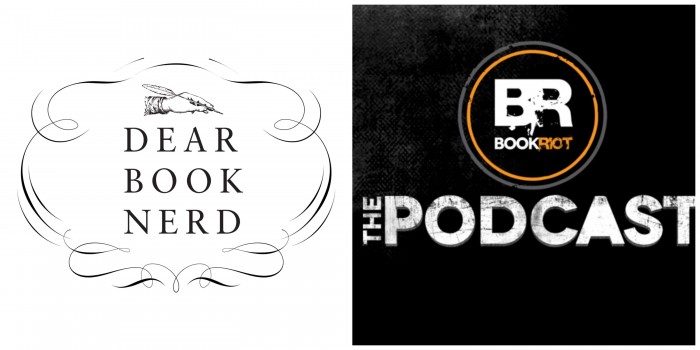 > Dear Book Nerd: Librarian Rita Meade, along with a guest co-host, answers listeners questions about "life, love, and literature." There's always such an interesting mix of questions, and Rita has made the podcast a safe space for listeners to ask any type of question.
> Book Riot – The Podcast: The editors of Book Riot.com come together for an hour-long podcast each week, talking about what's new in the world of books and publishing. They can sometimes go off on tangents and I find their ad spots to be way. too. long., but in general, I enjoy the hosts and their camaraderie.
Educational podcasts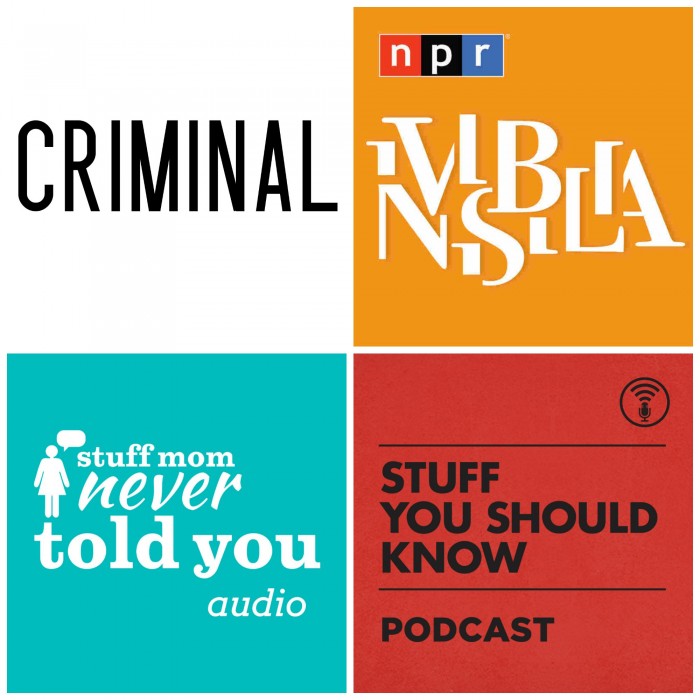 > Criminal: A podcast that explores all facets of crime and criminals. It tells the story of people who have been wronged and people who have wronged others. It's a fascinating look into the human psyche!
> Invisibilia: A show from NPR about the invisible forces that affect human nature. Some of the topics covered in their first season: what would it be like to live a life without fear, whether our thoughts have a bearing on who we really are, and how expectations can limit or empower us. Such a powerful podcast and I am on pins and needles waiting for season two!
> Stuff Mom Never Told You: A podcast all about women! I love the hosts and I love the range of topics covered – from women explorers to pregnancy to the Golden Girls. If you're looking to learn more about feminism and womanhood, I'd highly recommend this podcast.
> Stuff You Should Know: Consistently one of the best podcasts on my feed. I love Josh and Chuck and I love how I get to learn about the most random topics. Like circus families. And BASE jumping. And ocean currents. Always informative and always very well-researched.
Miscellaneous podcasts

> Mystery Show: A new show from Gimlet Media where the host, Starlee Kine, takes on random mysteries to solve. It's a little silly, but really entertaining. And Starlee is just adorable and funny and I want to be more like her.
> Happier with Gretchen Rubin: I am not a huge fan of Gretchen Rubin the author (I know, burn me at the stake), but I am a huge fan of this podcast! Gretchen and her sister, Elizabeth, get together once a week giving advice on happiness and good habits. I can relate to Elizabeth a lot, which is what I think I love most about this podcast.
> Dear Sugar Radio: Cheryl Strayed and Steve Almond bring back their advice column, Dear Sugar, in the form of a podcast. The questions cover all sorts of topics, so it's not just about relationships or marriage and family, but also about finances and friendships and personality issues. I always walk away from an episode having learned something, either about myself or the world.
Whew! There you have it. My favorite podcasts right now, broken down by category. Maybe I'll revisit this post in another year to see how my podcast tastes have changed. 🙂 If you're a podcast listener, do you have any shows to add to my list? (Because I obviously need more shows to add to my list… haha)