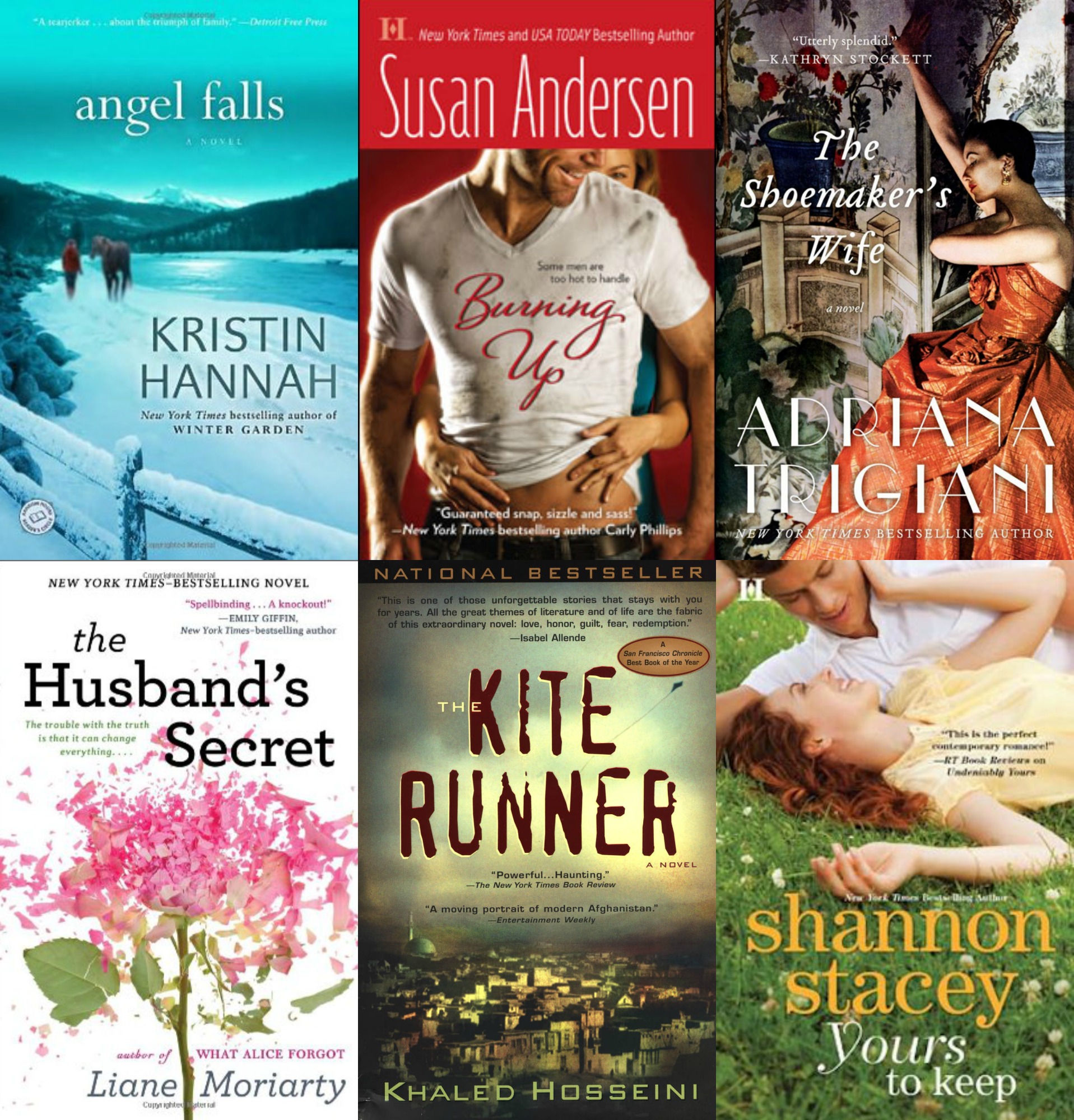 It's time to recap what I read in February. I read another six books this month, bringing my total to 12. I need to pick up the pace a little to reach my goal of reading 75 books, but I'm doing okay. This month, my favorite book was The Husband's Secret and my least favorite was probably The Shoemaker's Wife.
1. Angel Falls by Kristin Hannah (4 stars)
This was a hard, heavy read. It involves a mother, Mikaela, who goes into a coma after falling from her horse and being kicked in the head, and the effect it has on her family. The main voices are her husband, Liam, their 9-year-old son, Bret, and the woman's mother, Rosa. All three of them are such well-written characters and I felt myself falling into this story easily and intrigued to find out the outcome of the story. Throughout the pages, Liam discovers a secret Mikaela has kept hidden for years: the fact that she was married to movie star Julian True. It's a story about the power of love, the sacredness of marriage, and the cost of keeping secrets. I really, really love this author.
2. Burning Up by Susan Andersen (3 stars)
I read this in the midst of reading Angel Falls, because I needed something light and cute and romantic to even out the sadness of the other book. It was the perfect break, too! Burning Up is just one of those easy, cute romances with a hunky leading man, adorable leading lady, and interesting plot that made me keep turning the pages. I enjoyed it!
3. The Shoemaker's Wife by Adriana Trigiani (3 stars)
This was probably one of my favorite reads of Trigiani's, right up until the last 100 pages. It followed the journey of two Italian immigrants, Enza and Ciro, and their unlikely love story. Ciro has to go to America based on a scandal he's a part of and falls in love with the art of shoemaking, while Enza comes to America with her father to help her family (who lost their home and was struggling to make ends meet). Through a series of incidents, they both make a life there: Ciro as a shoemaker and Enza as a factory girl turned dressmaker. They make friends, experience life-changing events, and find themselves always coming back to one another. I feel like the last 100 pages simply dragged on and on, and certain events happened I wasn't a big fan of, but it was still an interesting story and an enjoyable read.
4. The Husband's Secret by Liane Moriarty (5 stars)
I loved this book. I hadn't heard of it until someone at book club mentioned it as a possibly pick to read, and then I started seeing it all over the place! Funny how that happens. This book weaves together the lives of three very different people: Cecilia, mother of three with a seemingly content, if boring, life; Rachel, a middle-aged woman still trying to get over the loss of her daughter some twenty-odd years ago; and Tess, whose husband and best friend just announced they are in love with one another. I was immediately drawn to this book and these characters from the beginning page until the last one. There were times when I laughed, times when I was shocked, and times when I was deeply saddened. I loved Moriarty's writing style and the easy flow of her words. It was poignant and moving, but also refreshing and fun. I highly recommend this book!
5. The Kite Runner by Khaled Hosseini (4 stars)
A couple months ago, I found this fun reading challenge of reading every book that was either read or mentioned by Rory Gilmore on Gilmore Girls. I'll admit that I've never seen the entire Gilmore Girls series. (I'm trying to rectify that!) But I saw enough to fall in love with Rory and when I found this challenge, I knew I wanted to attempt to complete it. So I marked 10 books in Goodreads that I want to read this year based on this list and The Kite Runner was the first book I completed. It was an easy decision to add this book to the list because A Thousand Splendid Suns by Hosseini remains one of my favorite books of all time, and I've been encouraged by others to read this one.
I really enjoyed this book, though it was by no means an easy read. But it was an important one. I'm still trying to process it. Hosseini's books are ones that stay with you for a long time. It's a story about bravery and cowardice, the quest for approval, friendship and honor, love and family. It's a book that was hard to pick up at times, but I still couldn't help falling into the story, the characters, the heartbreak and the triumph. I highly recommend reading anything by this author. He's an amazing storyteller.
6. Yours to Keep by Shannon Stacey (4 stars)
This was a cute romance novel to round out my month with. It was fairly predictable, a little cheesy, and not overly hot. (I like when my main characters have sex appeal that just oozes off the pages. OOZES!) But it was still enjoyable and easy to read. I like her books!
What was your favorite read for February?