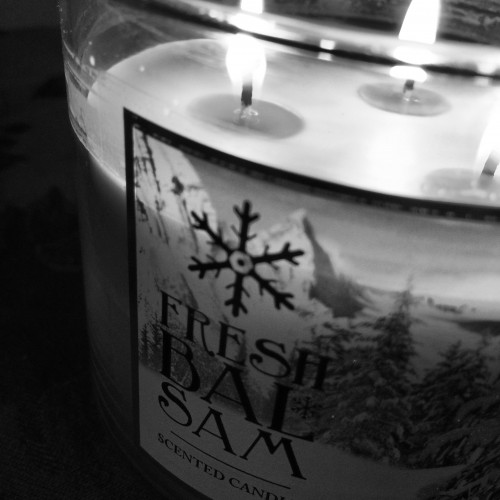 1) I started listening to Christmas music this week. I've also been lighting the above candle since this weekend. Go ahead, judge me. I don't really care. I felt like listening to Christmas music, so I am. I've never listened to Christmas music this early in the season, but it just felt right. And who says Christmas music should only be played in December? Embracing Christmas this early doesn't mean I'm overlooking Thanksgiving… it just means I'm extending the holiday season. Right? Right. And, hey, at least I don't have my Christmas tree up! I'm not that bad.
2) I take back everything I said about Scandal in last week's Five for Friday post. I actually waited until yesterday to watch last week's episode and then I had to immediately watch this week's episode. Hoooooly crap. After a lackluster start to the season, it has picked up in a crazy fashion. The ending to last night's episode was just… whoa. How are they going to top it for the winter finale? HOW?! Gah. This show!
3)  My Savannah trip is coming up quick! With being busy at work and dealing with other life happenings, I haven't had time to even anticipate it! I leave in two weeks and have done absolutely zero to plan for it. Well, I did book the hotel so there's that. Thankfully, the oh-so-lovely Jess sent me an email with a huge list of restaurants and things to do that she used when she planned her Savannah trip last year. I'm going to do some planning this weekend, which will hopefully ramp up my anticipation levels, too!
4) I think I might try doing Week in the Life next week! I really liked following along with the other bloggers who participated in this project. Sure, my life isn't incredibly interesting on a daily basis, but it's my life and I think it'll be fun to document what goes on! I do Day in the Life posts every once in a while, but Week in a Life will be a whole 'nother beast. Should be fun!
5) This weekend, Dutch is running his annual "Running of the Wieners" race! This will be his third year running. He's in the Senior Sausage division (other fun names for the divisions include Baby Brats and Little Links!). He's never won in his heat, but he came very close his first year and just got totally confused his second year. Third time's the charm, maybe? I'm just excited to be surrounded by dachshunds for a few hours!
Are you in the Christmas spirit yet?