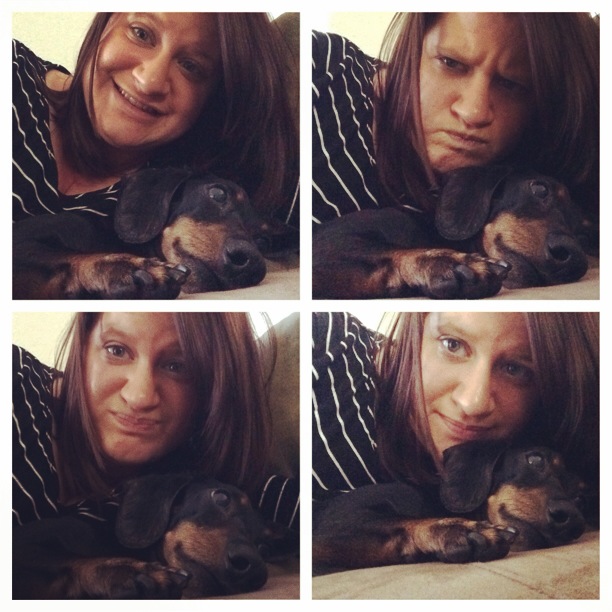 1) For the past three weeks, I've been having a smoothie for breakfast and I think I can safely say I enjoy smoothies now! I've never been a huge fan, because they either had too many fruit bits swirling around (fruit bits make me gag… this is also why I don't really love yogurt) or I got sick of the taste after a while (I'm looking at you, green monster smoothie!), but then my mom showed me a recipe for an easy-to-make, sounds-delicious smoothie and I am a fan! The recipe is super simple: just pineapple-orange juice, water, protein powder, and some frozen fruit. Voila! I've been blending up a bunch on Sundays, freezing them, and popping one out in the morning to defrost and have for my mid-morning snack. (I was defrosting it overnight in the fridge, but I found I enjoy the smoothie more when it's still ice cold!) I have my eye on this chocolate peanut butter smoothie, which I think I will have to make very soon. (After Lent, of course. GAH.) (But! Chocolate for breakfast! CHOCOLATE! FOR! BREAKFAST!)
2) My friend Krysten sent me a pin of this shirt the other day and how perfect is it? I have to buy it. There's really no other answer than that.
Image found here. They have so many awesome t-shirts!
3) 51 days to go until my cruise! I can't even tell you how excited I am for this vacation. I need it so, so badly. Can you believe I was going to go this entire year without a nice vacation? Psht! I know some people may not understand why I decided to book a vacation when I have some major debts hanging over my head but the truth is, I need this more than anything. I need to get away and hang out with my favorite person for a week. And I am SO looking forward to nine days away from my job, which I do enjoy, but holy god, I am looking forward to not thinking about writing or SEO or keywords or anything Internetty for nine days.
4) I've been dealing with Impostor Syndrome all week. It's a terrible feeling, really, because it makes me question everything I do and feeling as if the rug is going to be pulled out from under me at any moment. And there is the chance that the feelings I'm internalizing are overexaggerated and all in my head, but it's hard when you're a naturally anxious person to not take one little comment and run with it so far that you start imagining what unemployment will be like. At my last job, I lived in a constant state of anxiety for close to a year that I was going to be fired at any moment (even though I never had a bad complaint for any of my bosses!). If my boss was in a closed door meeting with my other boss for longer than five minutes, I would have literal panic attacks that they were talking about firing me. I guess the acronym for fear is accurate: false evidence appearing real. I know this fear comes from the time when I was fired from a position (well, an internship) so I know that feeling of deep disappointment and distraught so well. I never want to feel that way again. So it's easy for me to internalize any negative comments about my job performance (even constructive criticism that only serves to make me a stronger writer) and go into a downward spiral about being fired. I know it's all in my head, but it's hard to get out of there once I'm spiraling.
5) Weekend plans? I have none! I am actually very happy about this, because I've been feeling very overwhelmed by this week. Sometimes, day-to-day living just feels hard, doesn't it? I'm really looking forward to some downtime and a weekend of relaxing. Perhaps I'll spend an afternoon at the pool, make a new recipe, binge on episodes of Friday Night Lights, work on my WIP, or read a trashy romance novel. Who knows! It's all up in the air and for that, I am very thankful.
What are your weekend plans? What's your favorite smoothie combination?