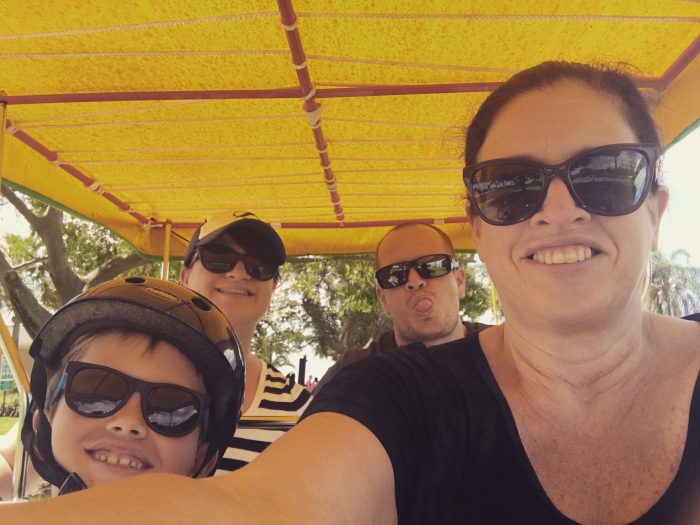 1) This past weekend, we had a belated Mother's Day weekend in downtown St. Pete. My mom wanted to rent a surrey and bike down the waterfront and then have lunch at The Hangar, so that's exactly what we did! My brother and his family came, but with my youngest nephew being newly one, he was too young to ride in the surrey, so he and my sister-in-law stayed behind. (We caught her on our way back, so she and my mom switched off – her in the bike and my mom with the baby!) My nephew was too short to reach the pedals, so we put him in charge of ringing the bell to alert people on the sidewalk that we were coming, which he did with gusto! Ha. The bike ride itself was so, so, so much fun! I'd love to do it again sometime soon. It's fun to be a tourist in your city!
2) My faithful $17 sunglasses from Target broke last weekend. I've had those sunglasses for four whole years and I counted – we went on seven cruises together! That's a pretty impressive lifespan for such a cheap pair of sunglasses, since I've never had any pair last that long. Alas, those sunnies did their duty and thankfully, I have a backup pair because I cannot handle the sunshine without sunglasses. (There's actually science as to why!)
3) I'm almost finished with season 2 of Unbreakable Kimmy Schmidt. I feel about season 2 the same way I felt about season 1 – it's good, but it's not great. I'm just not a fan of the over-the-top humor and while it was funny for a few episodes, I'm now 10 episodes in and I find my interest waning. Meh. I hear there's a season 3 in the works, but who knows if I'll even watch it.
4) I'm using MyFitnessPal this week, strictly for informational purposes. Calorie counting makes me crazy, but so does not feeling my best and, honestly, I haven't been feeling my best lately. Inputting allll of my food this week has been eye-opening and I'm realizing that I need to make some changes to my diet. I'm not exactly sure what that will entail yet because I want to do another week or so of simply collecting data on my food behaviors, and I want to be sure the changes I make are made intentionally and are values based, not results based.
5) This weekend, I have a date night with my mom planned for this evening (we're driving to Brandon to pick up our race packets and she told me if I drive to the location, she'll buy me dinner – SOLD!). Then, on Saturday, I'm taking my car for an oil change and that night, my mom and I are driving to Lakeland for the ColorBuzz 5k. And Sunday should be a low-key day where I'll hopefully sleep in and get lots of writing done!
What are your weekend plans?