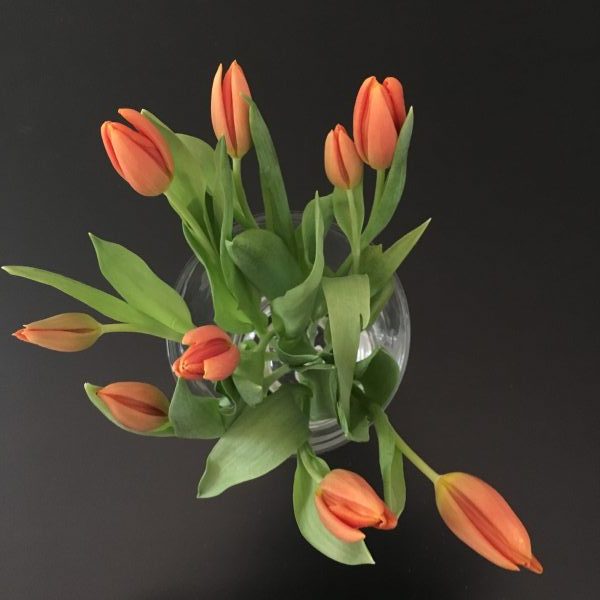 1) My grandpa (Pops) had back surgery last week. The surgery went well, and now he's in a rehab facility to regain his mobility. He's doing amazing, though it was tough to see him in so much pain in the days following his surgery. (I'm not used to seeing my tough Pops in pain!) I'm trying to visit him as much as possible, and my mom is his main caretaker so I'm also trying to be there for her, too. I like to think I'm doing a small part to give back to him after he spent 8 years helping my grandma through cancer and being the world's best husband to her.
2) I've been feeling overwhelmed lately. I can't remember the last time I had a plan-free weekend… or spent an entire day solely at home (<- my favorite activity). In general, I'm rushing from place to place every weekend and I'm slowly but surely burning out. I've managed to schedule enough downtime so that my introvert battery isn't completely depleted, but if I don't get a weekend to myself soon, I'm going to lose it. This weekend was supposed to be my quiet, mostly plan-free weekend, but it soon filled up with time visiting Pops, a hair appointment, freelance work, and going downtown to watch a movie with some coworkers. Oh, well. I'll get my plan-free weekend sometime soon.
3) My mom and I are planning a trip to visit NYC! We have wanted to go since 2011, when I chose a cruise over a trip to NYC as my college graduation present. (Zero regrets.) We're going to go the first weekend in May for a few days, so the trip is still a while away, but I'm really looking forward to it. I want to do all of the touristy things, like visit the Statue of Liberty and Central Park and Times Square. We're going to splurge on Broadway tickets to Wicked and hopefully not get lost using the subway system. I'm simultaneously over-the-moon excited that I'll finally get to see NYC and out-of-my-mind terrified because ah! Big city! Big cities are scary!
4) Most likely, I'm going to join a gym next month. Ever since I moved, I haven't been able to get into a good workout routine. My apartment gym is tiny (it has one bike, one elliptical, and one treadmill) and doesn't open until 6am, so I couldn't work out in the morning and never seem to make it over there in the evening. For a few weeks, I was doing Couch to 5k, but I don't like being alone outside in the early morning because it's so dark and I have to be on the lookout for raccoons raiding the dumpsters around the community. So, I think it's time to join a gym so I can have a normal workout routine again. I toyed with the idea of OrangeTheory, but it is so expensive (over $100 for their monthly fee, which only includes 8 sessions a month). Luckily, there's an LA Fitness three miles from my apartment, and I'll probably join that gym soon. It's only $30 a month and I'll get to have group fitness classes like spin and BodyPump back in my life. Hooray!
5) Did you hear the amazing news? Goodreads finally has a rereading feature! I don't have many complaints with Goodreads (in fact, it may be my favorite form of social media; sorry Instagram), but I continuously wished for a rereading function because I tend to reread a handful of books every year. The problem is that I either couldn't count it toward my Reading Challenge or I would have to change the date read and just make a note of reading dates. I'm currently rereading a romance novel and my next book is a reread (the last Harry Potter book!), so I will be taking full advantage of this feature this month. YAY!
Have you ever been in NYC? Got any good tips (mostly looking for restaurant ideas – Mom and I are not foodies!)?