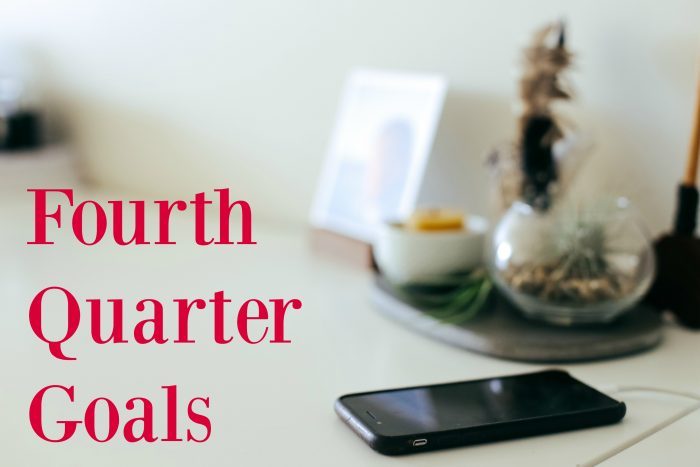 It's the last quarter of 2016! I can't believe how fast this year has flown by, but looking back on the past nine months, I'm pretty satisfied with how this year has turned out for me. I took a cruise, moved into my own place, started a freelancing side hustle, put lots of money towards my debt, and just… settled into myself. I feel really good about who I am right now. I'm finding myself less and less concerned about not hitting the milestones I thought I'd hit by the end of my twenties and more excited about where I am and what the future has in store for me.
So, before I jump into my goals for this quarter, I need to take a look back on the third quarter of 2016 and the goals I set:
1) Write at least 20,000 words in my novel. Incomplete.
I made some progress in my novel, but then fiction writing took a back burner when I started looking for freelance writing jobs. And then, as I tried to get back into the story, I realized some key elements were missing and what I really needed was to spend time thinking about my plot and what I wanted to say with my novel. I decided to go back to the drawing board with my novel and put together a solid background on my characters and a solid outline for my plot. So, that's where I am on that.
2) Start a freelancing side hustle. Complete.
I am so happy to mark this goal as complete! I completed a bunch of different projects with various clients that I found on Craigslist, Upwork, and Freelancer. Using websites like Upwork and Freelancer isn't the best way to begin freelance writing, but it was the easiest place for me to start. And I scored some pretty interesting gigs that allowed me to stretch my writing skills, so it was a great experience for me.
3) Have a smooth, seamless move into my new home. Complete.
My moving weekend went as well as I could have hoped! It was a really, really tiring time, though, and I'm so glad it's behind me.
4) Take a social media/blogging sabbatical in September. Complete.
I had serious thoughts about breaking my sabbatical halfway into September, but decided to hang tough and stick it out. I'm debating if I'll ever do a month-long break again (I missed blogging so much!), but it was good for me!
5) Lose 10 lbs. Incomplete.
Oh, boy. Losing weight has not been easy this year, mostly because I haven't really dedicated myself to doing so. I've toyed with the idea of joining Weight Watchers again, but I don't think that's what I need. I think what I need is to overhaul my diet, bit by bit, worrying less about what the number on the scale says and more about how eating certain foods makes me feel.
6) Find a new primary care doctor and dentist. Incomplete.
Oops. Forgot I had this as a goal.
Looking back on my goals for the third quarter, I'm pretty happy with the progress I made! I completed three out of the six goals I set, and those were the more important goals to me, so I'm proud of myself. Go, Steph!
Now, let's take a look at the fourth quarter of 2016! In this quarter, I have a lot going on. I'm taking two trips: a girls' weekend in The Villages with my book club gals and a five-day cruise with my mom. I'm turning 29. Dutch has his annual Running of the Weiners race. Then there are the holidays: Halloween, Thanksgiving, Christmas. A full quarter indeed!
Here's what I want to accomplish:
1) Submit an essay to an online website.
A secret about me is that I'm scared to put my creative writing out into the world. I'm scared that I'm not good enough. I'm scared that my thoughts are too small. I'm scared of allowing strangers on the internet to read my words. It's a fear I need to get over and the only way to do so is to actually put my work out there and let people discuss it.
2) Finish outlining my novel.
I was hoping 2016 would be the year I finally finished my novel and sent it to agents, but it was not to be. Instead, 2016 is the year I couldn't make up my mind about how to plot out my novel. I've finally settled on a great premise and inciting incident, so I want to take the rest of 2016 to thoroughly outline my novel so that it is as strong as it can be.
3) Get a tattoo.
So I mentioned that I'm going to The Villages for a weekend with my book club girls, and for those who aren't familiar with this town, it's a retirement community. Yes, we are visiting a retirement community where all activities end of 9pm (which is so ideal for me, you have no idea). I think there would be nothing more hilarious than if I go spend a "crazy" weekend at The Villages with my girlfriends and come back with a tattoo. I hope I can make it happen.
4) Start exercising again and drink water daily.
I'm taking the smallest of steps in this journey to live a healthier life. Hopefully, by focusing on these goals and less on eating a certain way to lose weight, I'll learn to be more accepting of my reflection.
5) Decorate my apartment.
My apartment is mostly put together, aside from the fact that my walls are still bare! I have shelves I need to hang, which will help, but I also want to put together a gallery wall using prints I've collected, buy a painting or two, and blow up some Instagram photos to really make my apartment feel more like home.
Do you have any goals you'd like to accomplish this quarter?