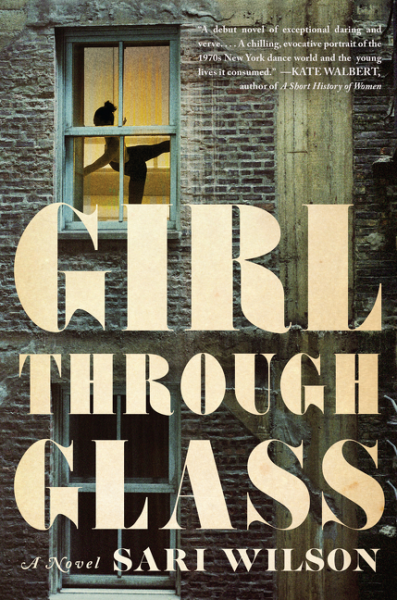 Girl Through Glass by Sari Wilson is a book that takes you on two different journeys.
We join eleven-year-old Mira, an aspiring ballerina living in New York City in the 1970s. Her parents are going through a divorce and she throws herself into ballet, using it as her escape. It's at this time she is introduced to Maurice, a 47-year-old ballet admirer who becomes her mentor.
The second journey takes us into the present day and we're introduced to Kate, a professor of dance at a Midwestern college. Kate begins a risky relationship with one of her students and if that's not enough to wreak havoc on her life, she receives a letter from someone in her past, someone she thought was long dead.
Throughout the novel, Mira grows up and becomes a talented ballerina, dancing with the School of American Ballet. She also further enmeshes herself in Maurice, spending a lot of her free time alone with him. Mira's story is interspersed with Kate's, as she tries to untangle herself from her dicey relationship and figure out who sent her the letter and why.
The tone of this novel felt very melancholy. I loved reading Mira's story and her successes in the competitive world of New York City ballet. I never felt like I fully understood Kate, nor did I particularly like her. She just seemed… so sad and lost. I struggled with her character and connecting with her the most.
The novel moves along at a slow, measured pace and it never felt like it was fully racing after something, until right towards the end when everything started to come together and puzzle pieces clicked into place.
I think this is the perfect book for those who love slow novels that explore dark themes, as this one most assuredly did.
Book synopsis (from Goodreads):
An enthralling literary debut that tells the story of a young girl's coming of age in the cutthroat world of New York City ballet—a story of obsession and the quest for perfection, trust and betrayal, beauty and lost innocence.
In the roiling summer of 1977, eleven-year-old Mira is an aspiring ballerina in the romantic, highly competitive world of New York City ballet. Enduring the mess of her parent's divorce, she finds escape in dance—the rigorous hours of practice, the exquisite beauty, the precision of movement, the obsessive perfectionism. Ballet offers her control, power, and the promise of glory. It also introduces her to forty-seven-year-old Maurice DuPont, a reclusive, charismatic balletomane who becomes her mentor.
Over the course of three years, Mira is accepted into the prestigious School of American Ballet run by the legendary George Balanchine, and eventually becomes one of "Mr. B's girls"—a dancer of rare talent chosen for greatness. As she ascends higher in the ballet world, her relationship with Maurice intensifies, touching dark places within herself and sparking unexpected desires that will upend both their lives.
In the present day, Kate, a professor of dance at a Midwestern college, embarks on a risky affair with a student that threatens to obliterate her career and capsizes the new life she has painstakingly created for her reinvented self. When she receives a letter from a man she's long thought dead, Kate is hurled back into the dramas of a past she thought she had left behind.
Told in interweaving narratives that move between past and present, Girl Through Glass illuminates the costs of ambition, secrets, and the desire for beauty, and reveals how the sacrifices we make for an ideal can destroy—or save—us.
You can connect with Sari Wilson on her website and Twitter. Her book is available to buy from Amazon, IndieBound, and Barnes & Noble. 
Click here to add this book to Goodreads!
I received this book for free from TLC Book Tours in exchange for an honest review. All words and opinions, unless otherwise stated, are my own.