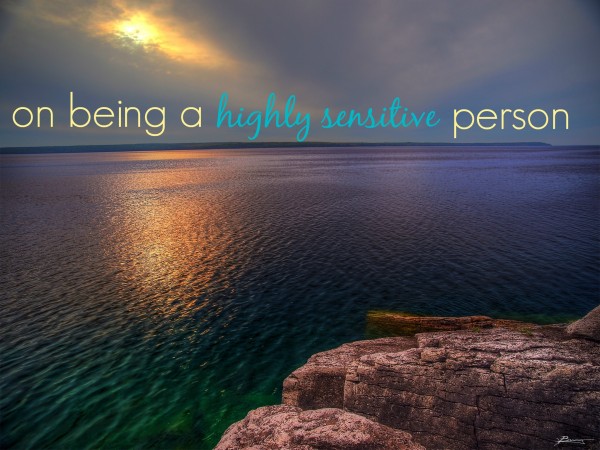 Note: Oy! This is a long post. (Over 1,600 words!) But this is something that I've been wanting to talk about for a long time, and I finally found the right words to say all of this. I'm excited to talk about the Highly Sensitive Person trait, though all research has been drawn from Elaine Aron's work and blog posts on the subject. All sources linked below!
I've always known that I have heightened sensitivity to certain stimuli, but it has never been more apparent than in the past year or so.
Like the time I went to an event with my mom, for her coworker. It took place at a loud bar, and I didn't know anybody there so I felt extremely uncomfortable and insecure because I was in an uncontrolled environment. I like to control my environment, to know the place I am at and the people I am with, so when I don't know either, it makes me want to retreat and shut down. This bar was also filled with people, and a lot of them were smoking. More than once I had to get up and leave the area because I felt a panic attack coming on. It was just too much going on at once, and I was overwhelmed with sensations – from hearing to sight to smell.
Another time was when I finished reading an emotionally heavy book. Now, most people can read this book and move on with their life. They understand the sadness of it, but it doesn't infiltrate every fiber of their being like it did for me. That book affected me intensely. I was deeply sad for weeks, and I still feel a catch in my stomach when I think about the author and what he went through. I'm not even married, or in a serious relationship, or have any kids, and I felt this book to my core. It's then I realized my highly sensitive nature means there are some books I cannot read because they will affect me too deeply. (I actually regret reading this book because of the way I reacted to it.)
It was really after my reaction to this book that I began to research about high sensitivity and what it means. I've always know that I'm super duper sensitive in terms of getting my feelings hurt too often and worrying too much about what people think of me. Criticism and sometimes even joking around at my expense is something I take personally. But someone with a highly sensitive nature is not just someone who is "too sensitive" and needs to "lighten up." It goes much, much deeper than that. It's actually a genetic trait!
The more I researched and learned about highly sensitive people, the more I knew I found a deep sense of me. Just as how the world seemed to shift as I discovered introversion, the world again shifted and I found more sense of self through learning about being a highly sensitive person (HSP).
Elaine Aron is the pioneer behind HSP research and discovering more about this genetic trait. She's been researching and studying this trait for years. On her website, she has a quiz to help people discover whether or not they are an HSP. So I took it, and answered yes to 22 of the 27 questions asked.
Sooo.
I can't say I was surprised by the results of this quiz because once I learned about what it means to be a highly sensitive person, I knew I was reading about me.
So, what does it mean to be a highly sensitive person? HSPs "process sensory data more deeply and thoroughly due to a biological difference in their nervous systems." (source) Basically, us HSPs get overstimulated and overwhelmed more easily than other people tend to. The simple act of walking into a room will cause our brains to go into overdrive to process every taste, sound, touch, smell, feeling, and thing we see. We are more attuned to what is happening around us, so our brains tire out more quickly than other people. Things just seem more to us, if that makes sense. That smell you smell is heightened for us. That loud conversation happening across the room feels like it's happening right next to me. If the temperature in the room feels cold to you, it's freezing for me.
And there are other things to know about being an HSP:
Being an HSP does not have anything to do with being an introvert. In fact, 30% of HSP's are extraverts. It's also not about being shy or having any sort of social anxiety/phobia.
We feel a need to control our environments. This is why a work-from-home position is best for HSPs. We can control where we work, the temperature in the room, the noises, the lighting, etc. Additionally, open-floor office plans are not helpful for HSPs (and introverts, for that matter) because there is way too much going on, which makes our brains work in overdrive to process it all.
We are hugely affected by criticism. Our defense mechanisms for this is to criticize ourselves first and avoid it if we can. I know personally I can go into a downward spiral of self-doubt with even the slightest critique on something I've done.
We tend to enjoy solo exercising. We get too worried about what people are thinking of us and how we are performing, so group exercise types, like boot camps or running groups, are no bueno. I've tried both and hate them so much because I'm always more focused on what others are doing than my own workout.
Decision-making isn't our strong suit. Why? Because we have to weigh all our options before coming to the decision. We are also "more aware of subtleties and details that could make decisions harder to make." (source) But this is not always a bad thing! We thrive in group situations because we are the ones who can weigh all the pros and cons for different decisions, and we make others take a step back and look at the full picture before moving forward.
When there is too much happening around us, we get unpleasantly aroused. For me, this manifests itself with knots in my stomach, an increased heart rate, feeling jittery and overheated (even in a cold room). Often, this unpleasant arousal happens when I'm in a loud environment, when too many conversations are happening around me, or when I'm feeling uncomfortable in an unfamiliar social situation.
We do not thrive under pressure. I know I, for one, do not perform well when I have a ton of things to do in a short period of time. I get overwhelmed, can't figure out where to begin, want to cry, and generally feel rattled and emotional.
We are people pleasers. We have a hard time asking for what we want because we don't want to cause trouble or inconvenience other people. (I have the hardest time with this! Especially when I begin a new job and I should be asking questions. Sigh.) We tend to be more sensitive to the needs of others and forget to think about our own.
We are more sensitive to pain. The biggest way I see this in my own life is in the fact that massages are painful for me. Even the ones that are supposed to be relaxing just hurt me so much. I remember the last time I got a massage and my mom got the same one. She left her room saying how amazing and relaxing it was. I left my room hobbling, after spending an hour trying not to cry on the table from the pain. (And, due to the point above – being a people pleaser – I very rarely will tell the masseuse that the pressure is too hard. I KNOW.)
We tend to take on the emotions of the people around us (so when my mom is sad or hurting, I am also sad and hurting and want to do whatever I can to find a solution to her "problem," even when there is no solution at all). We're also incredibly empathetic and interested in hearing about our friends' problems and how they are reacting to them.
We're often told we need to toughen up and to stop taking things so seriously. This is the most annoying thing I hear people say to me. Guess what? It's not that easy. It's not about "toughening up." Our sensitivity is not a weakness. It is just who we are.
But you know what? I don't count my high sensitivity as a weakness. It's just one part that makes me me. Researching about high sensitivity has helped me better understand who I am. To understand there is a reason loud, busy places affect me more than others, to accept that I'm just going to get my feelings hurt more often than others, to acknowledge why certain aspects of my personality feel so different than others (like the inability to ask questions and how I basically fall apart when I'm under pressure).
I don't count being an HSP as a weakness because it simply means I experience life in a bigger, fuller way. I love hard and deep and honest and openly. I am deeply in tune to my emotions and I'm able to process my feelings in a stronger way. When I'm sad, I take the time to work through why I'm sad. When I'm happy, I embrace it wholeheartedly. When I'm upset, I acknowledge my feelings and let them have their place. What I'm saying is that I find that being an HSP just means the world is a little bit brighter, a little bit louder, and a little bit larger. And that's not always a bad thing.
Are you a highly sensitive person? Have you ever heard of this trait before?