I am thrilled to bring this blog post to you guys today! As part of a decision I made when I started this blog, I do not do many sponsored posts. There are many reasons as to why, and one of the main reasons is that I rarely come across an opportunity that piques my interest enough to accept. But a few weeks before my move, I was contacted by HireAHelper.com to use their services in exchange for a review on my blog. I really wanted to accept, but I didn't feel as if I could give an accurate review as I only needed a few big furniture items moved (my bed and my dresser). Instead, I asked if my roommate could use the service (since she was bringing the big furniture items into the new apartment) and write a guest post for my blog. And they accepted! So, for today, I am handing my blog over to my wonderful Roomie to talk about HireAHelper.com and her experience with the company.
***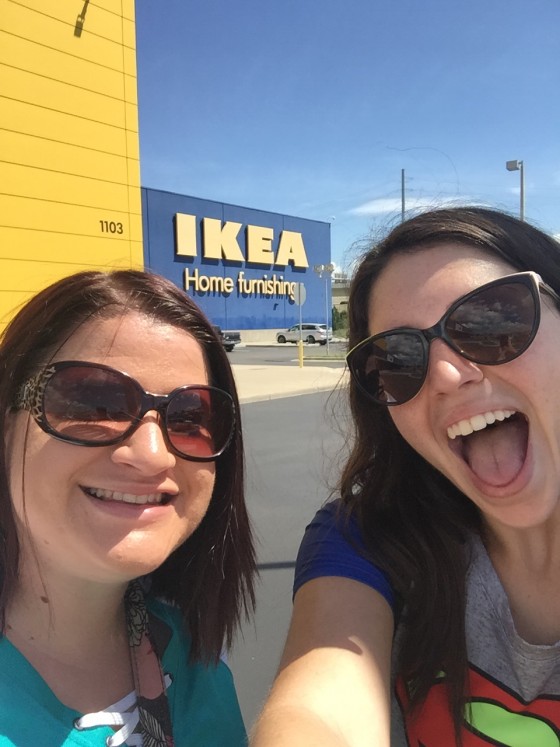 Hey stephanywrites readers! I'm Briana (or Bri, as many like Steph call me) and you may have already learned who I am – the work bestie, the real-life bestie, and the new roomie. But honestly, we've connected pretty deeply in terms of our friendship. I feel comfortable telling Stephany anything and everything, and for that reason (and many others) I knew that if I was going to return to a roommate situation, she was the girl to do it with. And so, here we are. Roommates at last!
However, I can't lie to you or to myself: I was excited to move in with Stephany…but moving sucks. It's a lot of purging, organizing, packing, labeling, manual labor, planning, and, of course, it's generally expensive. Full-service moving companies charge a lot of money for their services! The end result of a move rocks, but the process and expense? I could do without.
While you can't avoid most of the above moving tasks, it is possible to mitigate some of the expense.
Option one is 100% DIY. You pack, you do all the heavy lifting, and you rent and drive your own truck. But that's exhausting, and you have to have some help from friends and/or family if you need to carry heavy furniture (like I have) up and down stairs (which I also had at both the new and old place).
Option two is what I did: a hybrid move. With a hybrid move, most of the work and equipment is still DIY except for the lifting, loading, and/or unloading labor. It is a much most cost-effective option than full-service moving packages. It sounded like a good option for me.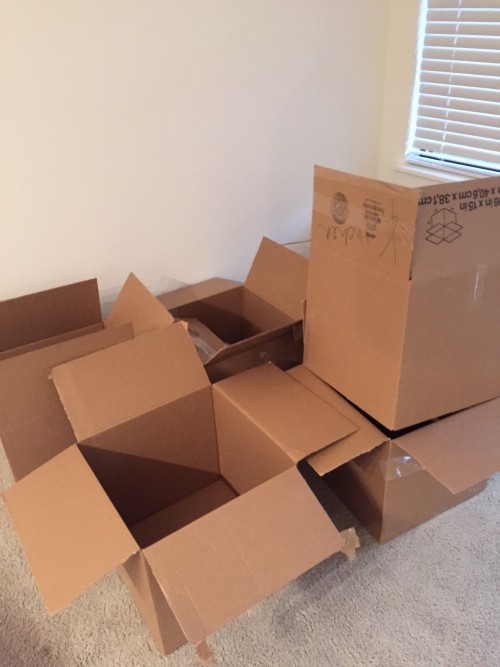 Enter: HireAHelper.com. HireAHelper is a unique online service that connects users to moving companies in their area that might be willing to provide labor on the specified moving day. They offered me a solution I couldn't refuse: strong arms.
Before the Move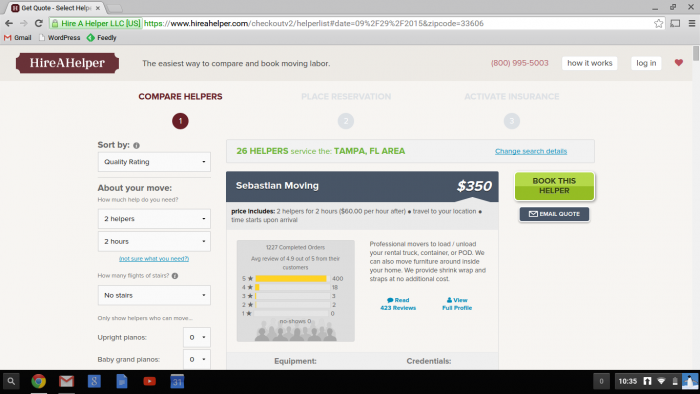 HireAHelper's website is incredibly straightforward, aesthetically pleasing, and very user friendly. It's really a no-fuss start. You type in your moving date and zip code, and you're instantly connected to a list of moving companies that provide moving labor. You can customize the specs of your move, including the number of movers you want, the number of hours you want them for, and the number of flights of stairs to get accurate quotes instantly. You can compare prices from different moving companies on the spot, as well as view ratings and reviews from past customers – something that I value greatly. On this page, you can select your company of choice.
I selected a company and immediately got confirmation via e-mail. Good, quick communication. You earned brownie points, HireAHelper!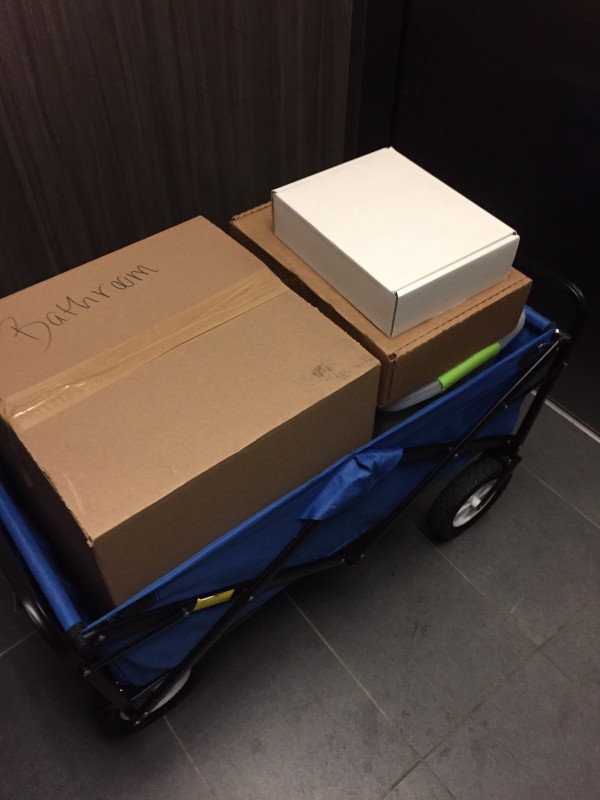 However, about a day later, I got another e-mail telling me that the moving company I picked declined my move, and that I would have to select a new company. As you might imagine, I was not particularly happy about it. But not even 15 minutes later, HireAHelper actually called me to help me pick a new company. That phone call from HireAHelper was arguably some of the best customer service I've ever had. 
Two days before my moving date, the moving company I selected gave me a call to confirm the appointment, and HireAHelper sent me another e-mail to remind me to complete my inventory list. With everything packed and ready to go, I just had to wait for the day to arrive.
Moving Day

Moving day! I picked up my U-Haul at 9 a.m., because I scheduled the movers to arrive between 10 and 11. I got a text message from HireAHelper, instructing me to send them a text when the job was completed – the movers would not get paid until I did so. I kind of appreciated that, because it's almost like insurance that your movers will show up.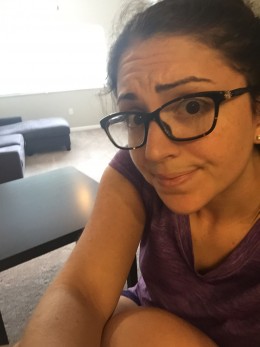 At 10 a.m. my movers called to let me know they were on their way, as the moving company is located about 40 minutes from my old apartment. But by 11 they still hadn't shown. And then 12 came. Still no word. At 12:30 they called and told me they were 5 minutes out. At 12:45 they parked and met me at my U-Haul.
Obviously, I was REALLY not happy at how late my movers were. The reviews they had were all really positive, so I was disappointed. But, I understand life happens – turns out that one of their trucks had been broken into and equipment was stolen, so they had to file a police report. A phone call would have been nice though.
The actual move went off without a hitch. I thought I needed them for four hours, between all of my flights of stairs and all the furniture I had. However, these guys worked really efficiently. About two and a half hour later, I had every bit of furniture in my new apartment, with not a single dent or scratch to speak of. Which, apparently, is hard to come by.
I sent my text off to HireAHelper, at which time I was prompted through three text message questions to ensure that the movers were paid and that the job was done within the scheduled time limit and didn't run over. I got a follow-up e-mail to review how my move went.
Overall Feelings
I started off on the wrong foot with the moving company I selected because of the delay. But the actual service I got from them was awesome, so I can see why they were so well rated on HireAHelper and why they were the company that the HireAHelper representative set me up with. Overall, I would grade the experience on my moving day a "B" for the unnecessary stress from my movers.
For my experience with HireAHelper.com, I would give a grade of an "A." Between all the e-mails I got, the phone call when things seemed to go south, and the ease of use, it gets my vote. I would say to do your homework though – just because they have reviews on their site doesn't mean you don't have to research movers on your own. Also, there's still some responsibility on your end. I'm not sure what HireAHelper communicates to the movers you choose in terms of job specs, but you need to clarify everything with your movers on the phone, well in advance. Nobody (you or your movers) likes surprises on moving day.
Would I use HireAHelper.com again? Yes. Yes I would. But after I do more of my own research and homework.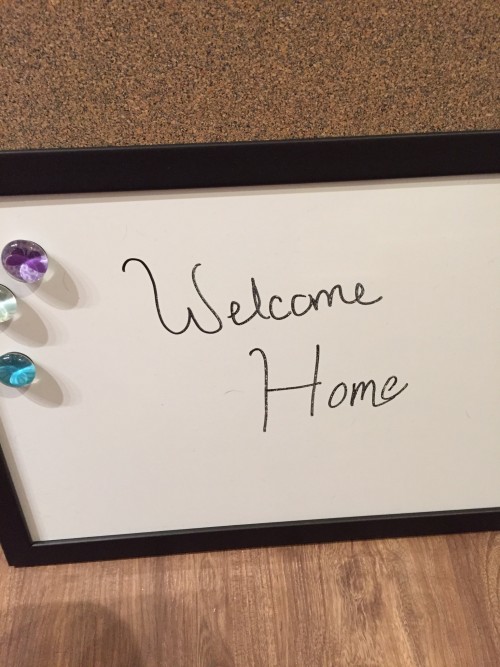 ***
This post is sponsored by HireAHelper.com. They provided a credit toward the cost of their moving service in exchange for an honest review. All words, thoughts, and opinions – unless otherwise stated – belong to me or my guest poster, Briana.
***
Have you ever attempted a hybrid move? If not, would you ever?