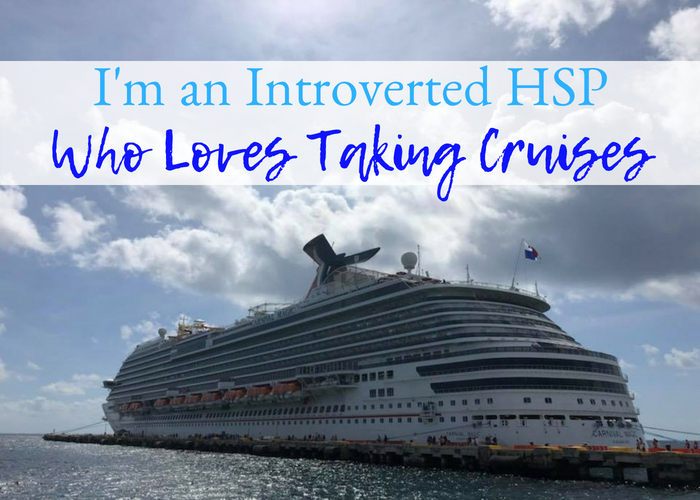 I'm not really the person you'd expect to be passionate about cruising. I'm an introvert. I'm shy. I'm reserved. I like low-key activities like reading. I'm a highly sensitive person, which means loud noises and lots of people overwhelms me.
And yet… there is no better way to vacation than a cruise, in my very humble opinion. There is nothing that makes me happier or more excited or more fulfilled than being on a cruise ship.
But I'll also be honest: it's not easy to cruise when you have high sensitivity. These ships and the activities on board aren't made for people like me. They're made for those who enjoy a loud party atmosphere and meeting new people and being outside.
But the truth is, you can be a Highly Sensitive Person and take a cruise without feeling overwhelmed at all times. It takes a little work and a lot of patience, but you can make it work. Here's how I do it:
1) Your cabin is your safe space.
I spend a lot of time in my cabin when I'm on a cruise. I know some people don't pay much attention to their cabin because "you're only there to sleep!" but that is not true for us introverted HSPs who crave sanctuary and alone time. I really pay attention to the cabin, and this time around, my mom and I opted to spend a little extra to have a balcony and it was well worth the money. It was nice to be able to step outside and enjoy the fresh air and views without contending with people.
As an HSP, it's hard for me to nap anywhere but my room. (My mom has no problem falling asleep around a busy deck, but it's not possible for me.) I like to spend the late afternoon hours napping in my cabin. Plus, hello, a bed is way more comfortable than a deck chair when it comes to napping. I enjoy being out and about and exploring the ship, but I also like to spend a good amount of time in my quiet cabin. It becomes my safe space where I can get away from all the busyness on the ship.
2) Opt for Your Time Dining.
Our first few cruises, my mom and I always did the seated dining option, where we were forced to be in the dining room at a specific time and always put at a huge table with strangers. Usually, there were 6-10 strangers that we would have to make small talk with for the entire dinner, and that just wasn't fun for me. I started to realize that I got super grumpy right before dinnertime – solely because I knew it would take a lot out of me. I just wanted to enjoy my dinner, not have to talk to other people!
And then my mom and I got smart and decided to do Your Time dining. With this option, you can show up in the dining room at whatever time you want between 5:45PM-9:30PM and you can get seated at your own table. It gave us the freedom to choose when we wanted to eat and also allowed us to just enjoy dinner with the two of us. Since we're both introverts and fairly shy, it suits our personalities the best.
3) Yes, the lido deck is very overwhelming. 
Here's the truth: I hate the lido deck. Just walking through it on my way to something else makes me grumpy and overwhelmed. There is always so much going on between all of the people and the loud music, and it's just not my scene. It means I don't participate in the deck parties or even stick around to watch some of the events, like the hairy chest competition. Nope. Not for me. It gets too loud and chaotic.
The lido deck is where it's at when it comes to cruising, but I had to recognize that my nervous system is too sensitive to handle being there when it's the most crowded. Thankfully, I cruise with my mom and she's also not keen on the lido deck. I've always wondered what it would be like to cruise with a partner or a group of friends who would want to spend the majority of their time on the lido deck. (It probably wouldn't be a very satisfying cruise for me!)
And sure, I feel like a debbie downer sometimes because how much I hate the lido deck, but I've come to realize that my needs are way more important than trying to enjoy something that I don't like for the sake of appearances. I know that the lido deck is too much for me, which is why I love places like the Serenity Deck that allows me to enjoy being out on the decks, but in a quieter space.
4) Choose your excursions wisely.
For me, 1-2 active excursions is my limit, but I really try to go all out on those excursions, trying new things and doing activities that I wouldn't do in my normal, day-to-day life. On this last cruise, which was seven days and included four back-to-back stops, we did two active excursions (horseback riding and zip-lining). The other days in port were spent at an all-inclusive resort (and we were both ready to go after 4-5 hours) and just walking around.
It can be very tempting to schedule fun, exciting excursions in every port, but HSPs have to be mindful of their nervous systems. Trying new things can be overstimulating for us and being on the go with little downtime can be exhausting. I really recommend taking a good look at all the different excursions offered in each port and finding the ones that excite you the most. The rest of the time, just keep it low-key. You may not even get off the ship in one of the ports, and that's totally fine, too!
5) Don't be afraid to be boring.
One of the things I often tell people who are interested in cruising is that there's really something for everyone. It's a great vacation for extroverts who want to meet new people and stay busy, and it's a great vacation for introverted HSPs like me who just want a low-key, relaxing time. And this is why I want to tell my fellow HSPs that it's totally okay to be boring.
Don't feel like checking out the nightly entertainment? You do you – play a game in the library or go back to your cabin to read.
Overwhelmed by the busyness of the lido deck? Take a seat on one of the inside benches, where you can enjoy the view of the water without the pumping music to distract you.
Too tired to deal with the thought of getting ready for dinner? Order yourself some room service and delight in being purely lazy and purely you.
You get to choose how this vacation works for you. For me, I'm not very interested in the lido deck activities or many of the onboard shows, but I love playing bingo, watching the Love & Marriage show, and seeing the PG comedy. Those are usually the only activities I make it to. Everything else… not for me. You can find me playing cards with my mom in our cabin by 9pm.