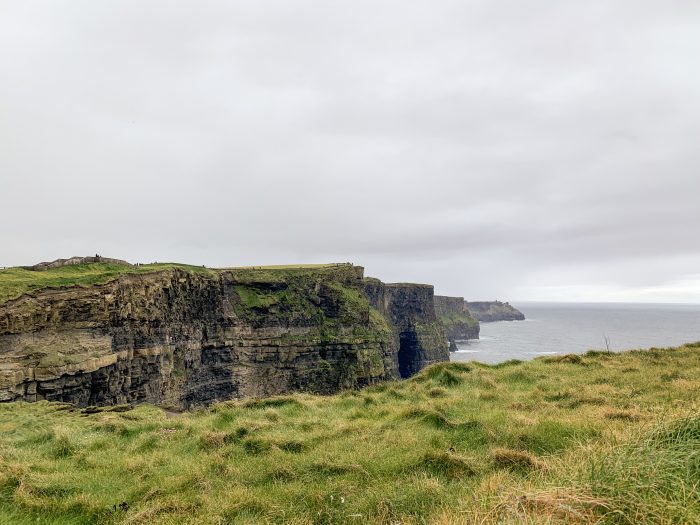 Our second day started bright and early as we had fun plans for the day: going to the Cliffs of Moher! This is obviously a must-do while you're in Ireland – just about every taxi driver we rode with on our trip (as well as the customs agent at the airport!) asked us if we were going to the Cliffs.
I chose to use a tour company to see the Cliffs, and I'm really glad I did. I chose the Galway Tour Company, which came highly recommended by Rick Steves (whose tour guide I used religiously to plan our trip). And they were great! Our tour guide was fantastic and the tour didn't feel long at all, even though we left Galway at 10am and didn't get back until 6pm.
But let's back up a bit because I need to talk about breakfast. We ate breakfast at the hotel and it was truly delicious! I ordered a traditional Irish breakfast and while there were certain items on my plate I didn't like (like the Canadian bacon), the shining star was that perfectly cooked egg. It tasted so fresh and delicious! I could have eaten, like, three more of them.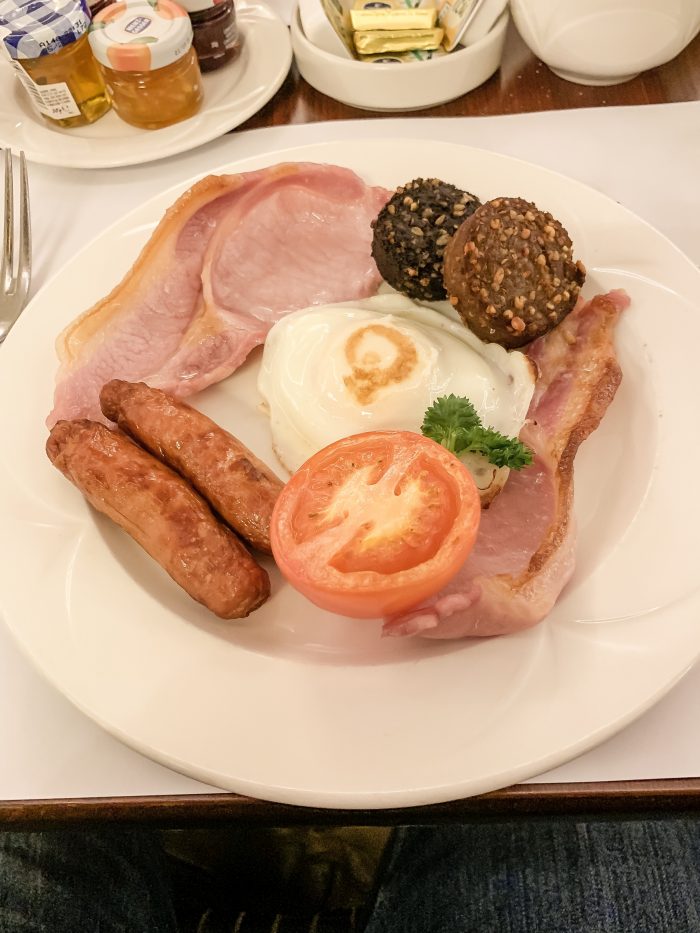 After breakfast, it was time for our tour! We started it at Dunguaire Castle, which is a 16th-century tower situated right outside of Galway. I spent so much time taking pictures of the outside of the castle that we didn't have much time to actually explore the castle itself. (I was also very anxious that the tour bus was going to leave us, so I always made sure we were back on the bus within 5-10 minutes of when we needed to be.) (I'm very fun to travel with, yes.)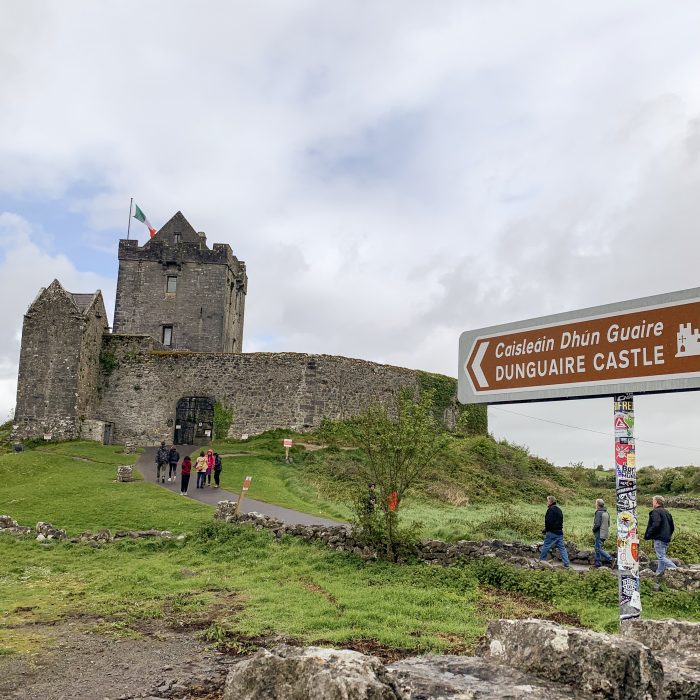 Our next stop was The Burren, which is an area that has this otherworldly landscape caused by geological forces that happened millions of centuries ago. It's a gray, rocky area that doesn't look like much when you visit it at first, but it really is crazy that most of Ireland is full of green, lush landscapes and then there's The Burren, which makes you wonder if you took a wrong turn and landed on the moon. 🙂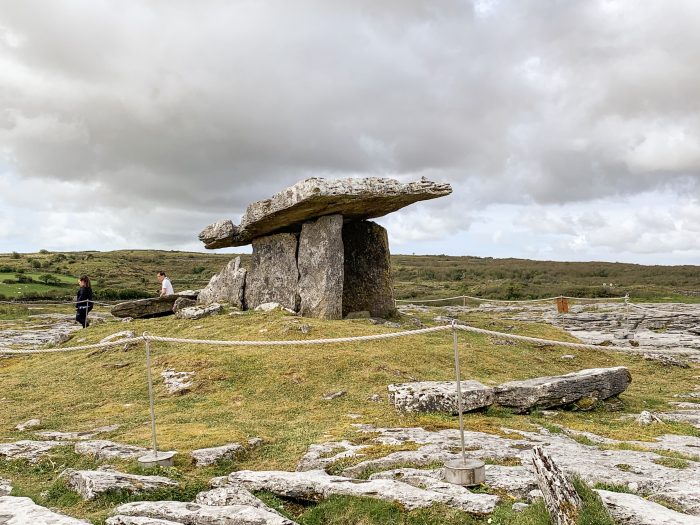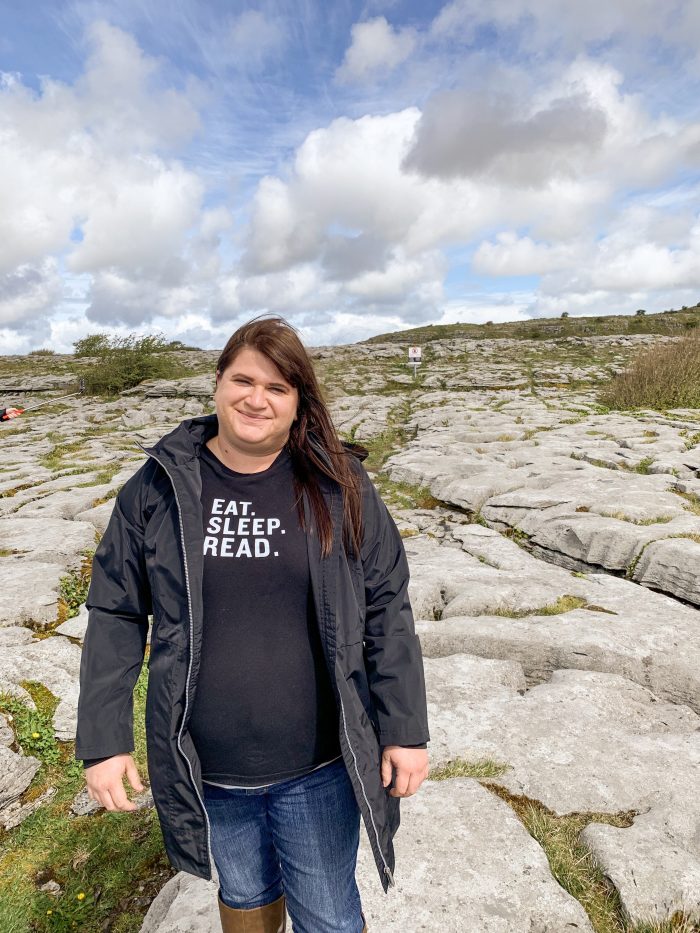 After The Burren, we took another stop to visit Kilfenora Cathedral. The cathedral was originally built in the 6th century but after a series of fires burned down the cathedral not once but twice, it was eventually rebuilt in the 12th century. The area surrounding the cathedral is filled with graves, so that made me a bit uncomfortable. (I don't love walking around graves and reading gravestones as entertainment.)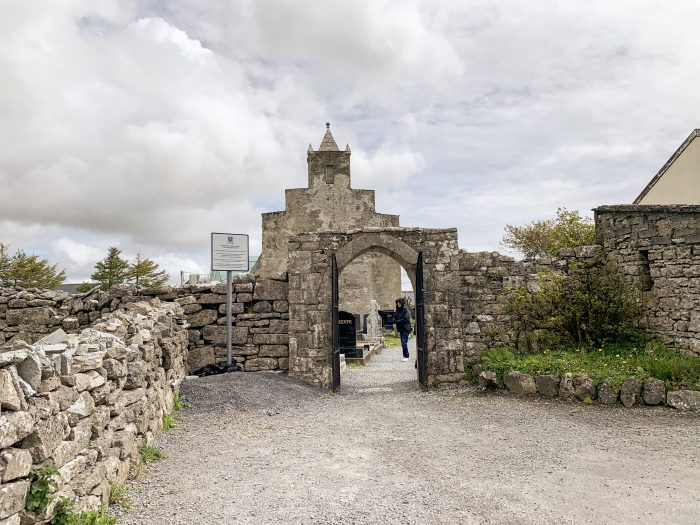 Then, it was time for lunch! We ate at a little pub that was a short drive away from the Cliffs where they did an amazing job serving 50-something people in an hour. The food was good, too. I ordered a lamb burger with fries and a Coke. (Side note: they only had soda with regular sugar in Ireland, which tasted okay but I learned quickly that I really, really crave the taste that soda with good, ole HFCS gives me. I'm not proud of this.) It was a filling lunch, though, and definitely hit the spot.
I was hoping to get a picture of the front of the pub – because it was so quintessentially Ireland – but when we stepped outside to walk back to the bus, we found out it was pouring down rain! Ack! Annnd… my rain jacket was on the bus. Oy vey.
In any event, we arrived back on the bus a little damp, but it wasn't too bad. The price you pay for going to Ireland, right? 🙂
The next adventure on our list was the one we had all been waiting for: the Cliffs of Moher! It was still raining when we got off the bus at the Cliffs (and freezing), so I zipped myself up in my rain jacket and put on my hat. I was prepared to tough it out in the downpour because nothing was going to stop me from exploring the Cliffs.
Not two minutes after we got off the bus, the rain stopped and the skies cleared up. Ha! I mean, it was preferable to pouring down rain, so I'm not complaining in the least!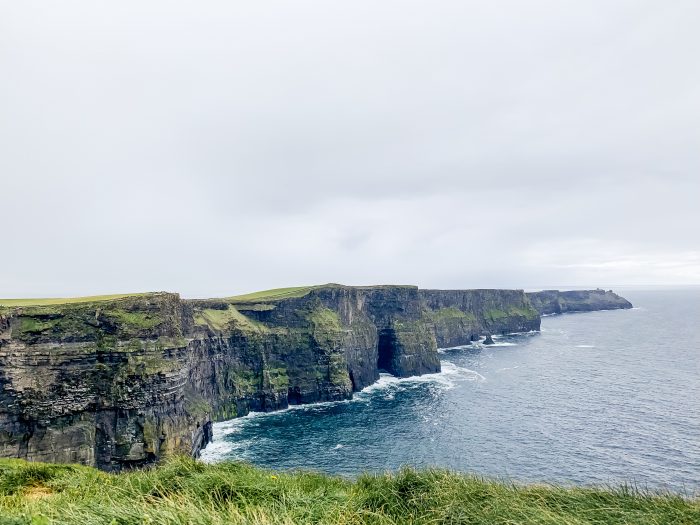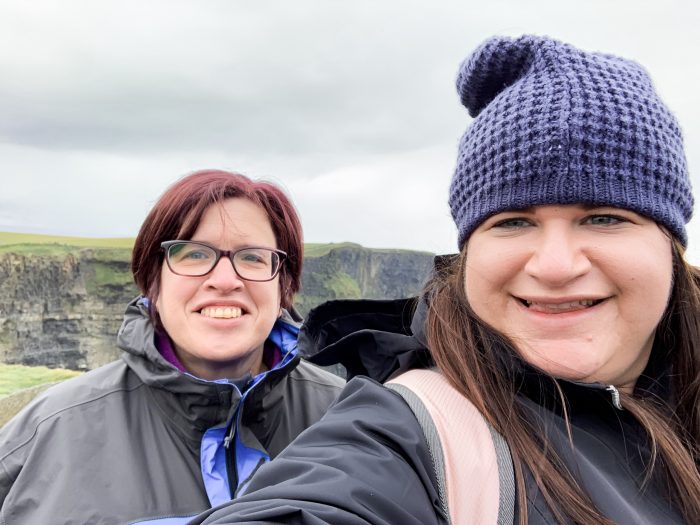 We had beautifully clear views of the Cliffs and our tour guide said we got really lucky because the views aren't often as clear as they were that day. The whole view was so beautiful and awe-inspiring, there's no other way to describe it. I had been looking at images of these Cliffs and I knew what I was going to see, but there was something about seeing such a majestic sight in person that cannot be beat.
We decided to start our hike on the right side of the Cliffs, and stopped many times for pictures. I couldn't stop taking pictures because it was all so beautiful and hard to fathom I was seeing it all with my own two eyes.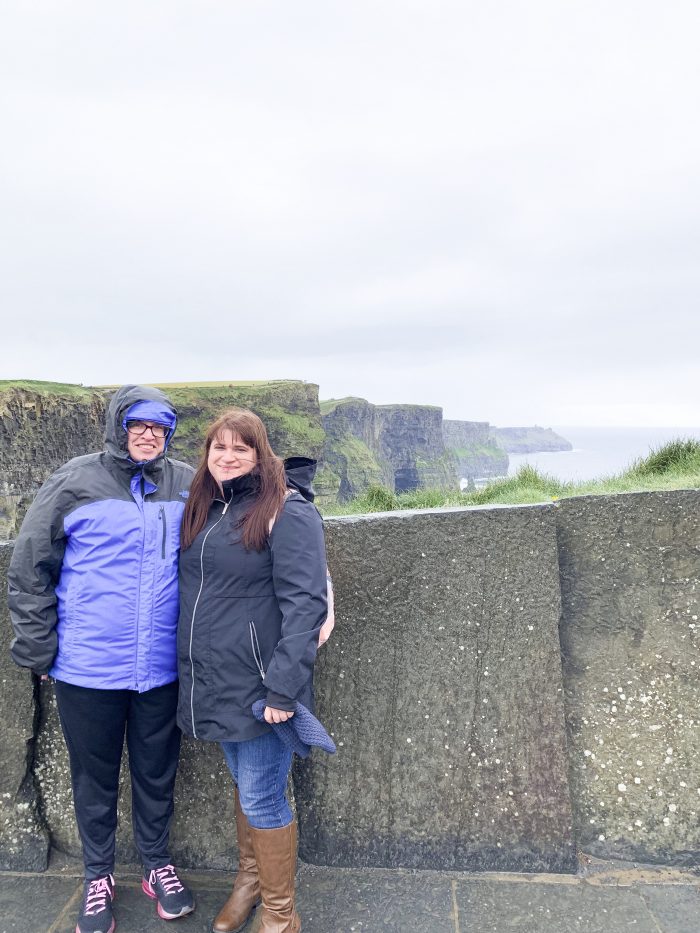 We walked up a path to get to the top of the cliff and I'm grateful for a relatively easy walking path because, you know me, if there's a way to injure yourself on a hike, I'll make it happen. Thankfully, we emerged from this entire vacation injury-free!
Before getting on the bus, our tour guide told us over and over again to be very careful when walking up the Cliffs and that the wind can be monstrous. He mentioned there were signs keeping people away from the edge, but there were no signs on this walking path and it was surprising because there was no railing to keep us from the edge of the cliff and the walking path was closer than I would have liked to the edge. Eeps! (In the below picture, the walking path is that sandy patch on the bottom right. We were that close to the edge!)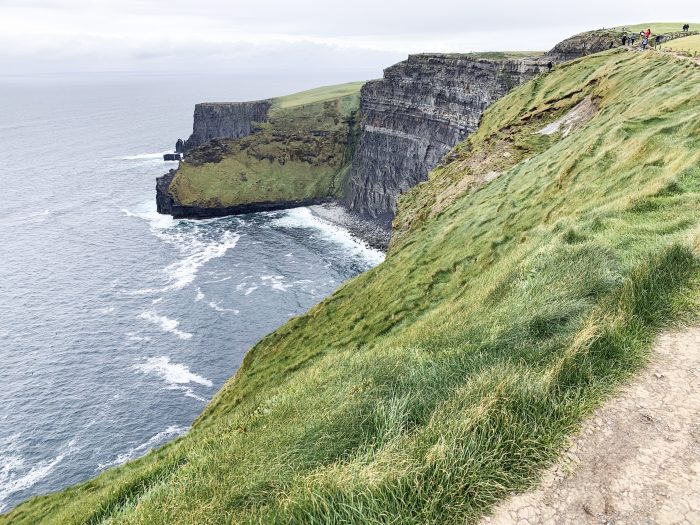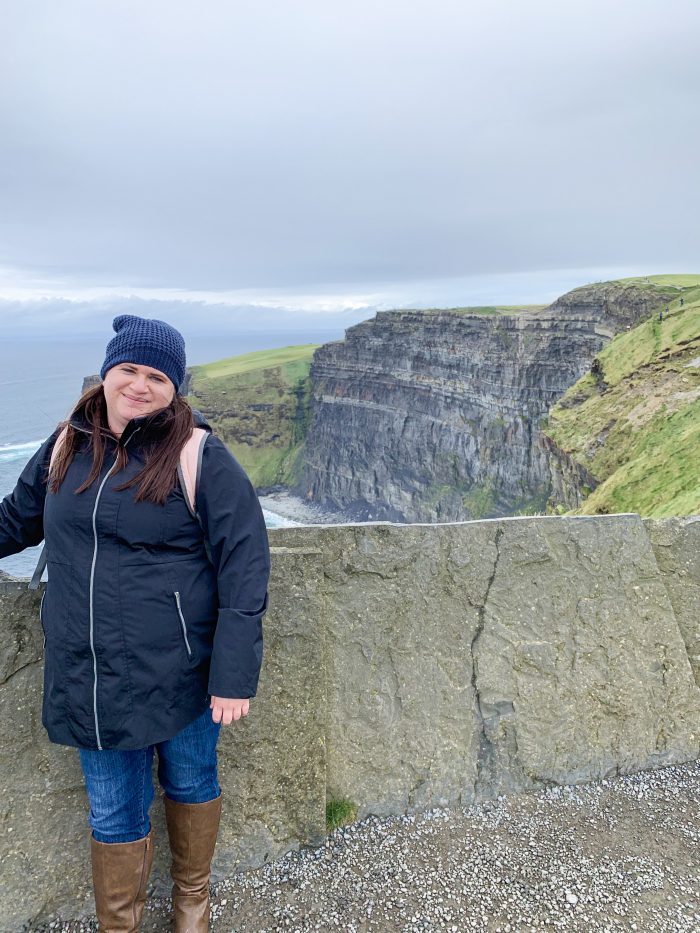 We were probably 3/4th of the way up when we got hit by this monster gust of wind and I had to engage my core and stand really tensely to remain upright. It was scary! After that happened, I turned to my mom and said, "Yeah, I think I'm done. I'm a little too scared to keep walking." Ha!
We made our way down the cliff and I was very happy to be closer to the ground! We continued to walk around, taking lots of breaks to take pictures, and started to walk up the other side of the cliff but we didn't have a ton of time left before we needed to be back on the bus. (I could have easily spent five hours at the Cliffs rather than the two we were given.)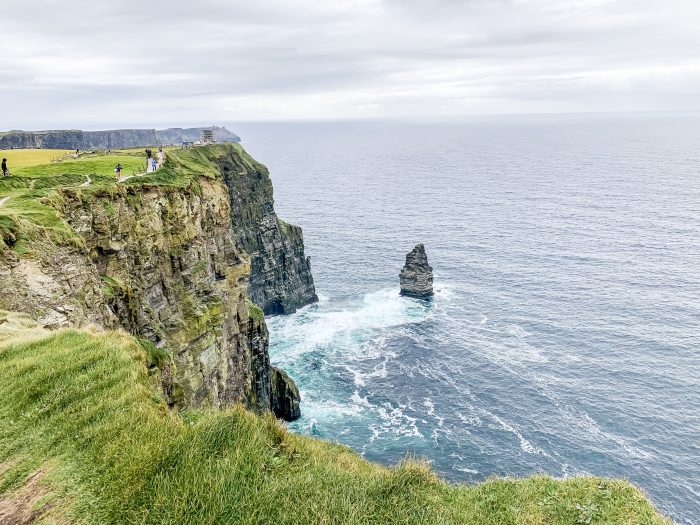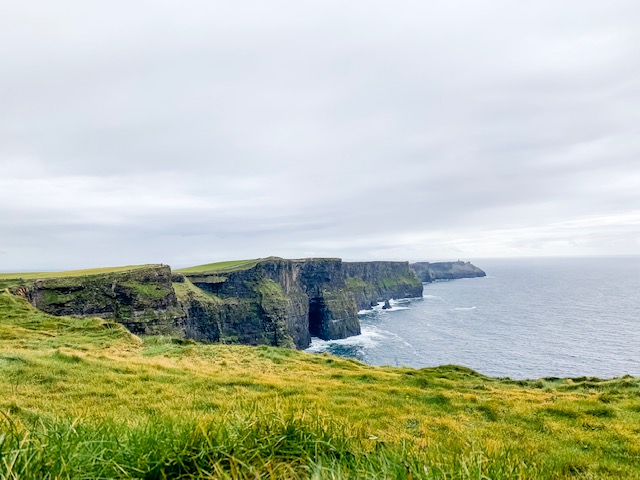 Instead, we made our way over to the visitor's center where I bought myself a latte and then we strolled around the gift shop for a while, trying to decide if we wanted to buy anything. There were some really nice paintings of the Cliffs that I thought about buying, but ultimately decided against getting anything.
We left the Cliffs a little after 4 p.m. and I felt a little pang in my stomach as the bus pulled away. I couldn't believe our trip to the Cliffs was over! I definitely felt a pull to revisit this beautiful place in the future.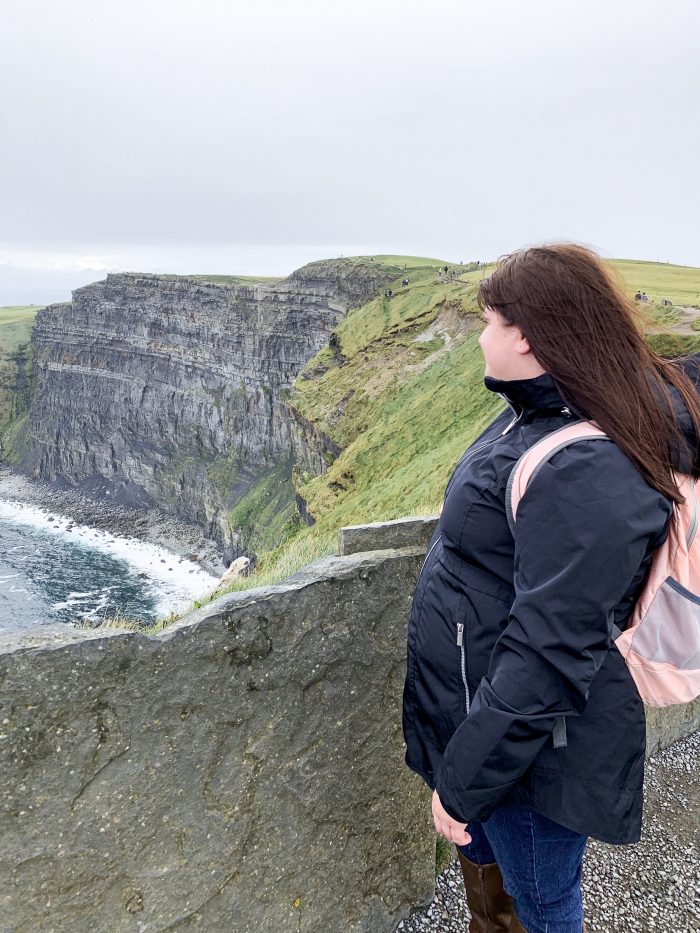 Before beginning our drive back home, we took a pit stop at this little place our tour guide called the "Mini Cliffs." It was this little stretch of water and rocks with the "Mini Cliffs" in the background, and it was so peaceful and serene. One of the tour guests brought out a ukelele and was strumming it while walking around, which added this gorgeous background noise to the whole scene.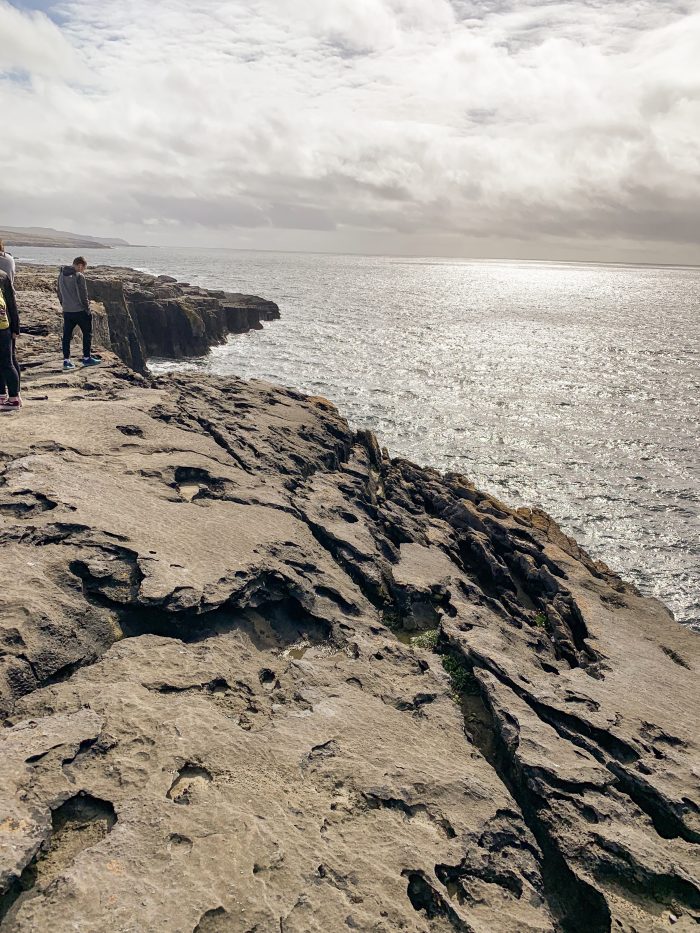 And then it was finally time to head back to Galway, and boy, was our tour group tired by this point! I put on a podcast and let my eyes close and found myself nodding on and off into sleep. I dearly hope I wasn't snoring. 😉
We got back a little after 6 p.m., and we were hungry at this point so we went back to our hotel to freshen up before heading to The Dáil Bar, which was another restaurant on the list I put together for my mom to choose from. It was a great pick, even though we found a seat right under a TV that started playing a soccer game halfway through our meal so we had a bunch of people staring in our direction for the majority of dinner. Awwwkward.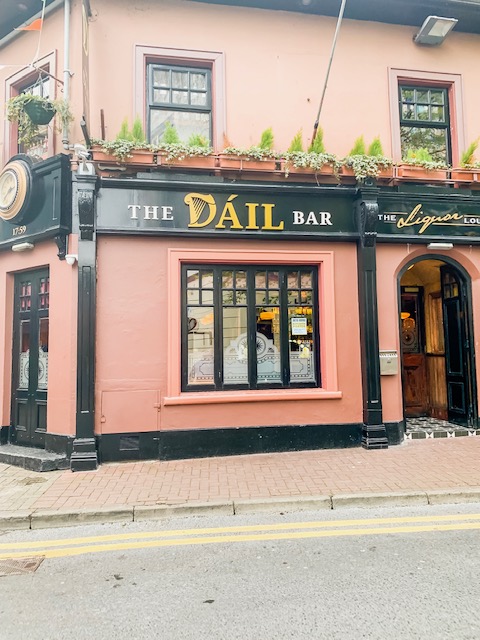 However, our meal itself was delicious! My mom and I both got fish and chips (I figured I had to order it at least once while I was in Ireland!), and it was so, so good. I am super picky about my fish (surprising, I know), but I gobbled it down happily.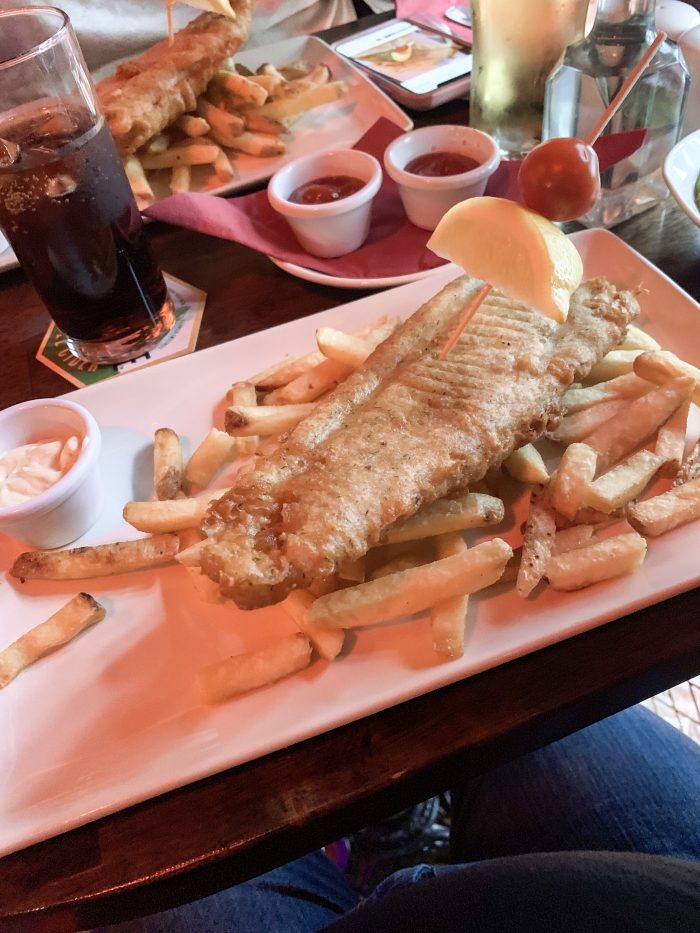 After dinner, we walked around Galway, first stopping into one of those super touristy souvenir shops where I bought a Ireland Christmas ornament as well as a really nice leather bookmark. I'm not huge into buying souvenirs when I travel, but these items seemed perfect!
We also found an ice cream shop and even though it was 50 degrees outside, we both decided that walking around and eating ice cream was a great idea. (It totally was.) I met a really fun girl in the ice cream shop who just had this electric personality. I'm not really one for chatting up locals (I wish I was, but I'm just too socially awkward most of the time), but she was so nice and easy to talk to. Once she found out I was an avid reader, we got to chatting about books and bookstores and what books I should buy while I was there. 🙂 It was such a great conversation!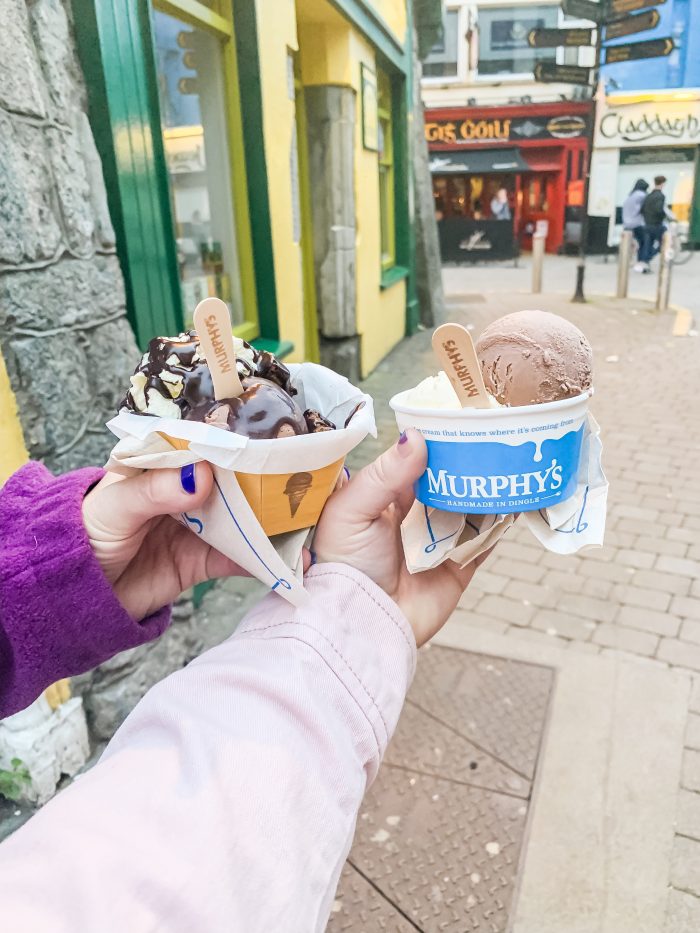 Ice cream in hand, my mom and I proceeded to walk back to our hotel but I was not following my phone's GPS directions correctly and we walked for a mile in the wrong direction! I was so confused why we were walking through what felt like the suburban area of Galway and I soon figured out I had completely messed up. Oops! We eventually started walking in the right direction and got back to our hotel close to 10 p.m. Whew.
What a day! But there's no rest for the travel weary – tomorrow, we were heading to Kilkenny and would have a full day of exploration ahead of us!