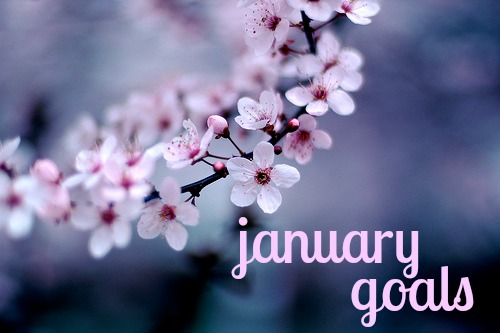 Well, here we are. The new year is upon us. We're declaring themes for the year, setting goals, and getting back into the routine of life after the holiday season. I am really excited about what this year holds for me. The truth is, I have the some of the same goals I had for 2013, but something feels different. I still want to lose weight and get out of debt, but I feel like I am finally ready. I am ready to make the changes, do the work, be committed, and trust the process. It's my time, and I'm ready to prove to myself that change is possible. These next twelve months are going to fly by in the blink of an eye, and I want my life to look drastically different. But instead of feeling dread for all the change that is to come, I am welcoming it with open arms. I am tired of feeling defeated and broken down and out of control. I'm ready to take back control.
And all that starts with my first set of monthly goals. I didn't end up making goals for December, because it was a bit of a crazy month and it was all I could do to keep my head above water. With the new year comes a new month and a new set of goals to achieve.
Here we go!
In January, I want to…
Start exercising again. It's been way too long since I stepped foot inside my gym. Lately, my form of exercise has been taking Dutch on his usual walks, which involves a lot of standing around while he sniffs every blade of grass to find the perfect spot to pee. I want to start by working out four times a week, for 30 minutes, and then amp it up to five times a week, when the winter round of Best Body Bootcamp begins on January 20.
Meal plan on a weekly basis, and only eat out three times a week. I have to get back on track with meal planning. The holiday season threw me for a loop. I spent a lot of money eating out in 2013 as a whole, and it's a habit I need to stop this year. (Not completely, but going out to eat 7-8 times a week on average is not something to be proud of.) I am planning on doing a "No Spend" month in March, which will include 31 days straight of not eating out. That's a drastic lifestyle change for me, so I want to gradually work on how often I eat out in January and February, so it feels less scary when March rolls around.
Decorate the walls of my bedroom with my new floating shelves and goal board. I bought new floating shelves with a Target gift card I was given, so I want to set them up and decorate them this month. I also bought a bulletin board that is going to serve as a daily reminder of my goals. It will be a place to literally pin motivational quotes, display my monthly goals, and remind myself of certain weight loss or financial goals I'm striving for, and how I'm going to reward myself when I make them. I'm really excited about making a goal board, and I think it will keep me focused and committed.
Drink 50 ounces of water every day. I should be drinking more than 50 ounces a day, but I'm taking baby steps to getting there. Fifty ounces is doable.
Start a writing group with a friend. Sometime in December, a friend in my book club posted on our Facebook group about starting a writing group (a la The Wednesday Sisters, a book we all read this year). She has a novel she wants to write, I have a novel I want to write, it's the perfect set-up! We're hoping to have our first meeting sometime in mid-January and I'm really excited to get started.
Do you have any goals for January? If you haven't heard, I'm on a mission to send more snail mail to blog friends throughout the year. Sign up here if you want a little something from me in your mailbox this year!