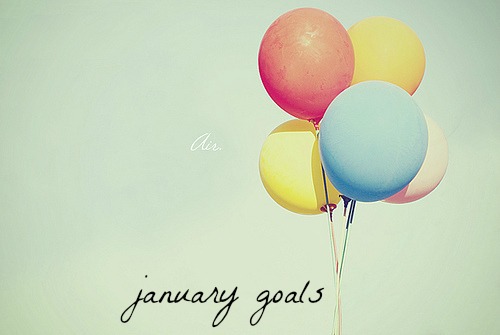 I haven't been doing monthly goals for a few months now and I think it's time to get back to them. I love setting monthly goals and working out the steps to achieving them. I was listening to an interview last week where the woman being interviewed talked about how she doesn't simply look at the goals as something to do over the course of the month, but also something to do over the course of the four weeks that comprise the month. While I won't be doing weekly recaps of my goals, I do want to sit down each weekend and evaluate how I am doing with them: what is going well and what I need to work on.
Sometimes, I have a tendency to throw these intentions up there at the beginning of the month and then forget to check in with myself and evaluate how I am doing. They're in the back of my mind, but I'm not actively evaluating my progress on a weekly basis.
So that's my new plan for this year. Don't just make these intentions and hope for the best. Put these intentions out there and then consider how to get them done.
In January, I want to…
Work out five days a week, incorporating Best Body Bootcamp workouts and Couch to 5K training. I signed up to participate in this round of Tina Reale's Best Body Bootcamp because I have heard some amazing things about the workouts and the results people have seen from it. I also want to continue working through the Couch to 5K program. I've been lax on working out lately (managing only 1 or 2 days on a good week) so I want to get back to exercising more regularly.
Spend no money on Kindle books and get my credit card balance to $0.  I discovered I spend a lot of money on Kindle books. Like, a lot a lot. Around $30 a month, if I'm being totally honest with myself. This is ridiculous and I know it is ridiculous and I'm making a concentrated effort to be less ridiculous about spending money on books. I also need to work on getting my last credit card paid off, which I think is doable in January.
Plan my next novel. It feels kind of bad ass to say that. Ha. I loved, loved, loved the process of writing my first novel and I want this next one to be a book I could see myself revising and editing and trying to get published. I want to spend this upcoming month on the planning phase of novel writing.
Figure out what I need to do to start freelancing. One of my 2013 resolutions is to get 3 freelance articles published. It's small potatoes, I know. Baby steps. For January, I want to focus on the how. Where do I start? What do I need to do to get the ball rolling? I have questions and January is about getting answers.
Get 8-9 hours of sleep a night. I spent all of last year working on getting to bed at a decent hour. My days start early and I know I need a solid 8-9 hours of sleep to feel refreshed and well-rested. This means turning off the TV, powering down the laptop, and adjusting my schedule so I start winding down earlier and earlier until I can make at 9pm cut-off.