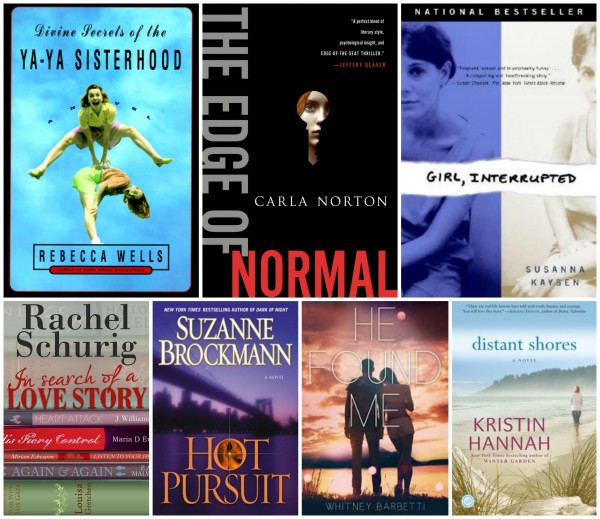 Happy Fourth of July to my American readers! I have an easy morning and afternoon planned, and then around 3pm, I'm heading over to my uncle's house (he lives mere steps from the beach!) to celebrate the holiday with a barbecue and walking down to the beach to watch the fireworks. I've skipped the fireworks for a few years now (since I always had to work the next day), so I'm excited to see the show!
Today, I have an easy reading recap for you! I read 7 books in June, bringing my total books read in 2014 to 42. I'm currently 5 books ahead in my goal to read 75 books, which I'm happy about! At this rate, I should be able to read at least 80 books this year. Wahoo!
It was hard to pick my favorite book I read this month, but I think I enjoyed The Edge of Normal the most. My least favorite read was Divine Secrets of the Ya-Ya Sisterhood, which is one of the books on my reading challenge list for this year. I really wasn't a fan and only finished because of the challenge.
Let's dive into the reviews!
1. Divine Secrets of the Ya-Ya Sisterhood by Rebecca Wells – 2 stars*
This book was really hard for me to get into, and at the end of it, I found I didn't really enjoy it. There were a ton of interesting themes at play (mother/daughter relationships, friendships, mental illness, etc.), but I never felt a connection to the story. I didn't like Sidda all that much, and I really didn't like Vivi. I felt like the language was super cheesy and very overdone (how many descriptions of a character's clothing does one book need?). I went into this book knowing it was well-loved and expecting to enjoy it, but it just fell flat for me.
2. The Edge of Normal by Carla Norton – 4 stars
I loved this book. It reminded me of Gone Girl a bit because of the thriller aspect and not knowing what would happen next. But with likeable characters! At times, it was hard to read because it involved many tough themes, such as captivity, rape, and abuse. But I zipped through this book, even staying up late one night to finish it because I couldn't put it down! I definitely recommend this book!
3. Girl, Interrupted by Susanna Kaysen – 4 stars*
Oh, gosh, I really liked this book a whole lot more than I thought I would! I never saw the movie when it came out (I was only 12, after all), but I really want to see it after reading the book! It was a really quick read, as it's only around 160 pages long and some of those pages involve medical transcripts from Kaysen's time in the hospital. I wish there had been more chapters involving Kaysen's time in the hospital and the other patients in there because I found that so incredibly fascinating. It was not as dark and twisty as I thought it would be, but instead shed a light on mental illness and psych wards.
4. In Search of a Love Story by Rachel Schurig – 4 stars
This was a really cute romance novel. I truly enjoyed it. It was entirely predictable and you could easily tell what was going to happen from the start, but I didn't mind that. There were some things that happened that made me want to shake the character because she was being so ridiculous, but, all in all, a super cute novel.
5. Hot Pursuit by Suzanne Brockmann – 4 stars
This book (I think it's the 16th in Brockmann's Troubleshooter series) involved the continuing story of two of my all-time favorite book characters, Sam and Alyssa. Those who read this series probably feel the same way about these two. There is just something about them. And I got to read some scenes with my other two favorite book characters – Robin and Jules – so, safe to say, this was a book I wanted to keep reading forever and ever and ever amen. What can I say that I haven't already said about Brockmann's books? They're top-notch, have the best writing, and there is always a crazy plot twist at the end. Another great novel from her!
6. He Found Me by Whitney Barbetti – 3 stars
I was really excited to read this book since it was written by a blog friend of mine! It was an enjoyable book, but it was a little slow-moving in parts. I also expected more twists and turns due to the description of the book (I thought there would be more of a mystery element). All in all, though, I thought the writing was fantastic and it was a really great debut novel. I can't wait to read more from her!
7. Distant Shores by Kristin Hannah – 3 stars
This was an okay read. I think I had a real hard time connecting to the characters because they are in such a different stage of life than me (late forties, married for 20+ years, two kids who are in college). The wife realizes she's spent more time focusing on her family and making sure they are happy, than herself and what makes her happy. It wasn't my favorite book from her, so I probably wouldn't recommend this one.
*Part of my Rory Gilmore Reading Challenge
What was the best book you read in June?