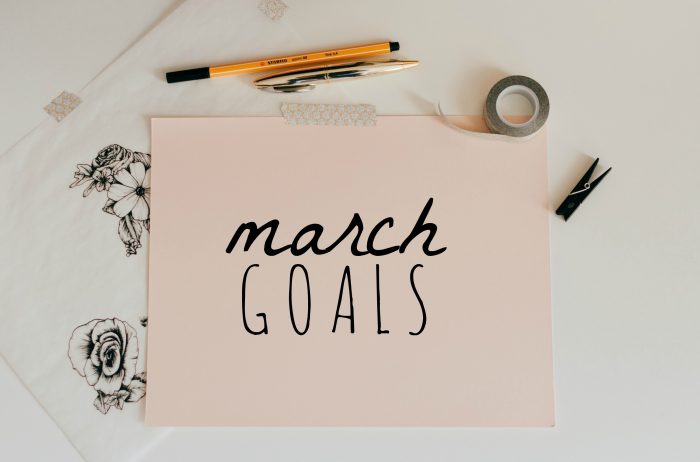 And just like that – we're in March! I am excited about this month because it should be a fun one and it should be a frugal one, as I am taking on my first of four no-spend months (more on that below). However, in February, my goals did not go as planned. I definitely did not have a 100% success rate like I did in January. It happens! Here's how I did:
1) Organize all my files.
Complete! I shredded some older documents, switched over my 2018 files into my bigger filing box, and made file folders for 2019 documents. It feels good to have this done!
2) Give up candy.
Complete! I successfully resisted it and I think I may keep going with this goal because it was pretty easy.
3) Track my food.
Nope. I did not even attempt to track my food this month, heh. I am trying to eat healthier, of course, but I just don't like the way I feel when I track what I eat. It makes me feel a little crazy, honestly.
4) Spend 10 minutes stretching every morning.
Oof. I did this maybe a few times but definitely not consistently. It just never became a habit for me (I should have put a reminder in my phone) so I kept forgetting to do it in the morning. My back still doesn't feel great, so I may try visiting a chiropractor again.
5) Start my nighttime routine by 8 p.m. on weeknights.
Lol, no. I usually get home around six and if I start my nighttime routine at eight, that gives me exactly two hours to myself at night and that's just not enough time to make dinner, play with the cats, watch a show, clean up, etc. Maybe starting my nighttime routine by 9 p.m. is a more reasonable time.
6) Work out every day in February.
Nope. I was doing well until I had a six-day slump in which I didn't work out once. I got back on track after that slump and was doing good. But then, everything got totally derailed when I got all bit up while at an outdoor bar at the end of the month (mosquito bites in February – what?!) I ended up with allergic reactions to three of the bites that were on my feet. It made my feet swell up and the skin get very hot and tight, which meant going on long walks and wearing sneakers was not an option. What a weird reason to not hit my goal, but alas! I am only three days behind, though, on my goal of working out 150 times this year so I'll definitely be able to get back on track in March.
Okay, so two out of six goals complete isn't my best but it's better than zero, right?! And I am happy that I abstained from candy for all of February. Here's what I'm hoping to accomplish in March:
1) Accomplish my first no-spend month of the year.
One of my goals for 2019 is to do a no-spend month once a quarter, and March is the month I've decided to do it for Q1. A no-spend month means only spending money on essentials, so I won't be eating out or doing any shopping or spending money on experiences this month. I do have a few things already planned: lunch with my work book club, an author event, dinner with a friend, a waxing appointment, and my local book club's monthly outing, but that's it. I won't be making new plans or saying yes to spontaneous dinners out. It won't be easy but will totally be worth it.
2) Reorganize and redecorate my bathroom.
This is another item on my 2019 goals list, so it will feel good to mark this complete! I have been slowly accumulating items to redecorate my bathroom (new towels, a new shower curtain, a new shower caddy, etc.) and I'll finally be able to switch everything out this month. I'm also planning to reorganize the cabinet under my bathroom sink because it is a mess right now. After seeing this photo from The Home Edit on Instagram, I decided this was exactly what I needed – drawers! I purchased a set from Target and I'm excited to pull everything out and reorganize this cabinet so it works better for my needs.
3) Watch the first six episodes of Game of Thrones.
I have had so many people tell me I need to watch Game of Thrones, but I've never seen a single episode and I'm not sure if the show is right for me. As a highly sensitive person, I can't watch a lot of scary or gory or intense TV shows or movies. I've never had the inclination to watch Game of Thrones, but recently promised one of my coworkers that I would watch the first six episodes and give it a fair shot before writing off the show as something not for me. (Apparently, it took him six episodes to truly get hooked, which is why he wants me to watch six episodes.) I'm going to give it a fair shot, but if the first episode messes me up, I won't be continuing.
4) Drink less soda.
I know, I know. Having goals that can't be measured is a no-no! But I know what this means for me. It means not buying soda to keep at home (which I've already started doing and now keep Polar seltzer on hand for when I need the carbonation), opting for water when I'm at a restaurant, and not succumbing to the vending machine at work. It should be an attainable goal!
5) Hang my jewelry organizer.
I got a jewelry organizer for Christmas and I have yet to hang it because I need to borrow a drill to do so. I'm going to try to borrow a drill from my brother so I can finally get this done.
6) Make a writing portfolio.
I've been thinking about doing this for a while, and it's finally time to make it happen. I have a portfolio page on this blog, but I want something a bit more professional, so I'm researching options and then hoping to spend a few hours building it out.