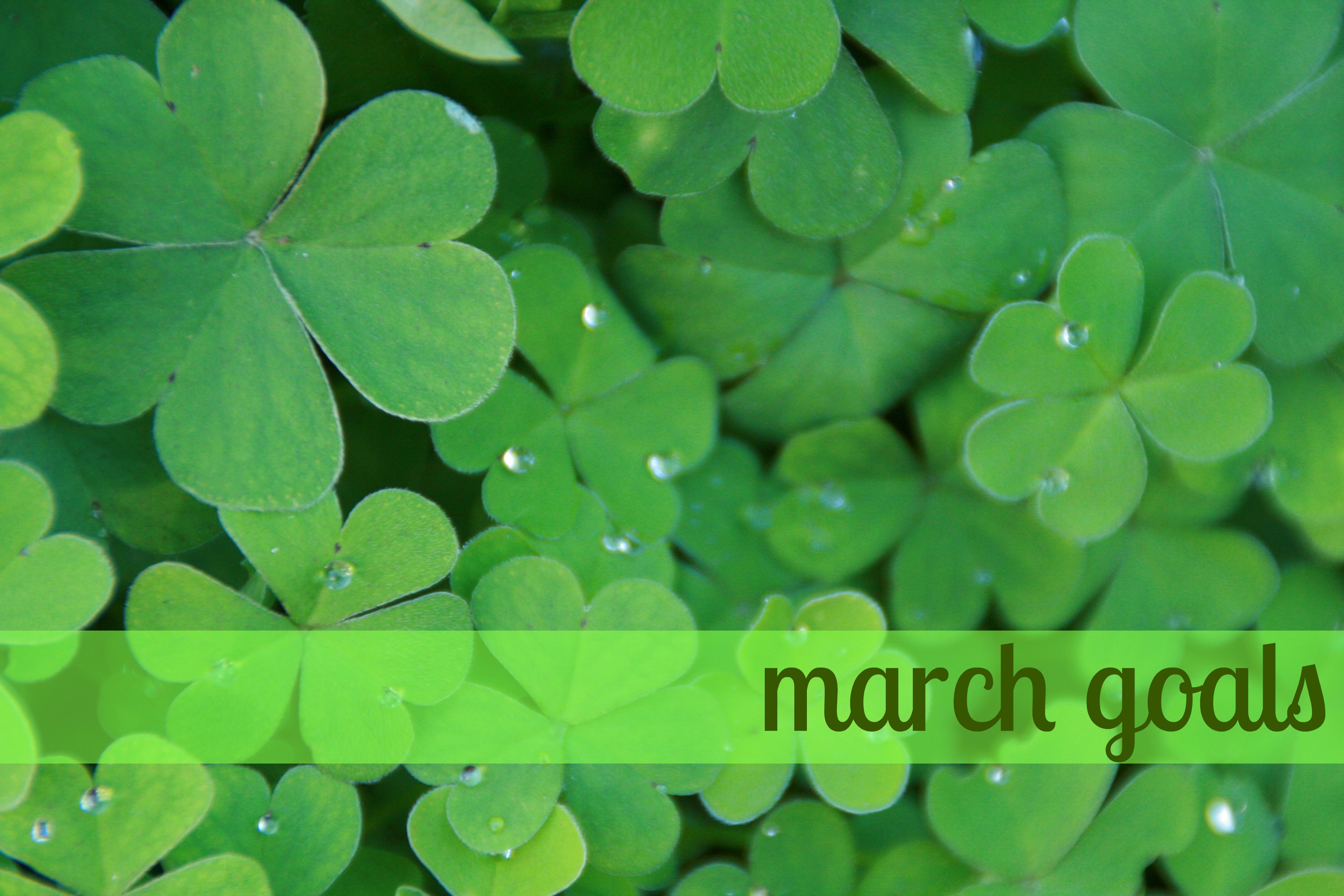 It's time to recap the goals I set in February and set some new ones for March. And I think, after this post, there will be no more talk of setting goals until next month. And everyone breathes a sigh of relief. Let's get started!
Recapping February goals…
Pay off my credit cards. PASS. And WOOHOO to that! My credit cards are now paid in full, so this huge monkey that has been on my back for months is finally gone. It's also nice to have that buffer of having $1,000 on one credit card should an emergency arise before I have my emergency fund in place. In any event, I can cross one debt goal for this year off and that makes me very, very happy.
Organize my closet, bedside table, and bathroom. A sorta pass. I ended up organizing my closet and bedside table, but didn't get around to organizing my bathroom just yet. I filled up one trash bag to donate to Goodwill and another trash bag of just junk so that feels really good. I'm still trying to decide how to organize my shoes (I don't have many – maybe six or seven pairs of shoes?). Pinterest hasn't been very helpful. I'm thinking of either a hanging shoe rack or simply getting a basket to throw them all into. Thoughts?
Eat less sweets. FAIL. Man, oh man. This goal did not go well at all this month, which is why I am eliminating chocolate from my diet for the next 40 days. I need to get my sweet tooth under control!
Eat out no more than three times a week. FAIL. I didn't track this but judging by how much I spent eating out in February, I am more than positive that I failed with this goal. I love eating out! Bah!
Look for a therapist. FAIL. I didn't even try for this goal, even though it was on my mind to do so. Finding a therapist is hard! How do you even begin? And I need a therapist that offers Friday appointments (or something after 6pm on the weekday), and I feel like that's nearly impossible. (My last therapist only offered appointments Monday – Thursday before 5pm.) And let's not even get into the expense of going to therapy. (I think I get 2-3 "free" visits and then it's $55 each visit. That's a lot of money for me!) I'm holding off on this one for now.
In March, I want to…
Observe Lent, and eliminate chocolate and soda from my diet. Today is Day 1 of 40! I am trying to be excited about these next 40 days, but I'm in a state of "can I really do this?" I don't have much faith in myself, but I really want to see this thing through. Here we go!
Pay off my cruise deposit. My mom and I have until April 4 to pay off the cruise, but I'm hoping to pay it off by mid-March so I can have it off my plate and get back to my debt/savings goals.
Spend less than $100 eating out. This is going to be HARD! I love eating out, but it is seriously getting in the way of my goals, both healthwise and debtwise. So. I must learn to eat out less. Baby steps?
Try one new recipe a week. What I would do for my own personal chef. Man. I really dislike cooking and trying new recipes, because I'm a picky eater and not the best cook, so I often mess up recipes. But I also hate eating the same stuff over and over again, so I'm challenging myself to try one new recipe each week in March. (Any favorites?)
Start the 30 Day Shred challenge. Bah. I have such a love/hate relationship with Jillian Michaels. I did the challenge a few years ago and have attempted it again since then, but never seeing it to completion. But I think I want to try it again to shake up my workout routine and hopefully it will lead to fabulous results in March. (Remember, I need to lose 10 lbs to be on track to lose 40 lbs this year!) Plus, Krysten just completed it (along with cleaning up her diet) and lost 10 lbs, so hello, inspiration!
Any goals for you in March? Got any great (easy!) recipes I should try this month?