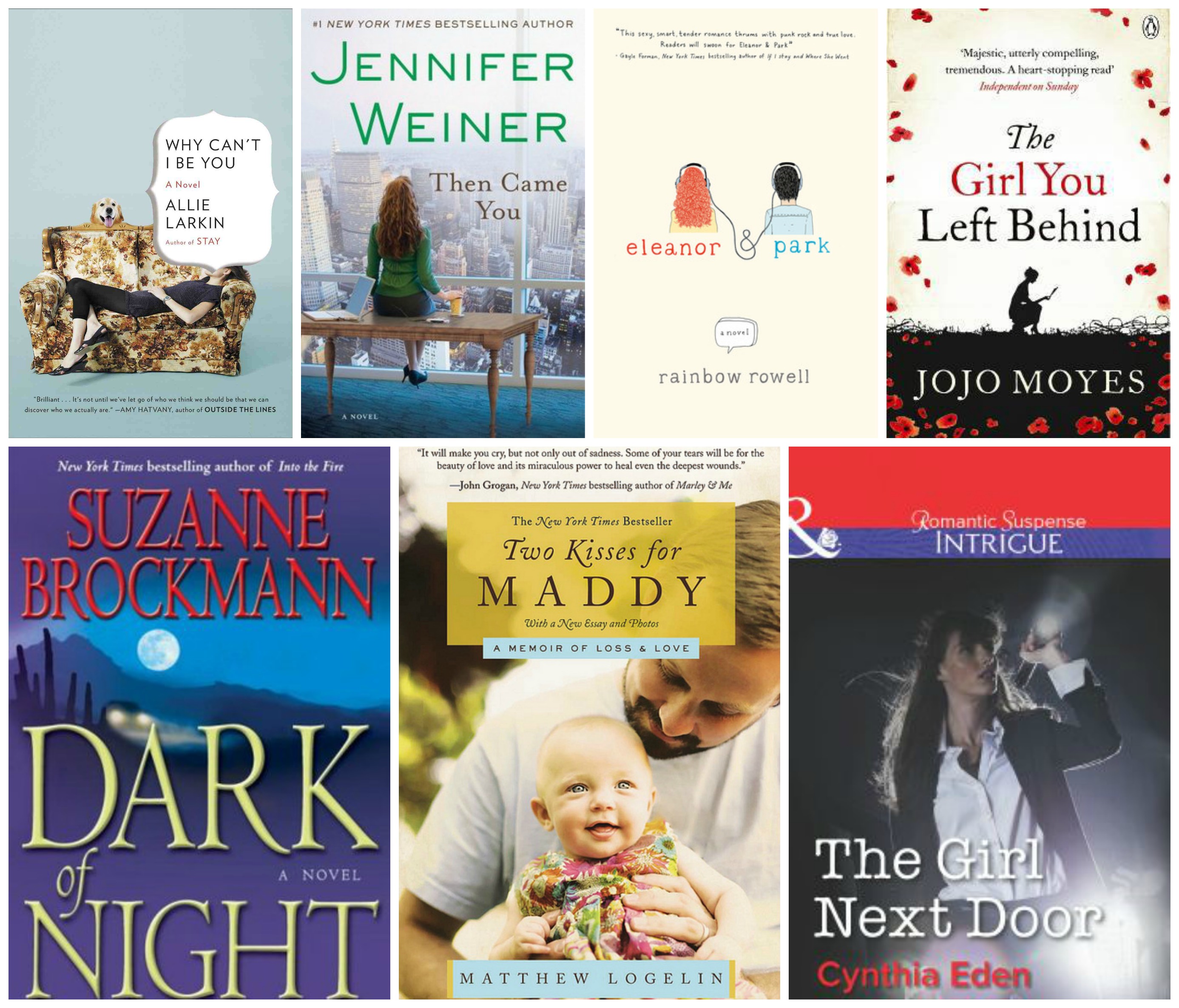 I read 7 books in March! (I know, I know – I said I read 8 books in my post on Monday. I said that thinking I would finish my current book I'm reading before today, but it didn't happen.) I'm at 19 books read total this year, so I'm on track to meet my goal of reading 75 books.
My favorite book was Two Kisses for Maddy and my least favorite was The Girl Next Door.
1. Why Can't I Be You by Allie Larkin (3 stars)
I thought this book had an interesting premise: a girl, who has just been dumped by her long-term boyfriend, travels to Seattle to attend a work conference and gets mistaken for someone else. She goes along with the ploy, because at first, it was just easier than admitting who she really was. And then, she just got caught up in becoming this other girl, who was so very much cooler than she was. It was a fun read!
2. Then Came You by Jennifer Weiner (4 stars)
This book intermingled the lives of four women: college student Jules who donates her eggs to a fertility clinic to get money to send her father to rehab; married mom of two Annie who becomes a surrogate to earn money for her struggling family; India, who uses Jules' eggs and Annie's body to have the baby she desperately wants with her new husband Marcus; and Bettina, India's stepdaughter who doesn't trust India one bit and is going to do her damnedest to find out what secrets India has been hiding.
I found this story really engaging! It's really not a story about infertility or egg donation or surrogacy, but more of the story of these four women and the choices you will make for your family. I was most drawn to Jules' and Annie's stories because I really couldn't figure out whether or not I liked either India or Bettina. (In the end, not really. Neither were terrible likeable.) All in all, one of my favorites from Weiner and now I'm excited to read more from her!
3. Eleanor and Park by Rainbow Rowell (5 stars)
This was a book that came highly recommended, which always makes me nervous. (What if I don't like it? Why would I be the only person who doesn't like it? Does this mean there is something wrong with me?) But from the very first page, I knew it was going to be a book that would touch my heart. It was a book I never wanted to end, but also didn't want to stop reading. I felt connected to Eleanor and Park, they felt so real and alive to me. It's a teenage love story, yes, but it's really so much more than that. That's such a simplified way of looking at this book because it isn't all roses and butterflies. It's happy and hopeful and sweet, but there's also an undercurrent of despair and sadness that makes you feel so deeply for these characters. I was so invested in this story from beginning to end and I'm just… a fan. I am definitely a Rowell fan.
4. The Girl You Left Behind by Jojo Moyes (3 stars)
Me Before You stands out as one of my all-time favorite books, but I hadn't heard many great reviews about this novel. The story revolves around a painting that a woman's husband bought for her before he died. It's a painting of a woman and Liv, the wife, feels a deep connection to her because she was her saving grace as she grieved over the loss of her husband. But the family of the painter learns about this piece and decided they want it back. (It's worth a lot of money.) Instead of giving it up, Liv decides she will take them to court to fight over the painting.
Within that story, the author weaves together the story of Sophie, the woman in the painting, who was living in France during World War I with her family while her husband was fighting in the war. (I enjoyed this story much, much more than Liv's story.)
I liked this novel, but I did not love it. There were times when my attention span waned and I honestly don't think I would have finished it, if not for book club, since it was the pick for March. I couldn't connect to any of the characters (aside from Sophie, who was seriously one BAMF) nor could I connect to the storyline because I've never had such an emotional connection to a painting. (Or any object, really.) That said, there were many people in my book club that absolutely loved the book so what do I know? For me, good but not great.
5. Dark of Night by Suzanne Brockmann (4 stars)
Another solid novel by one of my absolute favorite writers. What I love about this series is that I've been with this group of people for so many books now. (This is Book #14!) I feel like I have grown with these characters, and this one involves many of my favorites, including some interesting love connections that I never saw coming! I'm sad I'm nearing the end of this series of books, but I'm sure I'll find myself rereading it in a few years' time.
6. Two Kisses for Maddy by Matthew Logelin (5 stars)
This book changed me. It gave me the most intense book hangover of my life. And it wasn't a typical hangover of "Oh, I wish I could read that story again!" but more of a "That was the most difficult book I have ever had to read and I'm glad I read it but I'm not glad because now I am so sad and WHY DO BAD THINGS HAPPEN TO GOOD PEOPLE? WHY?" Sigh. I tend to form emotional connections to stories and people, and it's even more intense when it's a memoir. Because unlike a novel, it's something that actually happened. You get to feel this person's rawness and vulnerability as they take you through their journey. And Matt's journey? Oh, it is so tragic. It's heartbreaking. It made me sad and angry and melancholy. I've never read his blog, so all I knew from his story was that his wife died after giving birth to their daughter, and this book was his tribute to her. I'm still not sure, almost a week after finishing it, that I have fully processed the book. I've spent hours in my head, thinking about Matt and Liz and Maddy and how unfair it is that Matt and Maddy have to live without Liz. That Matt has to go on without his wife and Maddy never got a chance to know her mother. I want it to be a cruel joke, but it's not. It's real, it happened, and it is so, so tragic.
I can't put into words how much this book affected me. It gutted me, ripped my heart out, and I just find Matt to be this amazing man who lived through a horrible thing and is raising his daughter in a way that would make his wife so proud. As heartbreaking and sad at the story is, there's also hope. Because he made it through one of the most horrific things a person can go through, and it was hard and tragic, but he did it. There's hope that whatever tragic thing comes our way, we, too, can find a way to move forward and thrive in a new normal.
7. The Girl Next Door by Cynthia Eden (3 stars)
After reading such an emotionally heavy book on loss, I needed something easy to read and mind-numbing. Just a simple trashy romance novel, and that's exactly what I got with this book. It wasn't good, it was pretty cheesy, and it was just what I needed.
Have you ever read a book that affected you on such a deep level?