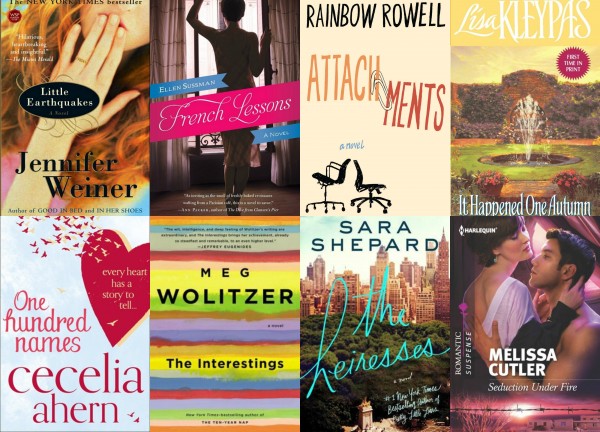 May was a great reading month for me! I read 8 books and I'm on track to knock my goal of reading 75 books this year out of the water. My favorite book this month was Attachments, while my least favorite was French Lessons.
1. Little Earthquakes by Jennifer Weiner – 4 stars
I am really enjoying Weiner's books now. I read a couple of her books that I really didn't like (I couldn't make it through Best Friends Forever and Certain Girls made me the most upset any chick-lit book has ever made me), but decided to give her another chance since so many people love her books. I'm so glad I did! I really enjoyed this book and it was just one of those novels that made me happy. It followed the journey of four different woman, three of whom are new mothers and trying to navigate the world of new motherhood. It's really a book about family – about the family you make with your husband, about in-laws, about your nuclear family and how everything changes after motherhood. At times, I felt she was a little over-the-top with the descriptions of new motherhood but then again, I'm still (very happily) childless so what do I know?
2. French Lessons by Ellen Sussman – 1 star
This book was just bad. I think (I hope?) it was one of those "Kindle Free Books" one day a long time ago, so I downloaded it and finally got around to reading it. The synopsis sounded pretty great. It involved the lives of three French tutors and their clients for the day, three Americans who are in Paris for three very different reasons. It followed them around during their day in Paris, but it felt more about the stories of these Americans than actually their experiences in Paris. There are many, many themes of infidelity which rubbed me the wrong way. (Sometimes, I don't mind the way infidelity is written and sometimes, it makes me very angry! This book was the latter.) There didn't really seem to be a plot and I kept waiting for something to happen.
I'm actually surprised I kept reading this book because I usually abandon books I don't have to read if they don't get interesting within 100 pages, but I kept trucking through this one because I did enjoy the writer's use of language and imagery… I just wish there was a stronger plot to go with it.
3. Attachments by Rainbow Rowell – 5 stars
You guys. You guys. YOU GUYS. This book was the cutest thing I have ever read in my entire life. I had this silly, sappy smile on my face when I was reading it and I just loved it. The characters were so cute and funny and sweet. The plot was intriguing. And the ending made me so, so happy. I am such a fan of Rainbow Rowell. She's quickly becoming one of my favorite authors!
4. It Happened One Autumn by Lisa Kleypas – 4 stars
I really enjoyed this novel! I read it during my cruise and it was the perfect romantic, light read that I crave on vacation. (Or, hell, most times of the year! Ha.) This one continued the story of the "Wallflowers" that I read last month, focusing on another girl and her love story. It was cute, it was playful, and probably around 60% in, it became one of those stories I couldn't put down and just had to keep on reading until I finished it. I love books like that!
5. One Hundred Names by Cecelia Ahearn – 4 stars
My full review of this novel is here!
6. The Interestings by Meg Wolitzer – 3 stars
This book was long. So long. Almost 500 pages in tiny print and it felt like it took me forever to get through it. It followed the lives of six friends who met in the 70s at an artsy summer camp when they were teenagers. While I felt the book was well-written and the characters were well-developed, I just didn't feel like anything happened. I just felt like I read the book to get through it, not because I particularly enjoyed the novel and wanted to learn more about the characters.
7. The Heiresses by Sara Shepard – 5 stars
One of my favorite reads this month! You can read my full review here.
8. Seduction Under Fire by Melissa Cutler – 3 stars
I've really enjoyed all the Melissa Cutler books I've read, but this one was just okay. It's one of her earlier novels, so I can really see how her writing as grown from this book to her later ones. The plot seemed to drag on and on and on, and I didn't feel a real connection to the characters. (They weren't very likeable, either.) So, an okay read but not her best.
What was the best book you read in May?