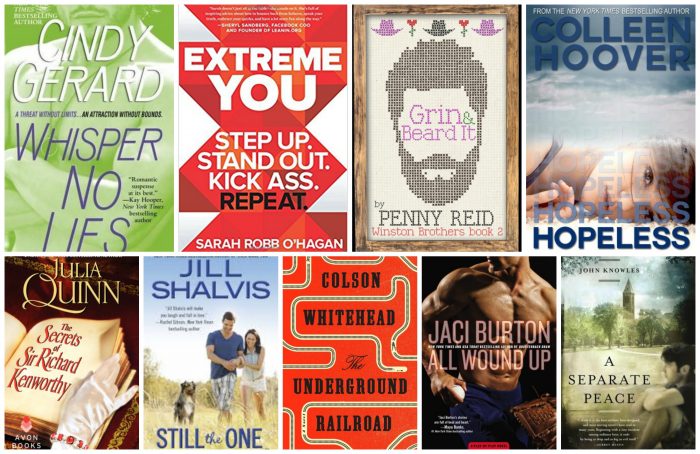 April was another fantastic reading month for me – I read nine books and I'm way ahead of my goal to read 100 books this year. What can I say? I'm devoting a lot of time to reading lately, and it feels really good. This month, my favorite novel was The Underground Railroad, which is a novel I think everyone needs to read. It's sensational.
Here are my book reviews:
Whisper No Lies by Cindy Gerard (★★★★★) – I could barely put this novel down; it was so good that I immediately wanted to reread it when I finished it. Cindy Gerard writes such intense romantic thrillers, and this one was especially intense as it followed a human trafficking ring, which was just so damn heartbreaking. One of these days I'm going to write a post about finding great romance novels, but if you're looking for a romance that will easily keep your attention and isn't cheesy, pick up anything by Cindy Gerard. (library e-book)
Extreme You by Sarah Robb O'Hagan (★★☆☆☆) – I reviewed this book earlier in the month for TLC Book Tours, and you can find my review here. It's a great read for ambitious career-minded women, but as I'm not really the target audience for this type of book, a lot of the advice didn't land for me. (hardcover)
Grin and Beard It by Penny Reid (★★★★☆) – This romance was such a fun time, and so much better than the previous book in this series (Truth or Beard). What I loved most was that it had a plus-sized protagonist, and that's something you just don't see in romance novels that often. I also found the juxtaposition of glamorous Hollywood and backwoods Tennessee to be such a unique mix, and made the romance all the more believable. The next book in this series is about Cletus, who is far and away my favorite Winston brother, and I cannot wait to dive into that one. (e-book)
Hopeless by Colleen Hoover (★★★★☆) – My book club is obsessed with Colleen Hoover, and I'm slowly working my way through her list of titles. I've had Hopeless on my Kindle for a long time now (I bought it during a Bookbub deal) and I finally got around to reading it and couldn't put it down. The thing about Colleen Hoover is that she makes me want to give up on fiction writing completely because I'm not sure if I can write characters and scenes as real and believable as she does. Everything she writes just comes alive on the page. This book took a crazy turn about 75% of the way through – a turn I wasn't expecting at all – and it just made this book even more unputdownable. Give it a read, but be warned, it's basically a mushy YA love story. (e-book)
The Secrets of Sir Richard Kenworthy by Julia Quinn (★★☆☆☆) – I have really enjoyed Julia Quinn's Smith-Smythe Quartet series, but this novel just didn't do it for me. The whole plot seemed contrived, and the hero of the novel was not how I like my romance heroes to be (honest, kind, forthright). In the end, I wasn't even rooting for the romance to succeed, and that's never a good sign. (library e-book)
Still the One by Jill Shalvis (★★★★☆) – This was such a fun romance novel! It continued her Animal Magnetism series, and I basically never want this series to end because it makes me so happy. Romance novels involving animals? Hello, wheelhouse. This is one of those novels where the characters spend a lot of time hating each other, but are also not able to handle the rush of sexual chemistry they have for one another, which is one of my favorite romance tropes. Fun, cute, with great sex scenes… all I want in a romance novel! (library e-book)
The Underground Railroad by Colson Whitehead (★★★★☆) – I can finally say that I read, and loved, a Pulitzer Prize award-winning book! This book was masterfully written, heartbreaking yet hopeful. It's a story about Cora, a slave on a plantation in Georgia, who escapes with another slave named Caesar through the Underground Railroad. Except the Underground Railroad is an actual railroad with engineers and conductors and tracks and tunnels. The book follows Cora's journey as she travels this railroad and what happens afterward. I worried that the language of the novel would be too literary for my tastes, but it was actually super accessible and easy to read. There's definitely a literary element to Whitehead's writing, but it read beautifully and not literary just for the sake of being literary. And this quote, near the end of the novel, was simply outstanding:
"'And America, too, is a delusion, the grandest one of all. The white race believes-believes with all its heart-that is it their right to take the land. To kill Indians. Make war. Enslave their brothers. This nation shouldn't exist, if there is any justice in the world, for its foundations are murder, theft, and cruelty.'" (p. 285)
I am going to encourage everyone I know to read this book. It's a hard, heavy subject but we need to continue telling the stories about the horrors of slavery and the way blacks were (are?) treated in our country, as if they were less than and not human beings. (hardcover)
All Wound Up by Jaci Burton (★★★★★) – I've read quite a few of Burton's Play-By-Play novels that have been less than stellar. They started feeling formulaic and contrived. But I've stuck with her because the first few novels in this series were so good, and I'm glad I did because this novel felt more like the ones I read in the beginning. It was a fun plot with likable characters who didn't seem too perfect. I also really respect the way Burton writes sports scenes – it really feels like you're on the field and if I ever end up writing sports romance, she's someone I could take more than a few lessons from. (library e-book)
A Separate Peace by John Knowles (★★★★☆) – I read this novel for my "read four classics" yearly goal, and it was really fantastic. It's a quick read at just under 200 pages and I really loved the time period and this insight into an entirely different viewpoint. Most World War II books follow people involved in the war or deeply affected by it, but this novel tells the story of boys who are not yet able to fight in the war, but know their time is coming, as they are in their final year of boarding school in New England. The novel is mostly about Gene and Phineas and their friendship and how it evolves during the year. (library paperback)
What was the best book you read in April?