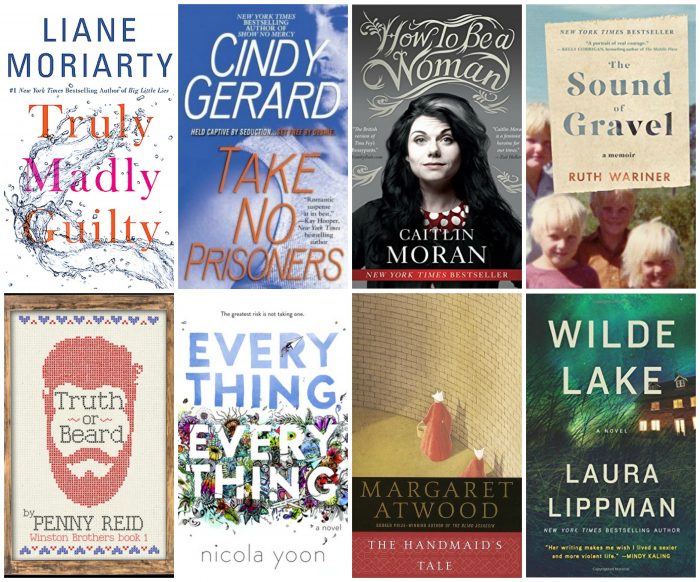 February was another solid month of reading for me, as I finished 8 books and I am on track to read 100 books this year. Wahoo! Like I mentioned last month, I'm not going to go crazy to meet this goal, but it's nice to see that it is obtainable. This month, I gave a lot of books five stars, but I think my favorite book was The Handmaid's Tale. It's just one of those books everyone needs to read, and it was never one I was assigned in high school or college, so I'm glad I finally got around to it this month. I think my least favorite book was Truth or Beard; it really didn't live up to my expectations and was a little too sweet for my liking.
Here are my reviews for what I read last month:
Truly Madly Guilty by Liane Moriarty (★★★★☆) – I think my friend put it best when she said "first 200 pages, 3 stars; last 100 pages, 5 stars." The first part of the book was a slog. We're introduced to a mystery (something happened at a barbecue, something that had lasting repercussions…), but we don't know what it is and Moriarty slowly takes us through the hours leading up to the barbecue and then the event itself. It could be frustrating at times, but Moriarty writes in such a way that I didn't mind it. But, boy, once everything is revealed, the plot moves along at warp speed and I couldn't put the book down! I'd probably recommend Big Little Lies and The Husband's Secret before this one, but still highly enjoyable and such a unique exploration of love and relationships. (library hardcover)
Take No Prisoners by Cindy Gerard (★★★★☆) – This was a reread and it was just so lovely. I love the way Gerard writes romantic suspense. This novel follows Sam and Abbie. Sam played a small role in some of the other books in Gerard's backlist, and I've always been drawn to his character, so I enjoyed reading his love story. Abbie was incredibly likable and fun to read, and I loved the way she and Sam did the typical dating thing for the first few chapters of the book. You never see that in these types of books! It was so cute. Highly recommend for those who enjoy a good thriller with lots of romance. (library e-book)
How to Be a Woman by Caitlin Moran (★★★★★) – I listened to this book on audio and it was such an enjoyable experience. I think memoirs read by the author are the best kinds of audiobooks to listen to, honestly. I've never been a huge audiobook fan, mostly because I can read a book much more quickly than I can listen to one. But I wanted to listen to more audiobooks this year, especially because my library has an extensive collection and usually little to no waits. This book was about feminism through Caitlin Moran's lens, and I thought it was such a great primer for what feminism is and why it's so important. It was funny in parts, especially because of the way the author read the book, but mostly very heartfelt and engaging. It's worth giving a listen, if only for Moran's beautiful British accent. (library audiobook)
The Sound of Gravel by Ruth Wariner (★★★★★) – This book was the February selection for my local book club, and we all gave it 5 stars, which is a record for us! It was such an incredible memoir, about a girl who grew up in  a polygamist cult in Mexico. Her (polygamist) father died when she was very young and her mother remarried to another polygamist. Her family lived in poverty, her mom collecting welfare and her stepfather doing a terrible job at providing for his three families. As Ruth grows up, she starts questioning the polygamist life and whether or not it's the right one for her. At times, it's hard to stomach the pain and difficulty that Ruth went through in her life – but how she found a way to break away from the cult and build a life of her own was so inspiring. Ruth's writing is engaging and I felt like I was truly there with her every step of the way. She writes vividly and candidly about her life, and in such a raw way that I have to believe the experience of writing the memoir was a heartbreaking and difficult one. Ruth's resiliency is admirable, and it's a reminder that we can handle so much more than we ever thought we could. (library hardcover)
Truth or Beard by Penny Reid (★★★☆☆) – I learned about this romance author through another blogger who is a romance evangelist, and when this book was free on Amazon one day, I snapped it up. I went into it with high expectations because of the recommendation, but it fell a little flat for me. For one thing, the protagonist was super young at 22, when most romance protagonists are in their late twenties/early thirties. It was hard to connect with her because of that. And for another, the story was a little too fluffy and sweet for me. I like a little more complexity to my romance novels. It was good enough that I'm going to give another one of her books a try, but I'm still on the fence about the author as of right now. (e-book)
Everything, Everything by Nicola Yoon (★★★★★) – This book was perfection in every way. It was just a sweet YA romance, but unlike Truth or Beard, there was a lot of complexity and nuance. It was about a girl named Madeline who has a rare disease that keeps her from going outside. Her entire life has been spent inside her sealed home. And then, one day, a boy named Olly moves in next door and upends her world. I just loved everything about this book and these two characters and I cannot wait for the movie adaptation this spring. Just watching the trailer gave me all the feels! (e-book)
The Handmaid's Tale by Margaret Atwood (★★★★★) – I was never assigned this book back in high school or college, so it's been one of those books that I want to read, but am not sure I would have ever gotten around to if not for my work book club. We chose this for our February read and I decided to actually buy the paperback rather than getting it from the library. I had a feeling it would be a book I'd want to keep on my shelves and I was right. This will easily make my Top 10 list for the year, probably in the top spot. (And maybe in my favorites of all-time?) The premise is so terrifying, as it takes place in a world where women have no rights (they aren't even allowed to read!). Many of them have become Handmaids where they serve a Commander and are forced to have sex with him to become pregnant. The Handmaid's job is to deliver a healthy baby. These Handmaids were wives and mothers and sisters and daughters before they were ripped from their families due to a totalitarian theocracy that suspends the Constitution. Suspends! The Constitution! Fuck that is frightening. If you're feeling scared about the state of U.S. politics right now, it's probably not going to help your emotions, but you still might consider giving it a read. It's a reminder to remain vigilant, to resist what feels wrong, and to recognize that we are not living in normal times and we cannot be silent about that. (paperback)
Wilde Lake by Laura Lippman (★★★☆☆) – I reviewed this book for TLC Book Tours, and you can find my review here. (paperback)
What was the best book you read in February?