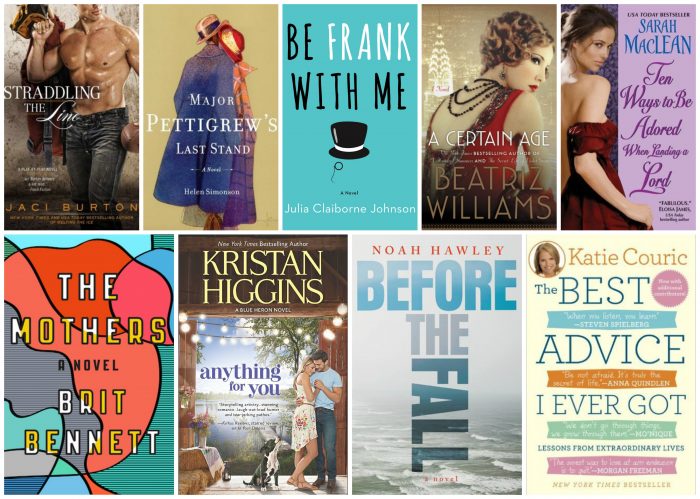 I set my annual Goodreads reading goal at 100 books. I don't actually expect to read 100 books this year (90 tends to be my sweet spot), but I continually low-ball my Goodreads reading goal and I wanted to give myself something of a challenge this year. Luckily, I started the year off strong in January with 9 books read. My favorite book this month was The Mothers and I encourage everyone to read that novel – it's fantastic!
Here are my reviews for the books I read in January:
Straddling the Line by Jaci Burton (★★★☆☆) – Jaci Burton is truly one of my favorites when it comes to sexy romances, but there was something missing in this novel. This is the love story between Haven and Trevor, two characters that have been present in other novels in Burton's Play by Play series. I was excited to read about them, but there was something… almost mechanical… about the plot. It was almost as if Burton has some sort of algorithm for writing. It was still a good novel and I devoured it in a matter of days, but I was a little disappointed in it, too. (e-book)
Major Pettigrew's Last Stand by Helen Simonson (★★★★☆) – This was a slow, sweet book about family and love and grief and community. It follows Major Pettigrew, a witty and opinionated older gentleman who has just lost his brother. He's a widower and has a smarmy son who he's not particularly close to. And when he begins to court Mrs. Ali, the Pakistani shopkeeper, they both receive backlash from the people in their small village. I loved how slow and meandering the story was because it fit the way Major lived his life and the setting of the novel. It was a book that just captivated me in its slowness. There were no crazy twists and turns, just a sweet novel with a completely lovable hero. (paperback)
Be Frank With Me by Julia Claiborne Johnson (★★★☆☆) – This novel is about Alice who works for a book publisher and is given the task of making sure the company's most beloved author, M.M. Banning, delivers her much-anticipated second novel on time. So, she travels to California to keep tabs on Banning and, in doing so, she meets the author's quirky nine-year-old son, Frank, and quickly becomes his companion. I really wish Frank had been the protagonist in this novel, and not Alice, because Alice was a little bland for me and never really grew as a character. But Frank. Oh. He was phenomenal. He brought so much to the story. Read this novel for Frank… just don't expect too much from the plot. (hardback)
A Certain Age by Beatriz Williams (★★★★☆) – I reviewed this novel last month for TLC Book Tours. You can read the review in its entirety here. (paperback)
Ten Ways to Be Adored When Landing a Lord by Sarah MacLean (★★★★☆) – Well, it's official. I have a new favorite romance author. Sarah Maclean writes fun, feisty, hilarious Regency romances and I am here for all of them. Her female protagonists are sassy and smart and vulnerable without being over the top. Her male protagonists are sexy and funny and supportive without seeming too unrealistic. I'm just very, very glad that I have a long list of backlist titles to read from her. Happy sigh! (library e-book)
The Mothers by Brit Bennett (★★★★★) – This novel was a quick read for me, mostly because I could not put it down. I wouldn't be surprised if it makes my top ten list this year because it was just that good. The book is about Nadia who, at the start of the novel, is seventeen, in her last year of high school, and grieving the loss of her mother to suicide. She starts to see Luke Sheppard, the pastor's son who is dealing with his own demons, and soon finds herself pregnant and conflicted. Throughout the rest of the novel, Nadia and Luke grow up and are soon adults who are still wondering what if they had chosen differently that fateful summer. I loved the voice of this novel and thought it was such a brilliant debut from Bennett. (hardback)
Anything for You by Kristan Higgans (★★★☆☆) – This is the fifth book in the Blue Heron series from Higgans and this time, we finally get Connor's story, the grumpy yet lovable chef who plays a behind-the-scenes role in all the other books. It starts with a proposal, Connor proposing to his longtime-in-secret girlfriend, Jessica. Jessica gives him a very firm "no," and then the story delves into the past for Connor and Jessica and how they got to where they are today. Honestly, this novel was just okay for me, mostly because I didn't really like Jessica as a character and didn't really feel any emotional connection to them as a couple. (library e-book)
Before the Fall by Noah Hawley (★★★★☆) – This novel has gotten a lot of hype and I was worried about it falling short of my expectations, but I'm happy to report that it didn't. The writing was truly exquisite and I just really enjoyed my experience with reading this novel. The premise is that a plane crashes and the only survivors are a four-year-old boy (son of a wealthy media mogul) and a man, a washed-up painter who had gotten on the plane last minute. As the story progresses, the back story of each person on the plane (including the flight staff) is perfectly woven into the novel and we learn about these characters and their motivations in the days leading up to the flight. And, ultimately, why the plane crashed in the first place. (library hardback)
The Best Advice I Ever Got: Lessons from Extraordinary Lives by Katie Couric (★★★☆☆) – This was an okay nonfiction book, but nothing too life changing. It was written in 2011, and some of it already feels dated (such as the "lessons" from Bill Cosby and Donald Trump, blech). I also didn't think we needed 3-4 lessons from Jay Leno, but maybe that's just me. But some of the advice was pretty great – like the fact that Kathryn Stockett's novel The Help was rejected more than 60 times before someone took a chance on it, so really, you should never give up on something you believe in. (library audiobook)
JANUARY NOTES
I abandoned 3 books in January: The Life-Changing Magic of Not Giving a F*ck by Sarah McKnight (I honestly don't struggle with saying no and generally give only the "f*cks" I have to give, so this book just wasn't for someone like me); Salt Sugar Fat by Michael Moss (tried listening on audiobook, but it didn't keep my attention); and Razor Girl by Carl Hiaasen (not my style of book at all and I gave up after 90 pages)
It took me 9 days to finish 

Major Pettigrew's Last Stand

, so that was the longest time spent reading one book. In contrast, it took me less than 2 days to read 

Straddling the Line

.
My rating average was 3.7 and I had a good mix of 3 and 4 star books.
I read 3 diverse books. I'm trying to read at least one book by a POC every month.
I didn't read too many library books this month: only 3 out of 9. I have a feeling this will be atypical.
I spent $16.44 on books this month, which also feels atypical.
Four out of the nine books I read were published in 2016. All of them were published by a traditional publisher.
What was the best book you read in January?