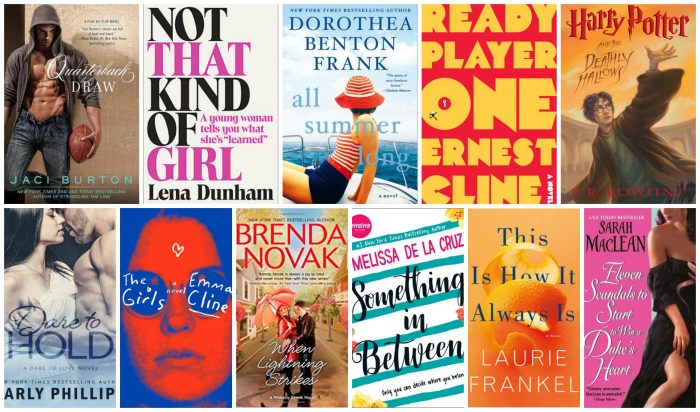 Settle in, folks. This book review post is going to be a long one. Somehow, I read 11 books in March. I didn't even realize I had read so much until I took a look back on my March reads and added it all up. Holy cow! I am way ahead of my goal of reading 100 books in 2017. Who knows if I will sustain this pace throughout the year, though. Right now, I just have a lot of time to devote to reading and since I no longer have cable and rely on Netflix for TV, I find myself less and less inclined to turn my TV on, preferring to settle in with a book instead.
I read so many great books this month, but it is easy to name my favorite: This is How It Always Is by Laurie Frankel. It made my heart explode.
Here's what I read in March:
Quarterback Draw by Jaci Burton (★★★☆☆) – I've seen this mentioned in other reviews, but it really feels like Jaci Burton has run out of ideas when it comes to her Play-By-Play series (this is the ninth book in the series). The characters weren't anything special, there was no angst or real conflict. It was a pleasant read, but I wanted more. I didn't feel any connection with the characters and I wish this author would write about more real characters with real families. Everything is a bit too perfect and there's nothing special about that. (library e-book)
Not That Kind of Girl by Lena Dunham (★★★★☆) – I ended up enjoying this book way more than I thought I would. I'm not really a fan of Lena Dunham, but I'm also not not a fan? I am indifferent to her. I understand the criticism of her work and I understand why people love her. I listened to this on audiobook, which Dunham reads herself, and I found myself vastly enjoying her viewpoint. I think she's someone I might get along with in real life because there was a lot I could agree with and understand. I don't think I'll be watching Girls anytime soon, but this was a good listen and gave me a different amount of respect for her. (library audiobook)
All Summer Long by Dorothea Benton Frank (★★★☆☆) – I reviewed this novel earlier in March, and you can read my review here. Quick review: a sweet novel, but not one I'd be quick to recommend. (paperback)
Ready Player One by Ernest Cline (★★★★★) – I have been waiting for this book to make its way to me in the postal book club, and I was so excited to get in the mail in the latest round. It lived up to my every expectation and was so much fun to read. The novel takes place in the future – 2044 – and everyone basically lives in a virtual reality. The novel begins with the creator of the virtual reality simulation dying, which launches this crazy game that has everyone fighting to solve puzzles so they can win the prize money. I'm not a gamer, nor am I a connoisseur of 80s pop trivia, but I could still thoroughly enjoy and appreciate this novel. It was incredible. (paperback)
Harry Potter and the Deathly Hallows by JK Rowling (★★★★★) – I have had this book on my nightstand since September, and I figured it was beyond time for me to finish my reread of this series and give the book back to my friend. There is truly nothing like these novels; they are a work of art. Also, I had forgotten so damn much about this series! It was amazing how much of it read like new information to me. I can't wait to reread this series again. (hardcover)
Dare to Hold by Carly Phillips (★★★☆☆) – I read this book in one sitting on a Saturday, and it provided the perfect escape. I really loved the chemistry between the two main characters, and I think Carly Phillips really excels at making you feel their passion for one another. Fun and thrilling with some really excellent sex scenes. (e-book)
The Girls by Emma Cline (★★★☆☆) – What a creepy, disturbing book! We picked this for my work book club this month, and I was looking forward to reading it as it had been on my list for a while. I really love Cline's writing style and found myself highlighting all different passages. But the story itself disturbed and depressed me (it's basically a fictional retelling of the Manson Family through the eyes of a girl who joined the cult right before all the murders happened). I never felt excited to pick up the book, but whenever I did, I got sucked into the story. (library hardcover)
When Lightning Strikes by Brenda Novak (★★☆☆☆) – This was a free Kindle book I snagged a while ago and read while at the gym. It was really not that good and the premise was rather silly, but it kept my attention enough that I kept reading. Meh. (e-book)
Something in Between by Melissa de la Cruz (★★★★☆) – I listened to this on audiobook and the narrator was phenomenal. It's so rare for me to love an audiobook narrator (which is why I've had such trouble with audiobooks), so listening to this novel was so enjoyable. It's a sweet YA romance, but delves into a very serious topic: immigration and deportation. High school senior Jasmine is awarded a scholarship that will allow her to attend any college she wants for free. In order to accept the scholarship, she has to show proof of citizenship. Her family moved to the USA when she was very young on work visas, but those expired and they never renewed them. Jasmine has to come to terms with being an illegal immigrant… and her new boyfriend's father is a congressman who is fighting against the rights of immigrants. It's truly an outstanding portrayal of what it is like for people who come to America searching for a better life, and how the system works against them time and again. I was super impressed with Melissa de la Cruz's writing and how she tackled an incredibly serious and heartbreaking topic in a way that felt hopeful. (library audiobook)
This is How It Always Is by Laurie Frankel (★★★★★) – This might be the best book I've ever read, no lie. The writing is incredible and I truly never wanted the book to end. I took my time reading the novel because I just wanted to soak in every single moment with this family. This novel is about Claude and his family. It's about how Claude wants to be a girl when he grows up. It's about a family that wants Claude to be whomever he wants to be… but aren't sure how to share Claude with the world. It's about a wife and a husband who are trying to raise five kids. It's about siblings and how powerful that bond can be. It's a truly sensational piece of writing that everyone needs to read. (library hardcover)
Eleven Scandals to Start to Win a Duke's Heart by Sarah MacLean (★★★★☆) – Oh, gosh, am I glad I found Sarah MacLean. Her Regency romances are everything. They feature smart, feisty female protagonists and sexy, charming male protagonists, and engaging plots that seem to be completely different than everything else I've read in this subgenre. Her books are just so much fun to read, leaving me with only happy sighs. (library e-book)
What was the best book you read in March?