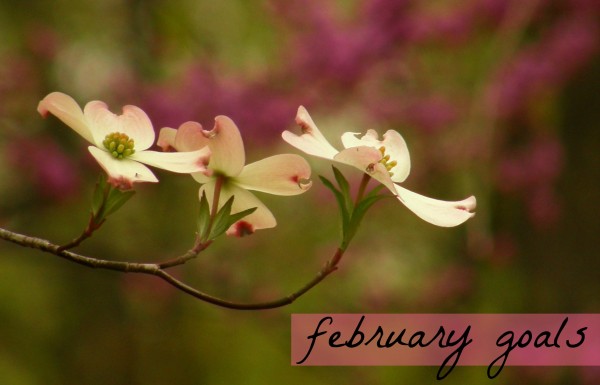 Goal-setting is something that is always on my mind. I love to think about ways I can better myself and improve my life. That's not to say I'm unhappy with who I am or where I am right now in my life. In fact, I am extremely happy with my life. I like who I am, I like where I'm headed, and it has taken a lot of work for me to get here. My life at 27 doesn't look anything like I thought it would, but that's okay. It's my life. It's my journey. And I'm really, really enjoying the process of discovering who I am, what I want, and what makes me abundantly happy.
But goal-setting. Back to the heart of this post. I love setting goals. I love big goals and small goals, scary goals and silly goals. But I want my goal-setting to be intentional. For the longest time, I've been setting very arbitrary goals. I haven't really thought about why I'm setting the goals… they're just based on a feeling. Or this idea that this is a goal I should be setting.
I'm so tired of the "should have's." I want to revoke that phrase from my vocabulary. There is no "should have," there is only "I want to's."
Kathleen is someone I greatly admire and I have loved seeing her goal-setting process this year. One thing I really like is how she set aside five areas of her personal life to make improvements on. These aren't big areas like spirituality or finances, but smaller, "nonessential" (as she calls them) areas that tend to take a backseat to the bigger goals. I really like this idea. I like it so much that I decided to copy it and use it for myself.
So I had to come up with five areas of my life where I also wanted to see improvements in throughout the year. I decided to make my areas a little more all-encompassing, though, because some of the personal areas I want to work on are big. Here's what I decided on:
> finances (saving money, paying off debts, and spending my money more intentionally)
> health (losing weight, eating better, and working out on a consistent basis)
> nagging tasks (this one is stolen from Kathleen's list – one task per month that I continually put off but will make me feel soooo much better once I finally get it done!)
> exploration (tackling items off my Tampa Bay to-do list, travel, putting myself out there)
> personal habits (adding one new habit to my life a month to improve my happiness, enhance my health, and/or get me on the path I want to be on)

Now, each month I will identify one goal that I want to tackle to address each area of personal growth. So, without further ado, here are my goals for February:
> finances: start using a cash budget system for groceries and extra expenses
> nagging task: clean out and declutter the screened-in patio
> health: start using a food journal to track what I'm eating and how I'm feeling
> exploration: visit the zoo
> personal habit: turning off the computer and TV by 8:00 p.m.
Do you have any goals for February?