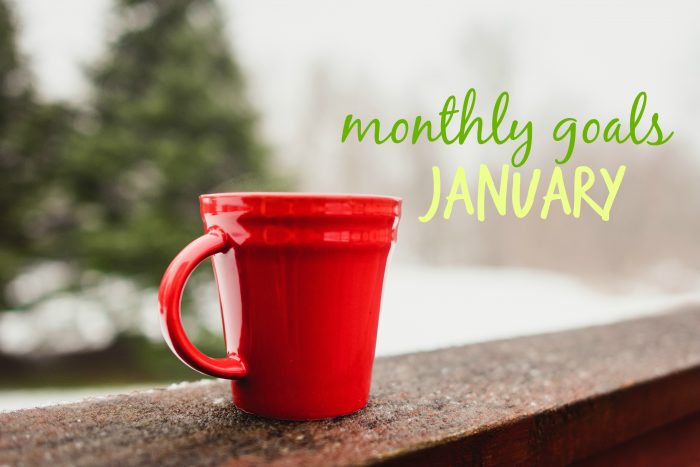 Last year, I didn't set monthly goals for the majority of the year, opting for quarterly goals instead. This year, I want to bring back monthly goals because I really love setting small intentions for the month. It's just fun for me. Some of these goals are related to my bigger yearly goals while others are just little tasks I need to take care of or habits I want to cultivate.
Here's what I'm hoping to accomplish in January!
Write 2,000 words weekly in my fiction novel. In order to write an 80,000-word novel by the end of the year, I need to write 1,538 words weekly. I rounded up to 2,000 to make things simpler (and to give myself a week or so of leeway, should I need it). Writing 2,000 words a week is nothing and something I can usually accomplish during my weekly writing date with my friend M., so I'm pretty sure I can get this done.
Walk 5,000 steps daily. I got a FitBit for Christmas! Yay! And it helped me realize how little walking I do on a daily basis. Like, my average is under 4,000 steps. Uh, whoops. Can I blame my sedentary office job for that? I know that I'm "supposed" to walk 10,000 steps a day, but that sounds like an impossible daily feat, so I'm setting the bar low at 5,000 and I'll work my way up from there.
Update my "Work With Me" page on my blog. I've finished some cool freelance projects in the past few months (and was recently published on Thought Catalog – WHAT!), but I haven't updated my "Work With Me" page since before I started hustling after freelance work. I need to make sure this page reflects the work I've done, so I just need to spend a few hours one weekend updating it. (And if I put it as a goal, I am much more likely to do this!)
Submit one personal essay. As mentioned above, I was recently published on Thought Catalog. They reached out to me to republish one of my blog posts and it was such an exciting moment for me. I really want to make 2017 the year where I publish more of my writing in different places, to truly take a big step outside my comfort zone and let my writing out into the world. I'll start by trying to submit a personal essay to a publication in January.
Work out three times a week. I'm slowly working my way through Couch to 5k for the 4,959th time. It's the easiest way for me to work out right now, since I can do it easily before work and it gives me a good challenge. I'm still not a fan of running, but maybe the 4,959th time is the charm?
What's one thing – big or small – that you want to accomplish in January?