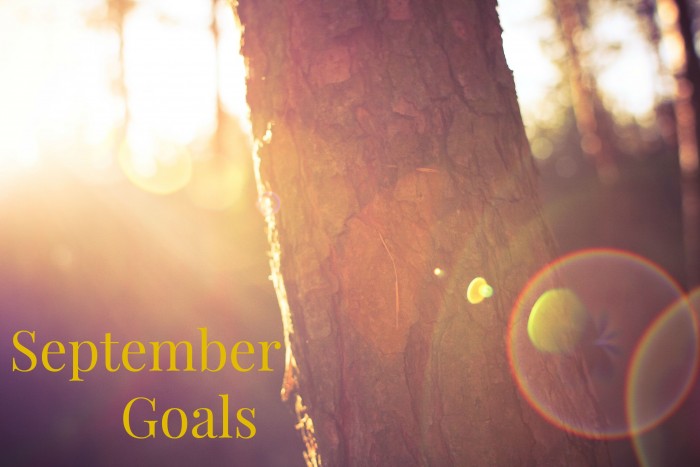 I decided not to set any monthly goals for August because I wanted disconnect from the online world and to take a break from blogging. I am very happy I took the break. I needed space to just… be… for a little while. Social media is noisy and blogging can sometimes feel overwhelming, and the break came at the perfect time. I'm glad I gave myself the space to take a breather and slow things down, if only for a little while.
And now it's September and I'm feeling refreshed and ready to tackle some new goals. The overarching goal for this month is to have a peaceful move and that the settling in process goes as smoothly as possible. But, what the heck, let's add some other goals to that list, yeah?
FINANCES | Make my budget for the rest of this year. Oy, this might hurt and might be a little discouraging, but it will be helpful to have a plan in place and a guide for where my money will be going.
HEALTH | Continue tracking my food daily on MyFitnessPal and getting at least 30 minutes of exercise six days a week. I did this for the majority of August and though I only lost a few pounds (due to not exactly adhering to the calorie range I was given, ha), I'm just going to keep on doing it and see what happens. I'm really trying not to place such an importance on my weight and feeling bad for myself that I'm not where I think I should be because honestly, it's not a fun way to live. I want to accept where I am right now and do the best I can each day.
NAGGING TASK | Organize my photographs. This was a goal I made for myself in July, but I never got around to completing it. I really need to get this done before I move!
ADVENTURE | Buy a Busch Gardens annual pass and enjoy the park at least a few times in September. It's ridiculous to live in this area and not have at least one annual pass to the plethora of theme parks around me.
PERSONAL HABIT | Do a 15-minute brain dump every morning. I heard about this idea on a recent Happier with Gretchen Rubin podcast episode, and I thought it was such an intriguing idea. I want to sit down every morning, put 15 minutes on the clock, and just do a brain dump of anything that's on my mind.
Do you have any goals for September?