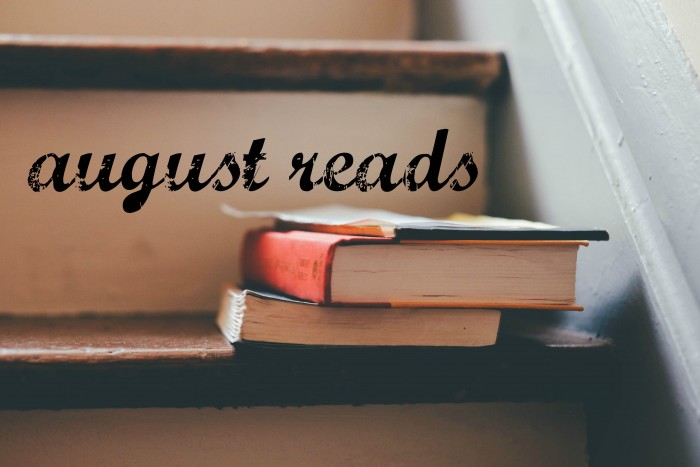 Happy Monday and happy Labor Day! It will definitely be a day of labor for me, as I will be spending the day packing! I can't believe my move is just a few days away now. WHAT.
Anyway, today I wanted to recap the books I read in August! I had a great reading month with 9 books read and I loved just about everything I read. My favorite book this month is Pointe (seriously – everyone needs to read this book STAT!) and my least favorite book was Hyperbole and a Half.
Book Riot Read Harder Challenge (a YA novel): Pointe by Brandy Colbert (5 stars)
This book broke my heart. It angered me. It saddened me. The characters and their struggle stayed with me long after I finished the novel. It's a story about Theo, who is 17 and a ballet dancer. But this is not a book about ballet. At the beginning of the novel, we learn that Theo's best friend, Donovan, who has been missing for four years has been found. It's hard to say much more than that without giving everything away, but trust me: this book is amazing. The writing is incredible and it was a book I just sunk into with my entire body. Highly, highly recommend this novel.
Book Riot Read Harder Challenge (a book published by an indie press): More Happy Than Not by Adam Silvera (4.5 stars)
So, a few weeks ago, Adam Silvera was a guest co-host on the Dear Book Nerd podcast and, as I'm wont to do, I immediately googled him to find out more about him. And I found out he recently published a book! And it was published by an indie press! And it was available at my library! Sold. I needed to read a book published by an indie press for this reading challenge, so I was excited to get my hands on this. And I really, really loved it. I'm impressed by this novel, as this is Silvera's debut novel but it was so darn good. I loved the language because it was rough and gritty and authentic. I loved the vulnerability of the main character, the easy pace of the plot, the harshness of the realities the characters faced. There were parts that I thought could have been better fleshed out and I wasn't thrilled with the ending, but it didn't take away from the true power this book has. Definitely hope there is more to come from this author.
Book Riot Read Harder Challenge (a graphic novel or memoir): Hyperbole and a Half by Allie Brosh (3 stars)
I liked this book. I didn't love it, nor did I find it laugh-out-loud funny. I'm not a huge fan of over-the-top humor books, and this one, at certain points, went a little over-the-top for my tastes. I enjoyed the more poignant chapters, like when she talked about her depression and her thoughts and feelings on reality. All in all, an okay read.
Postal book club read: Beauty and Sadness by Yasunari Kawabata (3 stars)
I ended up enjoying this novel much more than I imagined. I wasn't looking forward to reading it, only because it seemed like it would be a depressing read and a slow read. And I am happy to report I was mistaken on both accounts! It wasn't a lighthearted read. It was sad and some it of felt a little hopeless, but it was also a beautiful exploration on love and devotion and family. The writing was exquisite and brought me to this calming, peaceful place whenever I cracked open the book. This is definitely a book I would have never picked up on my own, so I'm so happy I got the opportunity to read it through Kathleen's postal book club!
Others (read for fun!)
Comfort & Joy by Kristin Hannah (3 stars)
I read this book in 24 hours, which is something I can rarely do nowadays! It was under 230 pages, so it was a super fast read. I wouldn't say it was one of Hannah's best novels (it was cheesier than I'm used to from her), but it was enjoyable. It follows a woman whose entire world has been shattered by her recent divorce from her husband. It's Christmastime but she doesn't feel like celebrating so, instead, she spontaneously decides to board a plane to the Pacific Northwest without telling a single soul. There's some magical realism that lent a bit of charm to the novel. I think this would be such a comforting novel to read in December, that time when life is crazy and you just want to read lighthearted books that don't make you think too much. This is definitely one of those books.
Notes from a Blue Bike: The Art of Living Intentionally in a Chaotic World by Tsh Oxenreider (4 stars)
I don't read Tsh's blog, but I have been a faithful listener to her podcast for the past year. So, while I know a bit of her story, I went into this book with eyes wide open. I loved Tsh's voice and I was really drawn to her story from the beginning. Some parts of the book were less interesting to me, like the parenting chapters, but so much of it I could relate to. I'm interested in a slower pace of life, one in which I prioritize travel and saving money and investing in deep relationships. I was truly inspired by this book, and I highly recommend it.
Slammed by Colleen Hoover (5 stars)
This was another book I finished in 24 hours – hooray for lazy weekends! Friends had been imploring me to read this book for years, and it was just a book that had been sitting on my Kindle until I was ready to read it. The novel is about 18-year-old high school senior, Layken, who moves to Michigan with her younger brother and mom following the sudden death of her father. It's during her first weekend there that she meets Will, her next-door neighbor, and he asks her out. They have a most perfect first date, but the fairy tale soon comes to an end when a shocking revelation comes to light. I devoured this book and it reminded me just how amazing Colleen Hoover is at developing characters and setting scenes. She's easily one of my favorite authors!
The Perfect Play by Jaci Burton (4 stars)
So, I guess this book could be low-grade erotica? I wasn't expecting there to be so much sex and so many vivid descriptions. Oy vey. Even so, I still liked the book! I thought it was well-written and I absolutely loved the characters, though the female could grate on my nerves with the way she would constantly jump to the wrong conclusions time and time again.
His Forbidden Touch by Shelly Thacker (4 stars)
This was the first medieval romance novel I've ever read, and I loved it so, so much! It was such a wonderfully paced story and I believed in the love story so much that I couldn't put the book down about halfway through. I loved that the main characters didn't conform to stereotypes and that the strife felt real and honest. The ending was a bit cheesier than I was expecting (based on how the novel had been written leading up to it), but I still thoroughly enjoyed this novel and can't wait to read more from this author!
BOOK STATS // AUGUST
# of books read: 9
# of pages read: 2,649
quickest read(s): Comfort & Joy and Slammed (less than 24 hours!)
longest read: His Forbidden Touch (10 days)
diverse: 3
formats: ebooks (3), physical books (6)