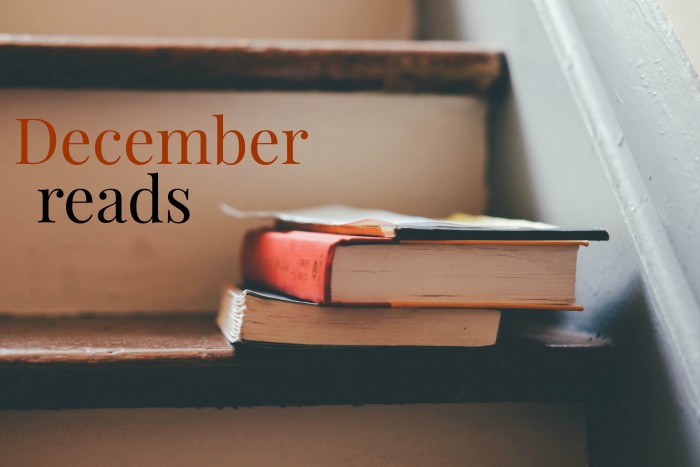 Happy first day of 2016, friends! There's something so pure and hopeful about a brand-new year. I'm ready to put 2015 behind me and look ahead to 2016. I have some big plans for this year and I can only wish it is a beautiful year full of love and success and peace for all of us.
I wanted to publish my last book review post for 2015. I'm uncertain if I'm going to bring back these reviews in 2016, but I'll always leave the door open for that possibility.
In any event, I'm dubbing December my month of romance. I'm always in the mood for light, fun reads in December and romance novels fit the bill for me. I just don't have the mental capacity for anything too heavy! So, in December, I read a ton of romance. I spent many a night snuggled up in bed with a sweet romance novel, and I have zero regrets about it.
I ended up reading 10 books in December, bringing my total for 2015 to 90 books. It was a pretty successful year of reading, if I do say so myself.
Enjoy the reviews!
Book club read: My True Love Gave to Me by various authors (4 stars)
Short story collections are typically not my favorite, but I enjoyed this one. I ended up really, really loving six of the stories and really, really not liking the other six stories (anything involving fantasy was not my cup of tea). But the ones I loved made me so happy! It was definitely a feel-good collection to read in December, when I want all of my books to be light and fun and romantic. If you love YA, I'd recommend giving this a read!
TLC Book Tours Read: One Step Too Far by Tina Seskis (4 stars)
I reviewed this on my blog earlier this month and you can read my review here.
Others (read for fun!)
Something About You by Julie James (4 stars)
This was a lighthearted read, and would be the first of the romance novels I binged on in December. I read it to give me some sort of inspiration for my romance novel, since it's in the same style as what I am writing. It's a reread, but I loved it just as much as the first time around. Julie James is such a talented romance novelist, and reading her novels is such a good lesson in writing great romance!
A Lot Like Love by Julie James (5 stars)
This is the second book in James' FBI/US Attorney series, and I liked it even better than the first. Although she writes characters that are a little too perfect for my tastes, appearance-wise, I still devour her novels. This one was fun to read and the mystery element was quite intriguing!
Talk Me Down by Victoria Dahl (4 stars)
Victoria Dahl novels tend to be a little heavy on the sex and light on actual plot, but this one wasn't too bad! One of her better novels, in fact. The main character was a little nutty and not as well-developed as I would have liked, but I loved the setting Dahl created with this book.
The Guernsey Literary and Potato Peel Pie Society by Mary Ann Shaffer and Annie Barrows (4 stars)
This novel was included on my "Top 10 Books" list, so you know I loved it! The novel was slow in the beginning and involved a lot of characters, but halfway into it, the pace of the story picked up and I couldn't put it down. The characters were charming and fun and funny, and while parts of the novel were heavy (the island of Guernsey was occupied by Germans during WWII, and there is a lot of information about how this affected the characters), it was still a delightful read.
Instant Attraction by Jill Shalvis (4 stars)
Originally, I read this book back in 2010 and decided to reread it in December. It only took me a few days to finish and it was just a really fun romance novel. I really liked the main characters in this novel because the female was a strong one and the male was vulnerable and real.
Somewhere in France by Jennifer Robson (4 stars)
This book was a lot different from what I was expecting, but I still really enjoyed it. It follows the story of Lilly, who grew up in an affluent family but always longed for something more than marriage and motherhood. The story takes places during WWI and when it is announced that women are needed to help in the war, Lilly joins the Women's Army Auxiliary Corps and becomes an ambulance driver. She asks to be placed in a certain unit because this is where Robbie, a dear childhood friend and love interest, is serving as a surgeon. I loved the time period of this novel, and the love story was sweet and pure. The ending was a little cookie-cutter, but eh, I was glad for it because most stories about wartime are tragic and heartbreaking.
Tempt Me at Twilight by Lisa Kleypas (4 stars)
I really liked this novel! It had two well-written main characters and an intriguing overarching plot that had me staying up late to finish it. I was sad when it ended, which is always the sign of a great novel.
It Happened One Wedding by Julie James (4 stars)
Continuing my Julie James binge! This one was in the same series as the ones I read earlier in December, and it was just as good as those books. I didn't quite connect with the main characters (they weren't people I could see being friends with in my real life, you know?). Ah, well. Still a fun read with lots of sizzling romance!
BOOK STATS // DECEMBER
# of books read: 10
# of pages read: 3,175
quickest read: Talk Me Down (less than 24 hours)
longest read: My True Love Gave to Me (10 days)
diverse: 1
formats: ebooks (9), physical books (1)
What was the best book you read in December?