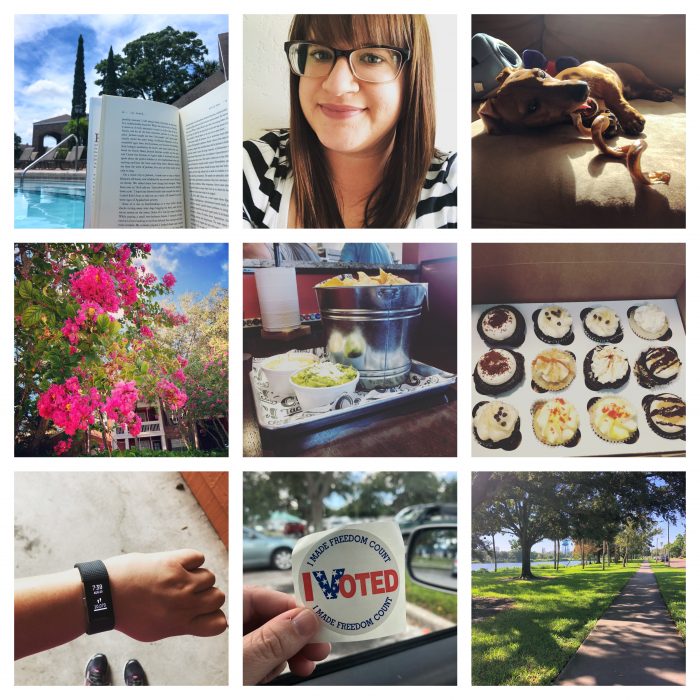 Happy Friday, friends! And happy September. It's hard to believe it's time for pumpkin spice lattes and fall decor. Florida doesn't really get the "fall" memo, so it's going to be hot and humid here for another few months, but I'll try to ring in fall with as many pumpkin-scented and -flavored things that I can.
I continue to play around with my monthly recaps, and maybe this one will be here to stay for awhile. Who knows, though. I sure don't. I feel like my mood changes from season to season. This one, however, recaps the books I read, movies I watched, podcast episodes I enjoyed, and other highlights from my month.
Books
I read 11 books in August, which puts me at 93 books read for the year. So, yeah, I think I am going to well surpass my goal for reading 100 books this year. I don't think I'll be able to read 150, but I'll definitely come close.
I really liked The Woman in Cabin 10, which I read for my work book club. I found the narrator to be incredibly annoying, but the mystery itself was well paced. I read Never, Never (parts 1 and 2) this month, and while I was blown away by part 1, part 2 left a lot to be desired. Hillbilly Elegy is a book people have strong feelings about (usually negatively), but I gave it 5 stars and thought it was well-written and really helped me come to terms with my own upbringing. Wicked and the Wallflower is Sarah MacLean's latest historical romance, which I really enjoyed, although I wouldn't have minded if it was 50-75 pages shorter. Tears We Cannot Stop is a book I had on my "immediate TBR" list (I read two books a month off this list) and it's a book every white person should read. You cannot stick your head in the sand anymore. Ninja at First Sight was a romance novella that was pretty silly and poorly written. Penny Reid is such a hit-or-miss author for me! I listened to You'll Grow Out of It on audio and really enjoyed it! I feel like I could be really great friends with Jessi Klein. A Princess in Theory was a fun romance that I think just about anyone could enjoy. I finally read Beartown this month and while it took me nearly two weeks to read, it's a book I can't stop thinking about and I'm so glad I finally read. It's definitely going on my favorites list this year, no doubt. And I finished out the month with Love and Other Words, which is my second Christina Lauren romance but definitely didn't wow me in the least. The writing was good, but the plot was not.
Movies
Crazy Rich Asians (★★★★★) – I found this movie to be the perfect companion to the book, and I think I actually prefer the movie adaptation to the book. I wasn't a huge fan of the book, mostly because it was very long and filled with a lot of uninteresting details, but the movie was everything. I had an intense emotional hangover after watching the movie, and just immediately wanted to rewatch it the moment I finished it. Constance Wu and Henry Golding were the perfect Rachel and Nick!
The Spy Who Dumped Me (★★★★☆) – This movie was so funny! I didn't expect it to be nearly as funny as it was (I thought it would be more stupid-funny, but it was smart-funny). Mila Kunis and Kate McKinnon were perfect in their roles. I also just loved the emphasis on strong female friendship and wanting the best for your friends no matter what. We need more movies like this!
Podcasts
I loved the Lecrae episode of Good Christian Fun, as the hosts and guest had a really interesting discussion about racism and segregation in the church.
Jon M. Chu, who directed Crazy Rich Asians was on the Keep It podcast to talk about diversity in the filming industry and what it felt like to direct this movie. A must listen!
I fangirled hard when I listened to Jon Lovett interview Alexandria Ocasio-Cortez on Pod Save America. She is so eloquent and brilliant and the change America needs today. (And yes, I'm now fangirling over politicians. This is the me.)
Seth Rogan's episode of Armchair Expert was much more interesting than I expected. Seth is an open marijuana user and didn't have any shyness about talking about how he uses marijuana and how it helps him both personally and creatively. I've never used drugs of any kind, nor do I wish to, but I found the conversation enlightening and helpful in moving forward the dialogue of legalizing marijuana.
Highlights
> I had a bagel from Einstein Bros for the first time and was blown away by their everything bagel. Every Friday is "Bagel Friday" at my work and we usually get Panera, but they decided to switch it up and order Einstein's and I'm a convert. I don't want to eat any other kind of bagels ever again.
> I went to a dear friend's bridal shower in early August and left with a fun gift after winning the "how well do you know the bride and groom" game. It helps that I lived with the bride-to-be for a year!
> My work now has a snack bar! This is good and bad news. Good because now I can pop into the break room for a sweet treat when I hit the 2pm lull. Bad because now I want donuts for breakfast every morning.
> I had a taco date with some girlfriends, in which we ordered a large guacamole, queso, and chips. We killed the guac and queso, no problem.
> My salon gave me a complimentary blowout when I went to get my hair colored. Usually, I just leave the salon with wet hair when I only get the color touched up, so this was a nice surprise!
> I spent an afternoon with my friend M. binging on season one of Nailed It. Have you seen this show? It's hilarious and a must-watch, in my opinion. We picked up a dozen vegan cupcakes to eat while watching the show, and I learned that four cupcakes is about my limit for one afternoon.
> This month, we held book club at a friend's new house! We had a potluck style lunch and then floated around in her pool for awhile. We had perfect weather and it was such a fun afternoon with my favorite ladies.
> I went to see Crazy Rich Asians with a group of coworkers at the fancy Cinebistro movie theater. You guys. It was a $50 date for myself between the ticket and the dinner itself (which didn't include an alcoholic drink). Whew… I'm an expensive date!
> My mom started an Instagram account for Chip, and you should really give him a follow. I'm posting to it often – usually, in the form of Instagram Stories. It's been fun, and Chip already has more followers than my mom, ha.
> For the first time ever, I voted in a midterm primary! And for the first time ever, I completed a mail-in ballot. I tried to make informed decisions about who to vote for, and I was seriously excited when Andrew Gillum won the Democratic nomination for Governor. Now we just have to get him to beat Ron DeSantis who is, yes, the one with that crazy Trump ad that looks like an SNL parody. I may have to move out of Florida if he wins.