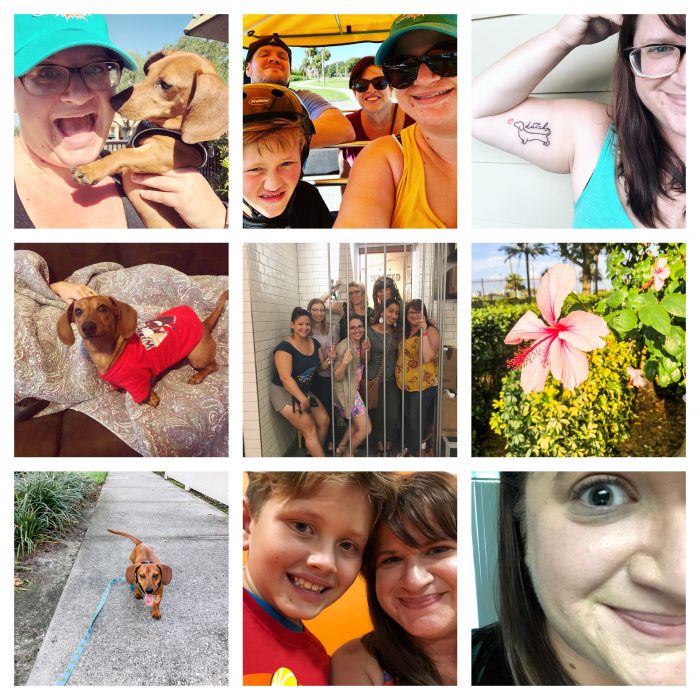 It's October! It's the last quarter of 2018! What even happened to this year? No matter – we're entering my favorite time of the year, so I am ready for all these next few months have to bring. Give me pumpkin-scented candles, cooler weather, peppermint mochas, and the holiday season. I am ready.
Here's what September looked like in my world:
Books
I read 10 books in September, bringing my yearly total to 103. So, I already met my reading goal for the year! That's cool. I'm not going to change my reading goal; just going to keep trucking along and see how many more books I can read before 2018 is over.
I loved Sleigh Bells in the Snow, which was just a really sweet and fun contemporary romance. I listened to A Million Junes on audiobook and it was fantastic. I'm not one of magical realism, but it worked for this novel. Our book club pick for September was Red Clocks and I was not a fan. I listened to The Meaning of Michelle on audiobook and loved it so much. Taking Fire was an okay romantic suspense novel, but had my least-favorite romance trope, ugh. I read Persuasion to fulfill my goal of reading four classic novels this year and decided that Jane Austen is not for me. Come as You Are was life-changing and made me feel a lot more normal about sex. I think it is a must read for any woman. I finished up the Never, Never trilogy by reading part three and didn't like the twist. Meh. Mr. Strange Beard was one of Penny Reid's best and I had so much fun reading that novel. Fear by Bob Woodward was so fascinating and I listened to it on audiobook, which I think made the reading experience better for me. (Not sure if I would have made it through a print book!)
Movies
The Guernsey Literary and Potato Peel Pie Society (★★★☆☆) – A sweet movie, based on the book of the same name. I read the book and liked it, especially considering it gave us a different perspective of WWII. The movie was sweet and lovely and something most people would enjoy. It didn't wow me in any way and probably wouldn't watch it again, but I'm glad I gave it a watch.
The Hangover (★★★★☆) – Can you believe I've never seen this movie? Thankfully, I finally remedied that this month and watched it. It was hilarious and fun and ridiculous, and pretty much what I expected from a movie like this. I'm definitely going to check out the sequels in the coming months!
The Big Sick (★★★☆☆) – I put up a poll on Instagram one Saturday, asking people to vote between The Big Sick or Trainwreck. I had a few people express very strong dislike for Trainwreck, so thankfully, The Big Sick won! I enjoyed this movie, but some of the plot was hard to believe, even though I know the movie was loosely based on real-life events. (For example, if your best friend is sick in the hospital, why would you call her ex-boyfriend with whom she had a super nasty breakup to come stay with her? <– That may be spoiler-y.) Even still, it was a heartwarming movie and I loved all of the stand-up comedy, and I'd highly recommend it! (Just be aware, it's very F-bomb heavy!)
Podcasts
I laughed my way through Ike Barinholtz's episode on Armchair Expert, falling in love with him even more than I already was. Dax and Ike did so many impressions throughout the episode, and that's the easiest way to make me laugh.
Call Your Girlfriend's episode on white fragility is a must listen for white people. Unfortunately, I think the people who need to listen to this episode the most probably won't.
Criminal had a really interesting episode featuring trauma surgeons, how they deal with gunshot victims both from a medical perspective and a personal one.
I'm so happy that Serial is back! There is nothing like Sarah Koenig in my ears again. Season three is exploring the law and court system by spending a year inside a Cleveland courthouse. I've listened to the first two episodes and they were pretty damn fantastic. I don't think this season will be as all-consuming as season one (where I had to listen to the episodes immediately and spend all my time on Reddit forums), but I do think it will be much, much better than season two.
Posts
This month, I blogged about my ideal evening routine and you better believe I am spending October trying to make that ideal routine more of an everyday reality.
I also talked about my reading routines, showing how I make time for reading on a daily basis. This post seemed to encourage more people to give reading in bits and pieces (i.e., under 15 minutes) a try. Do it, do it.
Based on a question posed on my Instagram, I offered some advice on how to choose books to read, from making a monthly TBR to cultivating a reading syllabus.
Highlights
> September kicked off with a fun walk with Chip and my mom. We went to a nearby park that has a great (mostly shaded) two-mile trail. Chip had the best time and got a lot of his puppy energy out. Afterwards, we went to Starbucks for a quick breakfast and Chip had his first taste of whipped cream. (He's a big fan.)
> My mom, my brother, my older nephew, and I did a fun bike tour in Safety Harbor. We all rode together in a surrey bike, although we all found the biking to be really difficult! We've done a surrey ride before, in downtown St. Pete, and don't remember it being so physical. Whew! We went out for breakfast after the bike ride and it was a really fun afternoon!
> I had my first massage in almost a year in early September because I had been experiencing some lower back pain. The massage was fine, but the masseuse talked way too much and made the experience a little aggravating. Ugh.
> I started therapy! Finally! It's going well so far. I'm not ready to say she's "the one" as my therapist, but she could be. I've scheduled appointments with her every other week through November, so I think I'll reassess after then. I will say that it's been a much more positive experience than my previous therapist, as she's great at asking questions that help me to open up. I always leave her office feeling a bit more hopeful about my life.
> I got my second tattoo, this one in remembrance of Dutch. I always knew I was going to get a dachshund tattoo for him and I am so, so happy with the way it turned out. It's even better than I expected! I went to the same tattoo artist that did my book tattoo last year because I had such a positive experience with him, and yet again, he didn't let me down.
> I tried to enjoy myself during a girls night out in Tampa on a Wednesday evening, but anxiety got the best of me. Sigh. There were a few days of recovering from being in such a high-anxiety state afterwards.
> My brother turned 32 and my nephew turned 10 this month! We celebrated my nephew's birthday at an indoor trampoline park.
> Book club at Capital Tacos was an unexpectedly emotional night. I'm glad we all have each other and the support I get from these ladies is undeniable.
> Near the end of the month, I started having this weird eye pain/pressure/fatigue… I'm not really sure what to call it. My eyes just felt tired, as if just keeping my eyes open took all of my strength. I was also getting dizzy, so I scheduled an appointment at my eye doctor and had them dilate my eyes to make sure there wasn't anything crazy going on. Good news is, I don't have a crazy eye disease! The bad news is, I don't know what was causing the eye issues. My eye doc said my eyes appeared a little dry, so he sent me home with a sample of eye drops and I used the drops a few times after that appointment, and my eyes are fine now. I'm really not sure if it was the eye drops that helped, but whatever works.
> I went to my local animal shelter to look at the kittens, and it solidified my decision to adopt kittens. I'm still feeling a little weird that I'm not going to have a dog in my home for the foreseeable future, but I also know my home will be just as sweet and happy with cats as it would with a dog.
Tell me a highlight of yours from September!