And so it is March! And it has been March for a week now. Oops… can I blame a fantastic four-day cruise for my delay in reviewing February? I had a wonderful vacation and I plan to fully review it next week. For now, let's rewind a bit and discuss what February looked like in my world.
February in Moments
When I look back on February, what sticks out to me the most is anxiety. For the most part, I can handle my anxiety on my own but every now and then, it becomes a little too much to handle. This month was one of those months. There was a lot of crying, a lot of fear, a lot of overwhelming sadness. When I feel this way, it's hard for me to recognize it for what it is: a simple anxiety episode. It feels so much bigger than that and as if I'll never feel positive about myself or my life again. Eventually, I find my way out, but being in it is always so hard.
February also felt very lonely. I've not been very successful with dating lately. Are my standards too high? Do I expect too much? I don't know, but I'm not very good at this dating game and it's tiresome. And I can't help but feel like a failure when every time I turn around, another person is coupling up. Being single isn't always bad, and sometimes it's downright amazing, but it can also be a lonely life to lead.
All of February wasn't heavy and hard, though. There was a fun Super Bowl party that my mom and I hosted – made even better by watching the Broncos win and Peyton Manning end his career on the best note possible. (Okay, okay, so the offense could have played better but whatever. A win is a win.) My mom and I found a new salon for our monthly-ish pedicures. My roommate and I spent Valentine's evening together, eating pizza and brownies and watching the first Harry Potter movie. I eliminated dairy from my diet for a week and enjoyed the incredible benefits, which included mostly clearing up my congestion. I celebrated my nephew's first birthday and spotted my first little free library. I had a fun afternoon with friends, drinking sangria, munching on white cheddar popcorn, and crying through a sad movie. I even tried my hand at vegan baking and the results were delicious.
All in all, February was both a difficult and a wonderful month. There was pain and heartache, but also so much goodness and beautiful memories made. That's life in a nutshell.
February in Pictures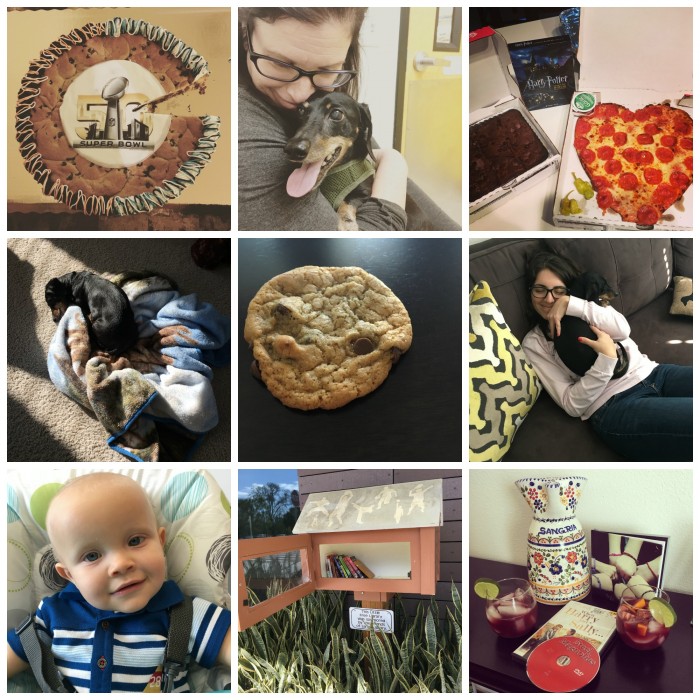 Clockwise from left: (1) cookie cake at our super bowl party (2) dutch hugs (3) galentine's day (4) sunny naps (5) adventures in vegan baking (6) more dutch hugs (7) my one-year-old nephew! (8) a little free library spotted in the wild (9) sunday afternoon girl time
February in Books
I read seven books in February, three of which were diverse. Here's what I read:
February in Movies
I watched three movies this month, and they all count toward some of the yearly goals I made. Wahoo! It's fun to make progress with these goals because they take almost zero effort on my part. (Note to self: make more fun goals like this!)
Harry Potter and the Sorcerer's Stone – I watched this movie before, a few years ago when ABC Family was running one of their Harry Potter marathons. I loved it just as much the second time around, mainly because Harry, Ron, and Hermione are so darn cute in this movie. And it's just a phenomenal retelling of the book!
The 40-Year-Old Virgin – I really loved the message behind this movie, even though I had to trudge through some crude humor to get there. Comedies can be so hit-or-miss for me because I don't enjoy vulgar humor, and this one toed the line. I ended up really enjoying it, though!
Steel Magnolias – A sad yet really heartwarming movie. And the 80s fashion delighted me to no end!
February in Podcasts
I added a few new podcasts to my feed, including:
Gilmore Guys – New favorite podcast alert! I am in love with this podcast. If you aren't familiar with it, it's two guys who are watching Gilmore Girls from beginning to end and podcasting about each episode. One of the hosts watched the show when it was on TV and is a super fan; the other host is watching it for the first time. It's hilarious. I'm listening to the episodes from the very beginning so I've only listened to the first 10 episodes so far, but it's so, so great. I want to be friends with Kevin and Demi, is what I'm trying to say.
Millenial – A blogger recommended this podcast and I've only listened to the first two episodes so far, but it's a really well-done show. I feel like I'm not totally in the demographic anymore, but it's still interesting to listen to!
For my regular podcasts, I really enjoyed:
What was a highlight for you in February?