Happy April Fools' Day! No pranks from me today. (I'm so not creative enough to prank people!) Instead, I'm bring you a review of March!
I didn't keep track of March very well. In January and February, I spent dedicated time each night to write about my day and even write a gratitude note for each day, but I fell off the wagon in March. In doing so, I felt a little out of control and lazy this month. I didn't achieve the goals I set for myself and I am feeling very lackluster about the way I approached life last month. That said, I find myself greeting April with renewed vigor and this excitement to get back on track and focused. My theme for this year is deliberate action, and not every month is going to go the way I planned. I can only move forward with what I have learned and keep pressing on.
March in Moments
The biggest moment of March was my four-day cruise on Royal Caribbean's Brilliance of the Seas. I went with my best friend, my mom, and my stepdad and had such a lovely time. It was truly the getaway I needed. Bri and I snorkeled in the beautiful Caribbean Sea – an experience I'll treasure for a very long time.
I had a tiny bit of romance in March, which was unexpected but really encouraging after a string of really bad or boring first dates. While nothing came of the romance, it taught me a lot about what I want from a relationship, what I will and won't accept. It got me excited about dating again, at a time when I was feeling very disillusioned and tired of the game.
Some other good moments: lady date nights with my roommate, shuffleboard with my book club girls, getting back to my weekly writing dates with my writing partner, quality Mom time (something I need just about weekly to feel centered), Dutch's 14th birthday, and celebrating International Women's Day with tapas and sangrias with coworkers-turned-friends. I have a really good life, a life I never pictured myself having, which is something I need to remind myself of when my anxiety gets the best of me.
March in Pictures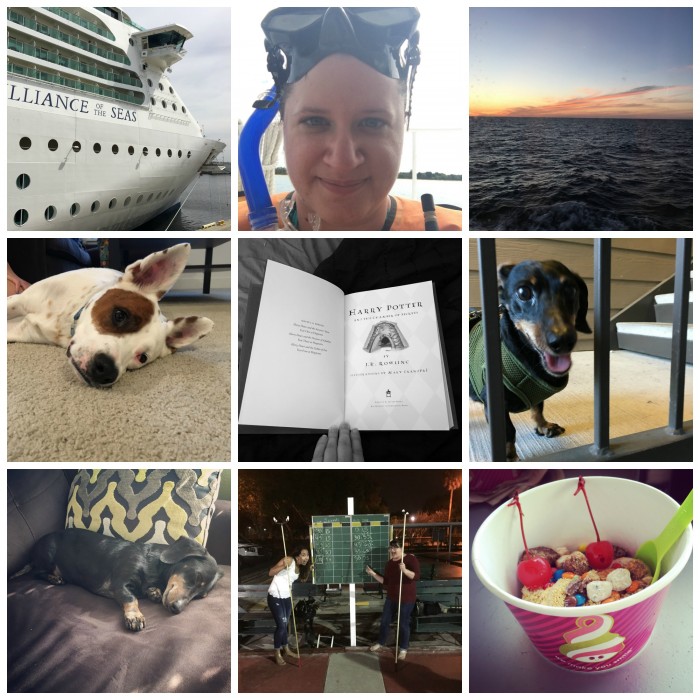 Clockwise from left: (1) cruise ship (2) about to go snorkeling in cozumel (3) sunset on my last day of the cruise (4) a special weekend visitor (5) starting a well-loved book (6) dutchy (7) sleepy dutchy (8) shuffleboard winners (9) froyo date with mom
March in Books
I read 7 books in March, which puts me at 21 books read this year. It seems as if I'm on a 7 books per month pattern so far. My favorite read was probably Harry Potter and the Chamber of Secrets! I am so enjoying re-reading this wonderful series. Here are my reviews:
March in Movies
I watched two movies this month; my reviews are below:
Whiskey Tango Foxtrot – I wanted to see this because I love Tina Fey and everything she does, and I was also interested in the story. It was a really, really good movie! Heavy at times, but intermixed with some light-hearted moments. My favorite line: "Embrace the suck… then move the fuck on."
Harry Potter and the Chamber of Secrets – I feel like I may have watched this movie before (Moaning Myrtle felt really familiar to me!). It was just so darn good. This series is such a comfort to me, and I have a sneaking suspicion the movies will soon be my go-to pick when I need my spirits lifted.
March in Podcasts
I didn't end up adding any new shows to my feed in March, which is good because my podcast queue is out of control as it is! But here's what I found fascinating or enjoyable from my regular podcasts this month:
Looking Forward to April
I have some fun things to look forward to this month. My writing partner and I are having a "writing sleepover" where we plan to make some serious progress on our novels. I'm participating in Paint Your Heart Out Tampa this year with a bunch of coworkers and friends. And I'll be heading back to the Wizarding World of Harry Potter for a day with a group of friends, which will probably be AMAZING.
This month, I want to focus a lot on writing my novel. I'm challenging myself to write 1,000 words per day for the next three months.
I also want to get serious about eating better and exercising more. I completely fell off the wagon in March and I feel a bit yucky about it. I need to be better at taking care of myself!
Lastly, I'd really love to find a home church to belong to, so I'd like to start that process in April. I'm out of the habit of going to church and the thought of walking into an unknown environment full of strangers is terrifying to me, but I also know that I need to be back in church and I need a church family.
What were some highlights for you in March?