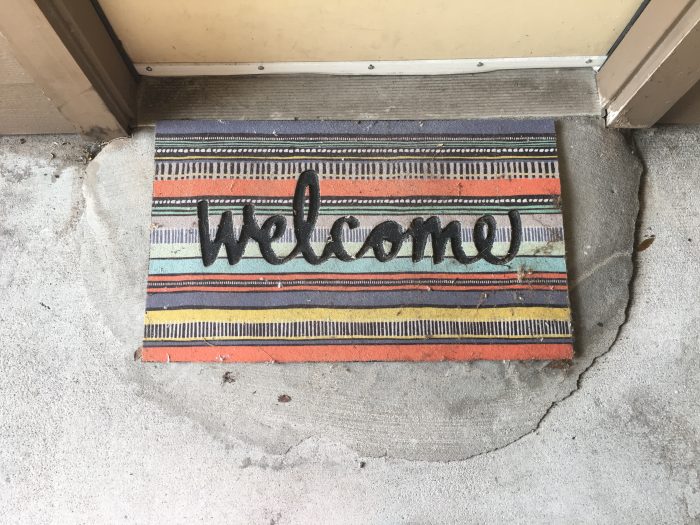 I moved into my apartment nine months ago now, and I realize I've never done any sort of apartment tour. Alas, I won't be doing that today (I'll sprinkle some photos throughout this post, but don't expect anything exciting. I'm no decorator.) But Kate wrote a post last week detailing the good and the bad about her new apartment, and it sparked a blog post idea in me. So, let's chat about the good, the bad, and the ugly about my apartment.
The Good
It's small. My apartment is tiny at just 515 square feet. It's composed of two sections: the front, which features my kitchen and living room, separated by a large kitchen island; and the back, which has my bedroom, bathroom, and walk-in closet. It's so tiny that I can essentially see my front door when I'm laying in bed. It's so tiny that I can have a podcast playing on the other side of the apartment and still clearly hear it. But I love the size. I toured this apartment back in 2014 when I was originally looking to move out on my own, and it stuck with me over the next two years. It's just absolutely perfect for me, as a single lady living with a 10-lb dachshund.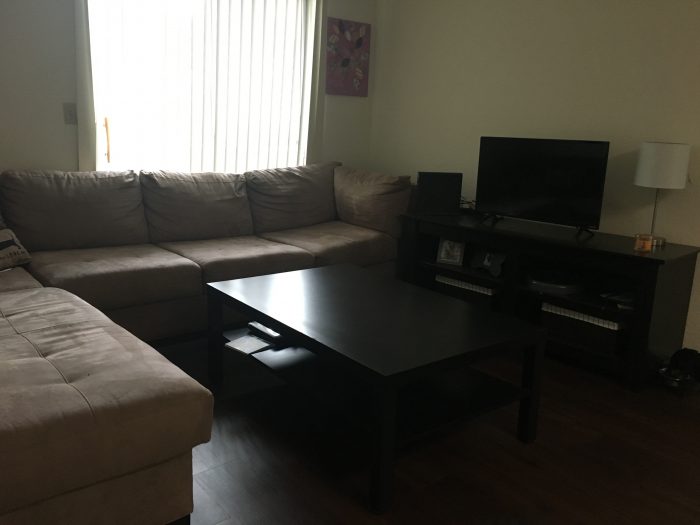 I have my own washer and dryer. You guyssss, I cannot live without a washer and dryer in my apartment. I've done it before and there is just nothing more convenient than popping in a load of wash whenever I want to. No schlepping it over to a laundry room and hoping there's a washer available! This washer and dryer is a bit of a downgrade from my previous two apartments (it's a stackable), but it works for me. I do a few loads every week it seems, between my clothes and throw rugs and Dutch's blankets and my sheets, so my water bill is never quite my favorite to receive, but the convenience is everything to me.
I have beautiful wood flooring. I mean, it's fake wood, but whatever. It's gorgeous and it's exactly what I need, since I have a senior-aged dog who has tons of accidents. Cleaning up pee from wood floors? Not a prob, Bob! Of course, he does tend to pee in my bedroom, which is carpeted, but I recently learned that a steam vacuum cleans up stains from that like magic. Hooray! Anyway, I love my wood flooring so much. It's perfect!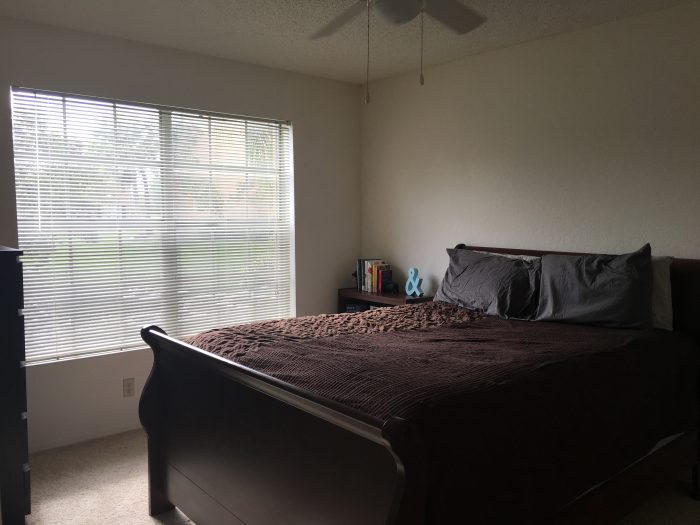 I'm on the first floor. Since I have to take Dutch out 6+ times a day, being on a first-floor unit was a must. Having to carry him up and down stairs is not my idea of a good time, and it's just nice to be able to walk right out my front door whenever he has to go out. (It's especially great when it's 3AM and he needs to pee, sigh.) Thankfully, I haven't had any problems with loud upstairs neighbors and I count my lucky stars for that.
The Bad
I can't use my patio. I have a great view of a pond from my patio, but I never go out there because it's just not comfortable to sit outside on my patio. It's unscreened and I know I would spend more time slapping away mosquitoes or freaking out about bees/wasps than enjoying myself.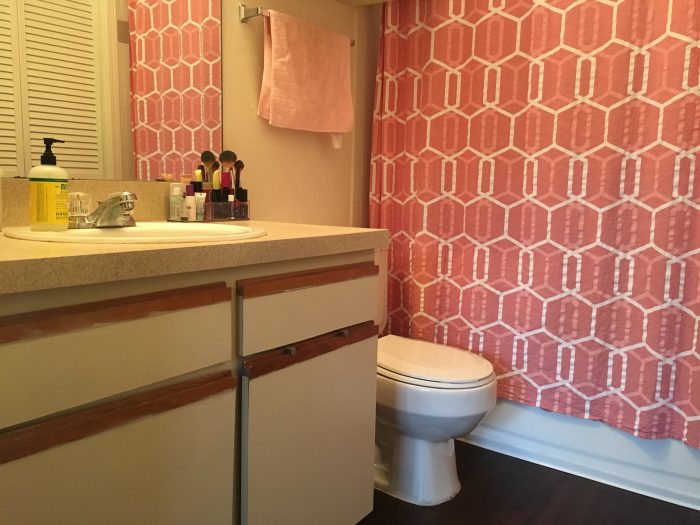 The appliances drip. My apartment has really old appliances and plumbing, so both my kitchen sink and tub have fickle faucets that have to be screwed tightly in order to keep them from dripping. I've had maintenance look at the sink and tub, but whatever they did (or didn't do?) didn't fix the problem, so now I have to be extra careful to make sure the faucets are tightly screwed so they don't drip all day long.
The apartment gym is terrible. Ugh, this gym, you guys. I haven't had to belong to an actual gym in years because I've had great apartment gyms to go to. The one at my last apartment was phenomenal and even had spin bikes! But this one is tiny and only holds an elliptical, treadmill, recumbant bike, and some free weights. And that would be okay, but the gym doesn't open until 6AM on the weekdays and 8AM on the weekends. Since I have to be in the shower getting ready for the day at 6AM, that means no morning workouts and I really enjoy working out in the morning much more than I do in the evening. But, hey, this terrible gym forced me to become a member at LA Fitness and now I get to do spin again, so maybe it was for the best.
The Ugly
My cabinets are hideous. They were the first thing I noticed when I walked into my apartment for the first time and I think the first thing I texted to my mom was, "The cabinets are so ugly!" And then I immediately started googling tips on covering up ugly cabinets. I've decided to leave them be, mostly because I'm not much of a DIY-decorator person. And now the cabinets don't really bother me. Don't get me wrong – I still hate them and I wish there was something I could do to make them prettier, but I just try to pretend they aren't as hideous as I think they are.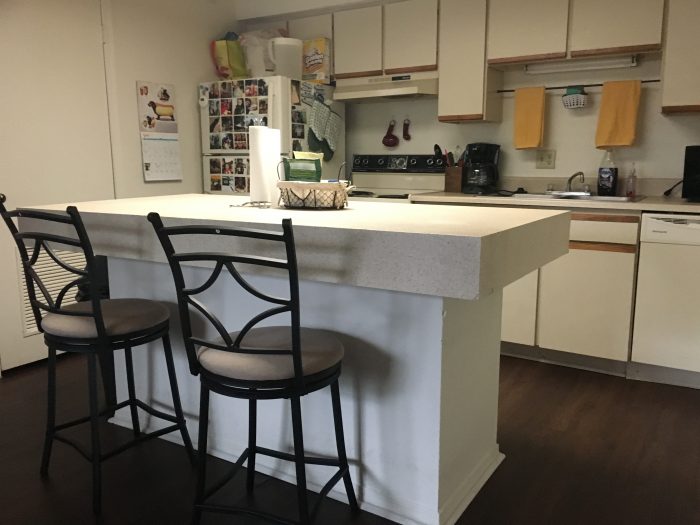 The oven is super old. The refrigerator and dishwasher are both brand new, so the oven sticks out in my kitchen with its off-white color and coil cooktop. I've lived in fancy apartments for the last few years that had glass stovetops, so it was a bit of a bummer to have to go back to an old oven with a coil cooktop. And the oven really does not cook well. It gets smoky really easily – even if I'm just roasting veggies! – so I don't really love using it.
And there you have it! Truthfully, even though I had a few more "hates" about my apartment, I truly love this little place of mine. Sometimes, I look around and think to myself that everything here is mine and this is my life and I've built it all for myself. It feels surreal sometimes. I love my little apartment so very much and I'm proud to call it home.
What is something you love and loathe about your current home?