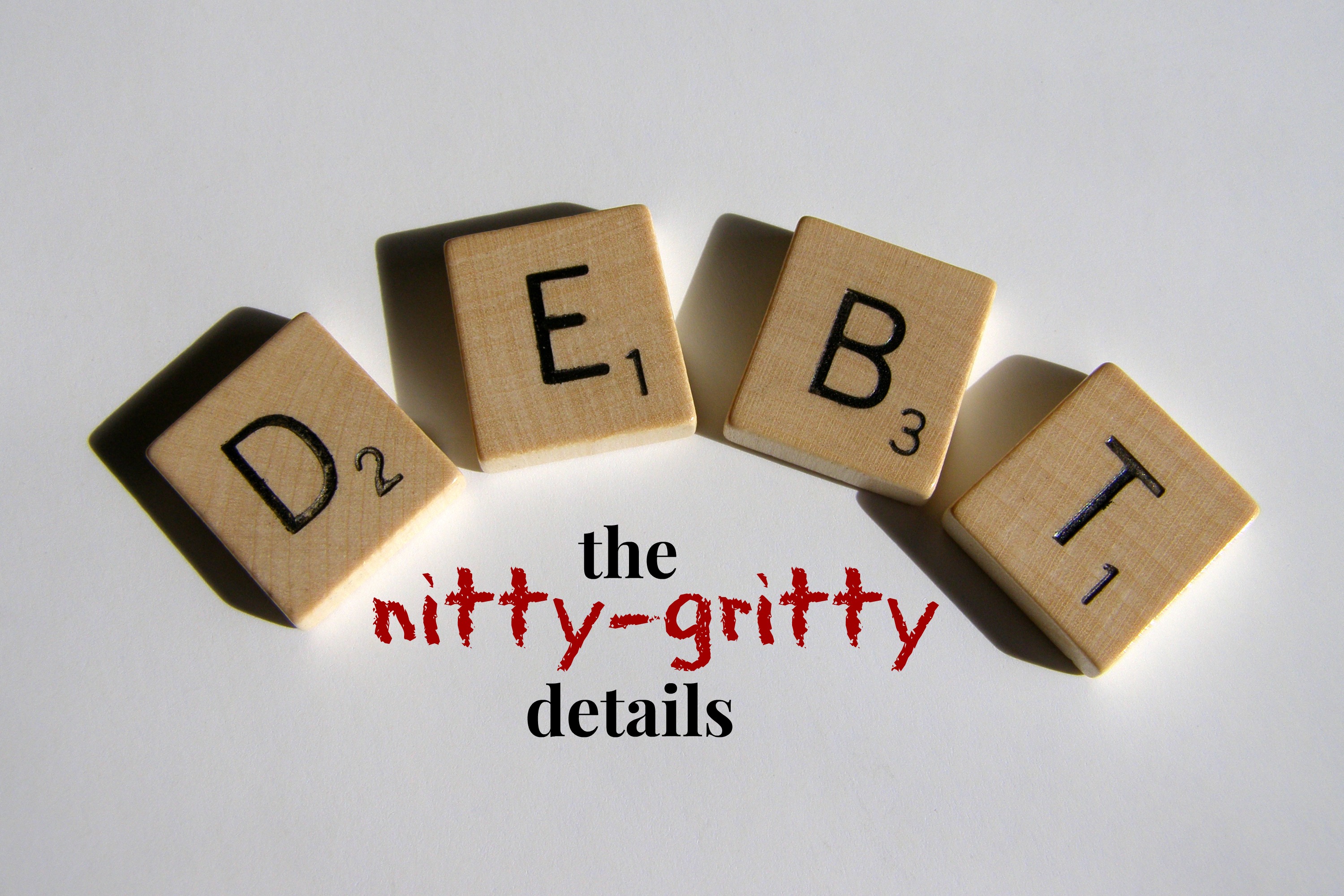 On Monday, I talked about my debt story and how I'm changing my focus to put a greater emphasis on paying off my debts, saving money, and spending less. Today, I want to talk about the nitty-gritty details of my debt and what it's going to take for me to pay it off.
So when it comes to my debt, here is where I stand:
Credit cards: $1,204
School loans: $14,371
Car loan: $10,183
Medical bill: $2,500*
*Estimated. I need to get the actual number from my collection agency, but this is accurate, give or take a few hundred dollars.
In total, I am $28,258 in debt. But like I mentioned on Monday, I don't include my car loan into my debt because I do consider it "good debt" and something I'm going to have for a while. (It's honestly inevitable, especially since I'm not going to put a ton of focus on paying off my loan right now, and will be refinancing in another year.) So when you take away that, I have $18,075 of debt to pay off. Wheeeeew.
Denial, denial, denial. That was the name of my game. And now I'm nearly $20,000 in debt because of it.
But there's nowhere to go but up! (Or really, down, if you think about it…)
My original goal was to be debt-free by the time I was 30, while also have $5,000 saved. After crunching the numbers, that's not going to happen.
Oh, it could happen. I could do it. But do I want to live the next four years in a world where I cannot shop or travel or eat out? No, I do not. Paying down debt is important, but I'm not going to sacrifice my quality of life in order to do so. I realize this goes completely against what Dave Ramsey and personal finance bloggers preach. Live off rice and beans now and you'll be able to live the rest of your live with financial freedom! Well, true. But I also firmly believe that life is meant to be lived and I don't want to give up precious experiences because I'm too focused on money.
I'll be taking the Debt Snowball approach, as suggested by Dave Ramsey, to pay off my debt, so when broken down, it looks like this:
Credit card #1: $234
Credit card #2: $947
School loan #1: $901
Medical bill: $2,500
School loan #2: $6,195
School loan #3: $7,275
And yes, I do understand math and I realized "Credit card #2" is slightly more than "School loan #1" but I really want to focus on getting my credit cards paid off first, before I start tackling my other debt. I plan on cutting up "Credit card #1" but keeping the other credit card around for emergency purposes. (Possibly kept in a block of ice, a la Shopaholic.) (Maybe kidding.)
Taken like that, it seems a bit enormous and overwhelming and makes me heart race. But I'm only focusing on it bit by bit, one year at a time. I'm not going to set out a huge debt repayment plan, because things are going to come up. Emergencies may happen, trips will be planned, and it's life. I want to enjoy it. I don't want to be so bogged down in paying down my debts that I forget to enjoy the present.
So my plan for 2014?
Get completely out of credit card debt
Have $1,500 of my emergency fund saved
Pay off my lowest school loan
Begin saving to move out on my own (around $1,000)
Budget for one tiny vacation in the summer
It's a lot. It may not come close to what other people pay down in their debt over the course of the year, but it's going to take a good chunk of my income to make this all happen. When I total up my necessary bills (things like rent, insurance, cell phone bill, groceries, gas, etc.), that takes up 74% of my income. That leaves me with 26% for debt repayment, savings, and disposable income for myself. If I achieve the above goals I set for myself, that will take up another 19%, leaving me with 6% as disposable income.
That's not a lot of fun money! And that scares me because, honestly, I like having fun money. I like being able to shop and go out to eat and stop by Starbucks on a whim.
But I also hate that feeling in the pit of my stomach as I swipe my debit or credit card again. As I log onto my bank's website, chanting, "Please still be in the triple digits. Please still be in the triple digits." while I wait for my account to load. As I look at my credit score and my heart absolutely sinks when I realize how much work I have to do.
In order to satisfy the financial goals I set for myself this year, I had to make two tough decisions: first, I will be foregoing any big vacations this year. That means no cruises, no trip to NYC, no traveling. As mentioned above, though, I do intend to take one tiny vacation this summer, most likely spending a long weekend on the beach or in Orlando. Because, remember, it's life. Paying debt and saving money is important, but so is actually living and experiencing and making memories and having fun. A short weekend won't kill my money goals, like a long, week long cruise might.
The second big decision, something I alluded to in my post on Monday, is that I decided to postpone moving out on my own. Right now, I live with my mom in a gorgeous apartment, but I was planning on getting a place of my own when our lease was up for renewal in November. But moving out is going to be costly, between apartment move-in fees and buying things for the new place (such as a couch, kitchenware, a dining table, etc.), so I was very torn about what to do. On the one hand, I'll be nearing 27 at that point and honestly, it is time for me to be on my own. But on the other hand, I really want to place a priority on getting rid of my debt and the responsible thing to do would be to postpone moving out. I talked it over with my mom and she basically laughed at me when I asked her if it was okay. (I think she likes me!) So the plan is to stick around for, really, another two years and save, save, save while doing so. I feel much less anxiety by putting this off until 2015.
So there you have it! It's not a complete plan for getting out of debt, but I want to take things from year to year, as so much can change in the course of a year, much less five years. Instead of putting together a long-term plan, I'm just taking it little by little. This year, I'm mostly concerned about starting an emergency fund and paying off my credit cards, and if I can get one school loan and start saving for moving costs in the meantime, I will be one happy camper.
Every month, I'll be updating this blog with my progress, including a detailed description of my budget and spending habits. I have ambitious (for me, at least) goals for my finances this year, so I'm going to have to really shift the way I view money and learn to live more frugally. It will be a good lesson, though, and one I'm glad I'm taking the time to learn now, not ten years down the road when I've developed even more bad money habits.
Here we go!
What's one financial goal you have for this year?