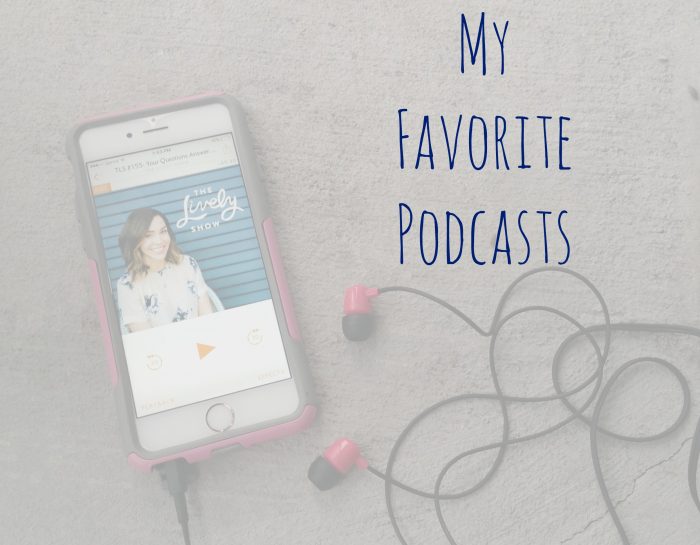 Every year around this time, I like to write about the podcasts I listen to. I wrote my first post in 2014, a follow-up post in 2015, and now I'm doing Round 3 today. Like everything in life, my podcasting tastes grow and change through the years. There are podcasts that were on those previous lists that I no longer listen to, podcasts I am still as obsessed with today as I was two years ago, and plenty of new 'casts I've added to my feed.
I'm not going to list every podcast I listen to (you can refer to my 2015 post for that – many of those are the same!), but I am going to list some of my favorites that I think are worth a listen!
For an inspiring podcast about living with intention… The Lively Show.
The Lively Show has been on my list every year because it remains my favorite podcast. It is the show that introduced me to this fascinating world of podcasts, and in the two-and-a-half years since it first aired, it has just gotten better and better. Currently, Jess is traveling through Europe so she's not interviewing guests, but instead giving us a real-time glimpse into what it's like to travel while trying to live life purposefully. I love this little step-back because these episodes are just as fascinating as her "normal" ones, but I am also looking forward to the interviews coming back. Jess is a fantastic interviewer, and I always come away with something to think about.
For a podcast about women's history, feminism, and pop culture… Stuff Mom Never Told You.
I feel like Cristen and Caroline are my friends because I've been listening to them for so long. I truly appreciate their viewpoints and the way they approach their topics. The episodes can range from silly (like pet names for significant others) to the serious (like rape culture), and I feel like I'm constantly learning from them and reframing my point of view.
For a podcast all about books and news from the publishing world… Book Riot.
Book Riot has to be one of the top book podcasts out there because it consistently puts out engaging and interesting episodes that dive deep into the heart of what's going on in the book world. I like how the hosts have very strong opinions and don't hold back their thoughts on any topic, which always makes for a lively discussion.
For a podcast that feels like a fun chat with your girlfriends… The Shepod.
This short-and-sweet podcast is just plain fun. It feels like brain candy, and I don't mean that in a bad way. I just mean that I know when I listen to an episode, it's going to be fun and light-hearted and easy listening. Each episode is about 30 minutes in length and it's one of those podcasts I can go to when I'm feeling down and it'll immediately lift me up. And Sara's laugh gives me life. 🙂
For a podcast that will cause your TBR list to grow… What Should I Read Next?
This newer podcast is basically a recommendation show in which the host, Anne Bogel, talks to a guest about three books he or she loves, one book he or she hated, and what the guest has been reading lately. Based on that conversation, Anne recommends three books. Talking about books that people have loved and hated can be tricky because books have such a personal and emotional connection. But there's no judgment – just deep, honest discussion about the books that have impacted us.
For a podcast that covers topics like race, gender, and pop culture in a seriously funny way… Another Round.
This podcast is my favorite, mainly because Heben and Tracey are outstanding podcast hosts. They are funny, self-deprecating, and intelligent. Their perspective on race, gender, and culture has seriously rocked my world and helped me to see things in a completely different light. They have fun segments that's just the two of them chatting and they also have some incredible guests. (I think my favorite interview so far was with Marley Dias, the girl who launched the #1000BlackGirlBooks campaign. She's more articulate at 11 than I am at 28! And I basically sobbed when this precious girl recited I Know Why the Caged Bird Sings. Pleeeeeease give that episode a listen.)
For a podcast that takes a meandering approach to interviewing inspiring guests… Real Talk Radio with Nicole Antoinette.
I love this podcast, even if Nicole doesn't follow all the so-called "rules" of podcasting. For one, her episodes are long – usually 2 hours in length. For another, she releases all of her episodes for each season on the same day. I never listen to all of the episodes all at once (usually one per week, like I would with a "normal" podcast), but I really love the meandering way she interviews. With such a long podcast, I feel like we get to see so many sides to a person's life: their business, their routines, their relationships, their mistakes, their successes, their backgrounds. Nicole dives deep and isn't afraid to ask the tough questions, which makes for heartfelt conversations.
For a podcast that interviews interesting guests about their thoughts on topics people normally shy away from… Death, Sex & Money.
Anna Sale forever has my heart! I adore this podcast and it's nice that it's usually never longer than 30 minutes. (Though sometimes I wish certain episodes were longer to dive deeper into the guests' lives.) Anna always has a good mix of guests: sometimes celebrities, sometimes not. And, as the title suggests, the conversation always centers around death, sex, and/or money. Anna is probably the best interviewer I've come across in my podcast listening!
Honorable mentions: Call Your Girlfriend, The Nerdist, StartUp, Stuff You Should Know, Starr Struck Radio, and Invisibilia
Do you listen to podcasts? If so, what's your favorite to listen to? If not, what's stopping you?! 😉