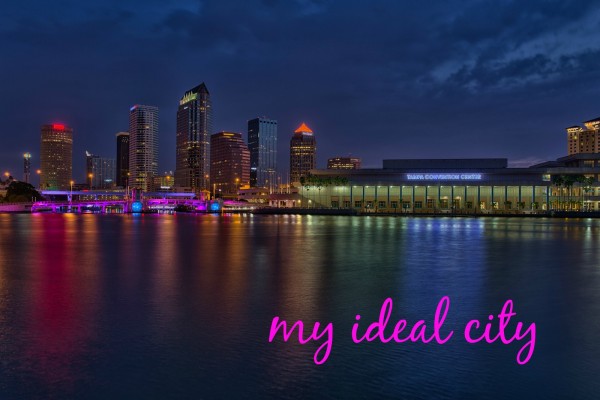 I have never seriously contemplated moving out of state. I honestly love where I live. I love the climate, love living so close to so many family members (most especially my mom and brother and nephew!), love the abundance of things to do. (The beach and the pool and the theme parks and the museums and the sporting events and the zoo and the aquarium and the local events…)
But, last week, I read Kathleen's post where she linked to a cool quiz about where your ideal cities are. The quiz is fairly detailed, but didn't take long for me to complete, and I was given 24 cities that fit my profile. While I do love living in Florida (nope, 80-degree Christmases do not bother me one bit!), it's not completely off the table of me moving out-of-state. It's not something that I see happening in the next five years, but you never know where life will take you.
When I think about moving to a new state, the number one concern I have is the climate. I have a very thin skin when it comes to cold weather, so I wouldn't want to move somewhere that experiences really cold, snowy winters (so, basically, the entire Midwest is out!). But I would like to live in a place that actually experiences seasons. Florida does not have seasons. We have hot weather and cold weather. Fall doesn't exist. So it would be nice to be able to live through the four seasons!
Another concern I have about moving to a new state is the cost of living. I definitely couldn't live somewhere with a higher cost of living (goodbye, California!). The Tampa metro area's cost of living is okay. It's not impressive, but it's easier to live on my modest income here than it would be in, say, San Francisco or NYC or Boston. So any city I'd move to, I'd want to be a similar cost of living, or better.
And, lastly, I don't think I'd like to live in a big city. The Tampa Bay area is pretty large (with nearly 3 million people residing in the metro area), but it doesn't have a big city feel. I live in a more suburban part of the area, and I like living in the suburbs, with easy access to our downtown areas, beaches, and other waterfront.
So, what were my results from the quiz? Here were the top five cities I was given:
1. Chapel Hill, NC
2. Durham, NC
3. Greenville, NC
4. Rocky Mount-Stony Creek, NC
5. Hampton, VA
Interesting, eh? Four cities in North Carolina in my top five! It ended up that I had seven total cities in North Carolina on my list, so that state is winning in regards to the most popular "ideal" state. I do think I would enjoy North Carolina, though. It seems to have a mildish climate and the cost of living is about the same as Tampa (but in most cases, even better!).
Also on the list, albeit in the lower spots, were four Florida cities: Clearwater (a local city that I may move to next year), Sarasota, Daytona Beach, and Bradenton. So it's good to know I am living in the right state!
All of my answers were on the East Coast (probably due to my low cost of living needs!) falling in North Carolina (7), Virginia (5), Florida (4), Georgia (2), Tennessee (2), Mississippi (1), Oklahoma (1), Kentucky (1), and South Carolina (1). What can I say? I'm a Southern girl to my core. And I am not ashamed of that one bit.
When I looked through my results and did a little research on the climates, costs of living, and other factors, here are the three cities I decided would be a good match for me:
Durham, NC
Savannah, GA
Charlotte, NC
This list isn't necessarily in order from most favorite to least favorite, but it's in order of how the quiz listed my ideal cities (2nd, 13th, and 15th).
Durham was my second most ideal match, and I think it's a really great option. The cost of living is similar to Tampa, it's a smaller city but close to a big city (Raleigh), and it has a mild climate. It would give me the seasons I want to experience, with not too harsh of a winter. It seems like such a pretty city, too!
Secondly, I chose Savannah, GA. I love Georgia. I've visited multiple times because I have family near the Atlanta area, and it's one of my favorite states. Savannah itself has a very low cost of living (the housing market especially!) compared to Tampa. While the climate is fairly similar to Florida's, I still added to my list because I really think I'd enjoy living in this city. It seems to fit my personality!
Lastly, I chose Charlotte, NC because even though a certain blogger friend of mine had a terrible experience living there, everything I read and see about the city I really like. The climate isn't too extreme, but different enough to give me a taste of actual seasons. It has a similar cost of living to Tampa, and while it's a bigger city than I'm used to, I still think it would be a fun place to live. Lots to do and see!
Okay, so this post was rather pointless because I'm not actually seriously considering moving to a new city anytime soon. But it was fun to daydream about it! Obviously, I'd never just up and move to a new city without traveling to the area and scoping things out first. But you never know where the future leads. All I know is that I'm leaving my heart open to the possibility, but also knowing I am building a beautiful life I really love in Florida.
Have you taken this quiz? What were your top five answers? If you could move to a new city, where would you move to?