October was a terrific reading month for me, which is great because September was rather meh. I read nine books and the book I'm currently reading (and will finish this weekend) will mark 100 books read in 2017! So, yeah, I'm going to blow my goal of reading 100 books out of the water. Now the question is, can I make it to 115 or 120 books read? That would be insane. I'm not going to go crazy trying to make that happen, but it'll be a goal in the back of my mind, for sure.
This month, I finally read The Hate U Give and it's officially knocked Me Before You out of the top spot as the best book I've ever read. It was incredible and I don't see any other book impacting me as much as that one did. It'll definitely be my favorite read of 2017, no doubt. Here are my reviews!
Top Read of the Month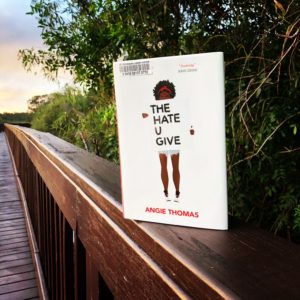 Title: The Hate U Give
Author: Angie Thomas
Published: 2017
Rating: ★★★★★
I can't believe it took me so long to read this book, especially since every person whose book recommendations I trust implored me to read it. It's phenomenal. It is so well-written that I cannot believe this is Angie Thomas's first novel. The writing is vivid and descriptive and I felt like I was right there in each scene. I was with Starr and Khalil and Maverick and Chris and Seven and Kenya. I was there with them. In this novel, Starr, a sixteen-year-old, is the only witness to her friend Khalil being shot by a police officer. And yes, Khalil is black and the police officer is white. (Ripped from the headlines, you might say?) The novel follows Starr as she tries to come to terms with not only her friend dying, but also the news and what people are saying both about Khalil and the police officer. This book made me so angry at times because it was so true to life. And it's a book I want every person who shouts "All lives matter!" or "Blue lives matter!" every time someone says "Black lives matter!" to read. Because those people? They don't get it. They don't understand the systematic racism that people of color deal with on a daily basis. The Hate U Give is the best book I've ever read, hands down. (Add to Goodreads.)
Top Romance of the Month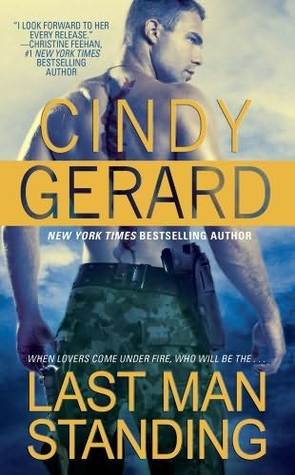 Title: Last Man Standing
Author: Cindy Gerard
Published: 2012
Rating: ★★★★★
This is the final book in Gerard's Black Ops, Inc. series, and it's such a good one. Earlier in the series, quiet and unassuming Joe and Stephanie, whose brother died a few years ago on an op that Joe and the rest of the Black Ops team were on, started dating. It was a secondary plot in another book, and so I thought their love story was complete. Apparently not, because Joe is back with his very own book where he tries to avenge Stephanie's brother's death. He winds up in a prison in Sierra Leone, and when Stephanie stumbles across a photo of him in a newspaper, she knows she has to go there to rescue him. What I loved about this novel so much is that Stephanie got to be the badass rescuer, not Joe. Of course, she was terrified, but what was more terrifying was living without Joe. And so she dug deep and found her inner badass. It's a terrific novel, so damn well written, and a perfect ending to this incredible series. I will be re-reading this series in the future, that's for sure. (Add to Goodreads.)
Other Notable Reads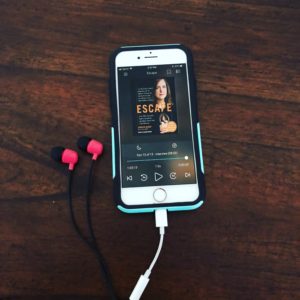 Title: Escape
Author: Carolyn Jessop
Published: 2007
Rating: ★★★★★
This is the second memoir I've read this year about a woman escaping from a cult and it blew me away just as much as the first one. This book follows Carolyn Jessop's story, a woman who escaped from the FLDS with all of her eight children. The book starts with Carolyn's early life in the FLDS and we learn about how she came to marry Merril Jessop who was many decades older than her, when she was just 18. Carolyn doesn't hold back when she talks about her life as one of Merril's many wives, the way she was treated by the other sister-wives (spoiler: it was not a pleasant situation), and all the ways in which the FLDS failed her. It's a harrowing book that gets to the brutal honest truth about what the FLDS is actually about and how poorly it treats its women. But damn, Carolyn is a badass and there is not ifs, ands, or buts about that. She is an amazing, resilient woman and I felt honored to read her words. (Add to Goodreads.)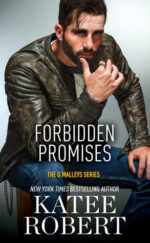 Title: Forbidden Promises
Author: Katee Robert
Published: 2017
Rating: ★★★★☆
I loved this contemporary romance from Katee Robert and read it in a day and a half. This is the fourth book in her The O'Malley's series and follows another sibling in the family: Sloan, who actually ran away from the family in the previous book. She's living next door to a man named Jude who seems dangerous, but Sloan can't take her eyes off him nonetheless. She's grown up sheltered, but something about Jude makes her think he could give her everything she's been looking for. I really, really enjoyed both Sloan and Jude's perspectives in this novel and loved seeing Sloan grow a backbone and start standing up for herself as the novel progressed. It was a fun reading experience, and I want to read everything Robert writes. (Add to Goodreads.)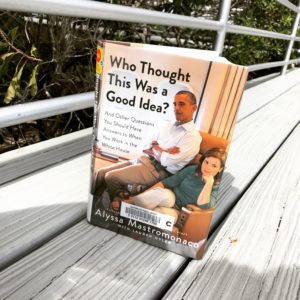 Title: Who Thought This Was a Good Idea?
Author: Alyssa Mastromonaco
Published: 2017
Rating: ★★★☆☆
I went into this book with high expectations, and the writing didn't meet them. I read so many rave reviews of this book, but it just didn't do "it" for me. I found the book to be disjointed at times, a slog at others. Mostly, I think what I wanted was a portrait of what it was like to work with Obama, but it was more of a memoir of Mastromonaco. Which is fine, but not what I wanted. And I thought it would be funnier because… of the title and the cover, maybe? It wasn't. It was heartfelt, but don't go into it thinking you're going to laugh. That's not what it's meant to do. But, hey, if I had to read this entire book only to find out that Obama called Mastromonaco from Air Force One to offer his condolences on the loss of her cat? Well, it was worth it because that story straight-up killed me. Tears, man. That Obama dude is one of the greats. (Add to Goodreads.)
Other October reads: The Way to London by Alix Rickloff (★★★★☆), Maybe in Another Life by Taylor Jenkins Reid (★★★★☆), Never Judge a Lady by Her Cover by Sarah MacLean (★★★☆☆), and Just One Night by Lauren Layne (★★★★☆).
What was the best book you read in October?