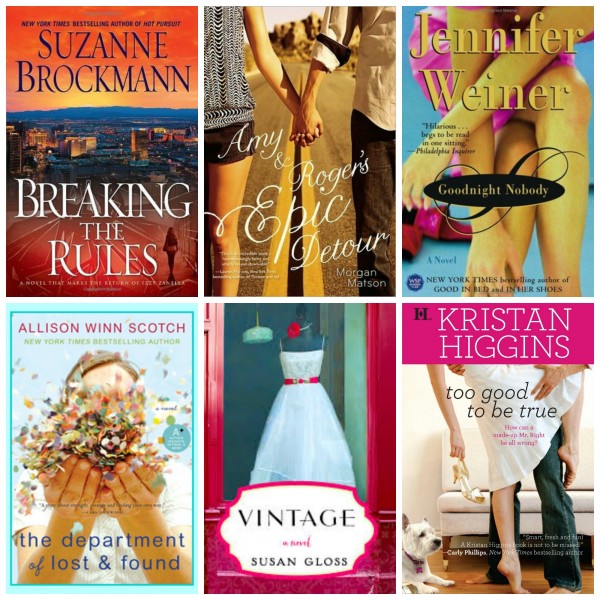 Ahh… November reads. Only one more month to try and make those reading goals! (Well, 21 days now.) This month, I read six books, bringing my total up to 78 books. I surpassed my goal to read 75 books this month, so now I'm shooting for 85 books. I'm not sure I'll make it, but I'm going to try! This month, my favorite book was Amy and Roger's Epic Detour and my least favorite book was Goodnight Nobody.
1. Breaking the Rules by Suzanne Brockmann – 4 stars
Another fantastic novel from one of my favorite authors. This is actually the last full-length novel in her series and I'm sad this is the end! I just love the characters in this series; they feel so real and alive to me. This is my second read of this series (though I hadn't read some of the later novels in the series), and I'm sure I'll be returning to it again because I adore these characters so much. How are they not real? Sigh.
2. Amy and Roger's Epic Detour by Morgan Matson – 4 stars
This book was so, so cute. It's YA lit and it was the November pick for my book club. And ugh! So cute. I never wanted this book to end because I enjoyed the characters so much. There are some sad moments (the main character's father has just died), but it's overall, an uplifting, happy, adorable novel. I want a sequel!
3. Goodnight Nobody by Jennifer Weiner – 2 stars
This book was such a struggle to get through. It had an interesting premise (a suburban mom tries to solve a murder in her neighborhood), but it just never really captured my attention. It was a book that was easy to put down and, more than once, I thought about abandoning it. But I pushed through, hoping it would get better. It didn't. Just… meh.
4. The Department of Lost & Found by Allison Winn Scotch – 4 stars
Gosh, I love this author. This is the second book I've read of hers, and it's her debut novel. And it is fantastic. I loved it so much! It seems like it would be a sad and heartbreaking book because the main character is battling breast cancer, but it's not. It's lighthearted, funny, uplifting, and hopeful. There are some sad moments, sure, but it all just flowed so well together. It all felt super authentic. I can't wait to read more books of hers!
5. Vintage by Susan Gloss – 4 stars
This was a really sweet novel and I basically read through it pretty quickly because it was a hard one to put down. It follows the story of three very different women,all in different stages of life, as they navigate through tough situations. It's a novel about friendship, about following your dreams, and about never giving up.
6. Too Good to Be True by Kristan Higgins – 4 stars
This novel was just plain fun! I always love the characters Kristan Higgins creates because they are just adorable. They are a bit quintessential "chick lit" characters, but she writes them in a way that isn't annoying or silly. They seem real, like someone you'd like to be friends with. I love how she focuses on family and what an important role they play in your life, even if they are overbearing and annoying at times. This was another fantastic novel by a fantastic author!
What was the best book you read in November? What did you set your reading goal at this year?