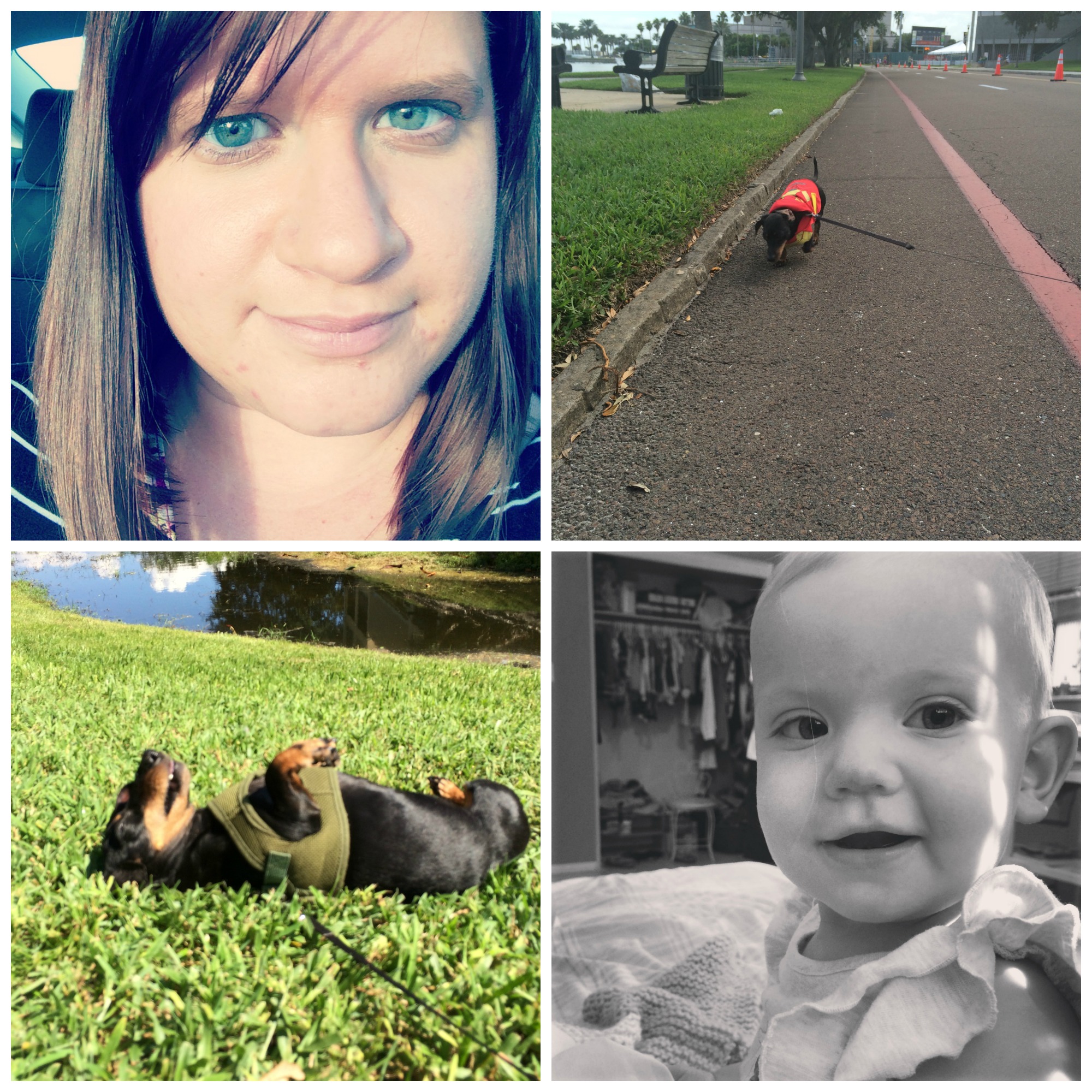 It's that time again! It's hard to believe that we're just two months away from starting a brand-new year, but we are. October was a solid month for me. Nothing terribly exciting happened, and I dealt with some trying issues, but mainly? It was a good month. I felt happy, peaceful, and centered. And I am so ready for what November is going to bring.
Let's recap October, shall we?
In October, I…
Lived on my own for nine days. And wrote a whole post about my experience. It was fun, it was restorative, and it let me know I am going to really enjoy living on my own.
Went brunette! I loved being a blonde, but it was time to go back to brunette. It took me a while to get used to the darker color, but I'm so happy with the change. It's a great shade and makes me feel a little sassy.
Walked a 5K with my mom and Dutch. We all had such a fun time walking a 5K towards the end of October. Dutch was a total badass and it was fun to cross the finish line with him.
Celebrated Mia's first birthday. My cousin's baby, Mia, turned one in October and it boggles my mind it has been an entire year since she came into our lives! She is such a precious love and I adore her to bits and pieces. Her birthday was so much fun, especially catching up with family we haven't seen in a while. And girlfriend attacked her smash cake like it was no big thing.
I closed #twookclub for good. I loved hosting #twookclub. It was a fun and I was able to read some really awesome books that I wouldn't normally have picked up because of it. But ultimately, participation was low and my heart just wasn't into hosting it anymore so I let it go. And I feel really, really good about it. (And everyone's comments about my hosting were much appreciated. Sometimes, I feel a bit like I failed by not being able to keep participation up, so your comments helped me to see it was just something that happened.)
Check-In on October Goals
Don't use my credit card. Nope. I was doing well, up until I had to pay almost $300 for a new iPhone which wiped out all my spending cash. While I managed not to use it during the first two weeks of October, I dipped into it for some expenses for the second two weeks.
Go back to a cash budget system for extras. Nope. I never got into using a cash budget system, and I really want to implement this in the coming year to help me be better about my spending.
Take Dutch to his first 5K and second 3K Pet Walk. Halfsies? We didn't end up making it to the pet walk (Mia's birthday party was on the same day) but we did participate in the 5K and had a blast!
Goals for November
Win NaNoWriMo 2013. I am just really excited to get started with writing. I am hoping to write 2,000 words per day and I know I can achieve this, because I am so thrilled with the story and getting it out of my head and onto paper.
Get my first tattoo. I want to do this for my birthday! I know exactly what I want, where I want it, and how I want it to look. So now I just have to go do it!
Start food journaling. I like the idea of food journaling more than I like the idea of calorie counting. Calorie counting feels so limiting and it doesn't reach into the true emotional aspects of food. And I am an emotional eater, through and through, so I think doing food journaling may be the key. I want to learn more about my eating patterns and how I feel before and after I eat food, less about how many calories are in a packet of crackers. We'll see how this goes.