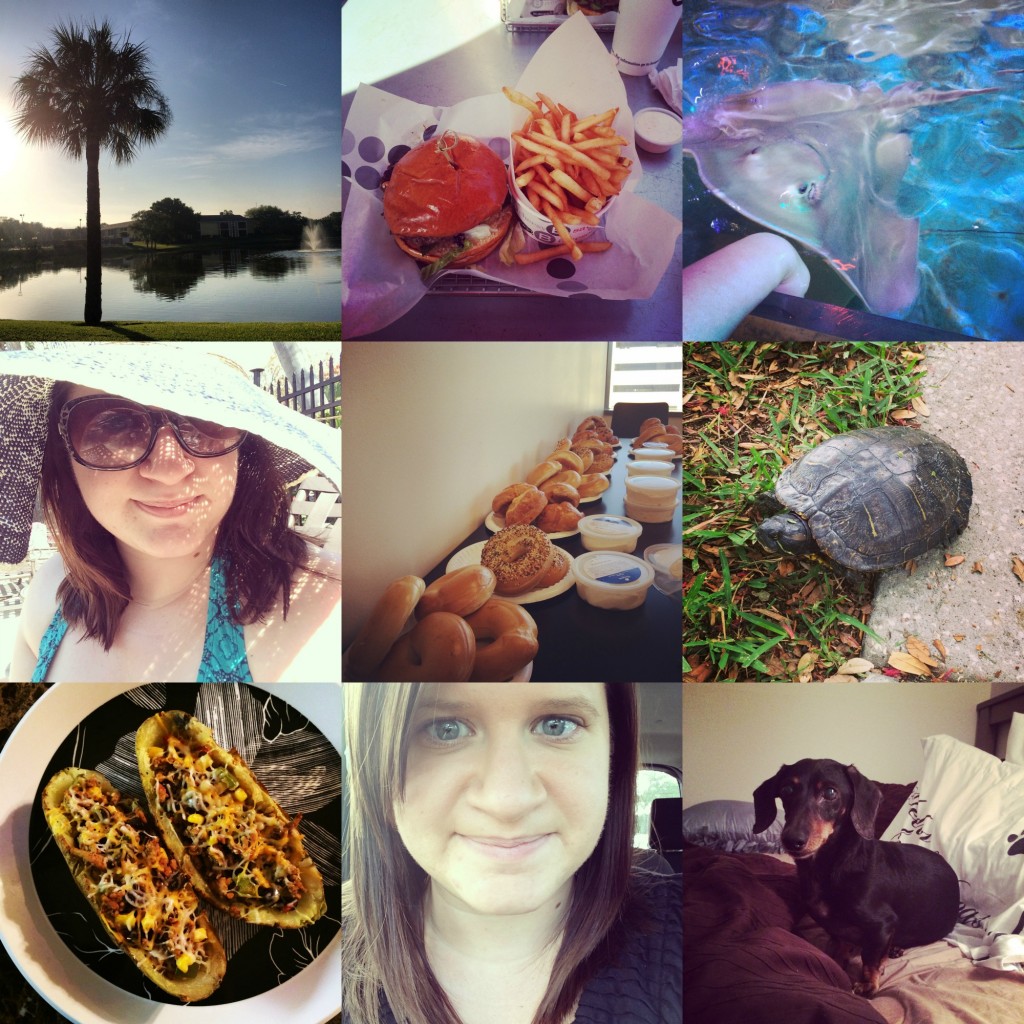 April was a fabulous month! I really, really enjoyed April. I felt really strong and in control. I started working out six times a week (the habit I wanted to change this month!), and it was a successful month of weight loss. Plus, it was just a good month. Nothing terribly exciting happened, just a bunch of little moments that, looking back on, make me smile.
The highlights from April were playing with sting rays at the Clearwater Marine Aquarium (and seeing Winter the Dolphin in person!), participating in Amber's DietBet and completely changing my healthy living mindset, and making my new favorite dish: Loaded Turkey Santa Fe Baked Potato Skins.
The low point of my month was when Dutch wasn't feeling well. Having a sick pup is so hard, and even though I knew he wasn't sick sick, just trying to rid his body of something, it was still a little nerve-wracking. Thankfully, he is all better and back to his old self.
The best thing I spent money on this month was a new pair of dress pants from Loft! They fit me like a glove, are the perfect size length-wise, and I feel really good in them. That's always nice!
In April, I wrote about the different ways I feel like an adult  and the different ways I still feel like a kid, and things I always do, sometimes do, and never do. This month, I also started writing weekly updates on my attempts with losing weight and eating healthy.
The progress I made toward my obsessive goal (losing 50 lbs!) was losing 6 lbs! I am hoping I can bring this momentum into May because April was a terrific month for weight loss and healthy living.
A habit I would like to change in May is getting to bed earlier. I've fallen into a pattern of staying up until 10:00 (I know, I'm such a wild party animal), and I really want to get back to my 9pm bedtimes. That means I need to close my laptop, turn off the TV, and be preparing for bed by 8pm so I can have time to read and slowly unwind before turning out the lights. I was doing really awesome with this before, but have fallen out of the habit.
I am looking forward to May because IT'S CRUISE MONTH! Five days, five days, five days! I can't wait!

1. Get to a healthy BMI and lose at least 40 lbs.
So far in 2014, I've lost a little over 8 lbs. I need to lose around 4 lbs a month to meet this goal. Still doable!
2. Pay off my credit cards, start an emergency fund (have at least $1,500 saved), and pay off one school loan. 
Credit cards are paid off; emergency fund is at $360. My upcoming cruise has stalled some money-saving attempts, but I am hoping to add at least $400 to my savings account in May.
3. Read 75 books, including 10 off this list.
I read 8 books in March, putting me at 27 books read this year, and around 3 books ahead of schedule. Wahoo!
4. Get a tattoo.
No progress made yet.
5. Travel to Miami to attend a Miami Dolphins game. 
No progress made yet. Waiting for tickets to go on sale! (But the schedule was released so I have a few games on my radar that would be fun to be in attendance for.)
What was the highlight of your April? What was the best thing you bought last month?