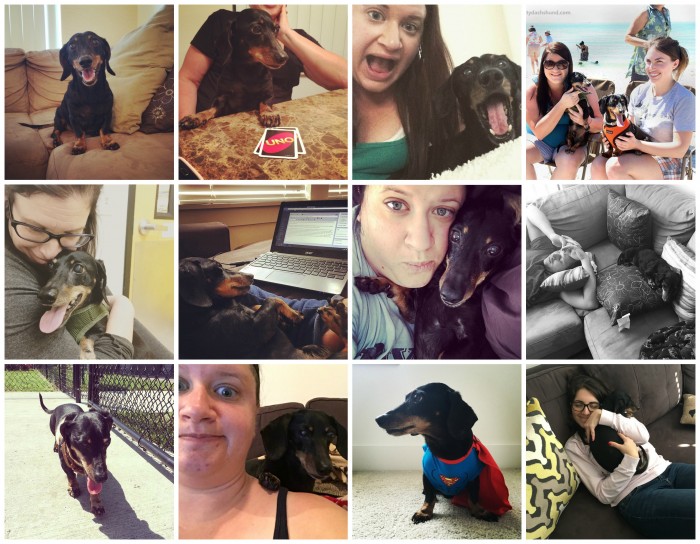 Today, Dutch turns fourteen.
I can't lie – at this stage of his life, I spend his birthdays wondering if he'll be around to celebrate his next one. It's morbid, I know, but that's where my mind goes.
He's fourteen, but sometimes, it's hard to believe he's this old because he's still got tons of energy, barely any gray hair, and all of his teeth (heh). He shows his old age in his grumpiness, which showcases itself mostly at night. He just gets a bit growly and mean if you try to disturb him while he sleeps… I can't tell you how many times my roommate or I have said, "Ugh, he looks so cute and I want to snuggle him, but I'm afraid he'll bite me."
He also shows his old age in his peanut-size bladder. Oy vey, is this the most annoying part of caring for Dutch. He requires upwards of seven walks a day because he just cannot hold it anymore. (And when I say "walks," this sometimes means just stepping outside to let him pee; it takes about five minutes.) I like to say he's very "IDGAF" because if he has to go and I don't let him out assoonaspossiblehurryupMomIneedtogoooo, he'll just pee on the floor. In front of me. Without a care in the world. How very dachshund of him!
Dutch went through a lot in this past year, so let's review:
He pinched a nerve in his back, which I think happened during a grooming appointment at PetSmart. For a few weeks, he was limping around and unable to run up and down our stairs.
He met his favorite celebrity dachshund – Crusoe! – and spent time carousing with other dachshunds at the beach.
He had a UTI that lasted for more than a month – poor dude! That was a really, really hard time for all of us.
He moved to Tampa and endeared himself to a new roommate, who loves him like a child.
He participated in his fourth Running of the Wieners race, and he placed second in his heat.
He was violently ill with a bacterial infection, which cleared up instantly after a day on antibiotics.
Age thirteen included a lot of visits to the vet, which is just par for the course with a senior dog. Still, I am hoping age fourteen is a lot less crazy and we can go more than three months between vet visits (praying hands emoji). Taking care of a senior dog can be very difficult, and I don't think I realized just how difficult until I moved out and am now taking care of him on my own. My roommate is terrific and helps me out whenever she can, and my mom is always around to help, but the truth is, he's my #1 responsibility now. And it can be hard taking him out seven times a day, especially since I live in an apartment and can't just let him out in the backyard. It also means I have to schedule my life around his walks – I can't be gone for an entire day unless my roommate is around to let him out. My life is scheduled in four-hour increments.
But if this is my biggest issue with Dutch, I guess we're doing okay. He's been tested for everything under the sun to ensure his incessant need to go out isn't an underlying condition, and it's not. He's fine – he's just old and now has to pee a lot.
It's hard to know how to put into words how much this dog means to me. He's more than a pet. He's my sidekick, my little buddy, my love. He's the best part of my day and he makes me the happiest.
Happy birthday, little old man! I love you to the moon and back.