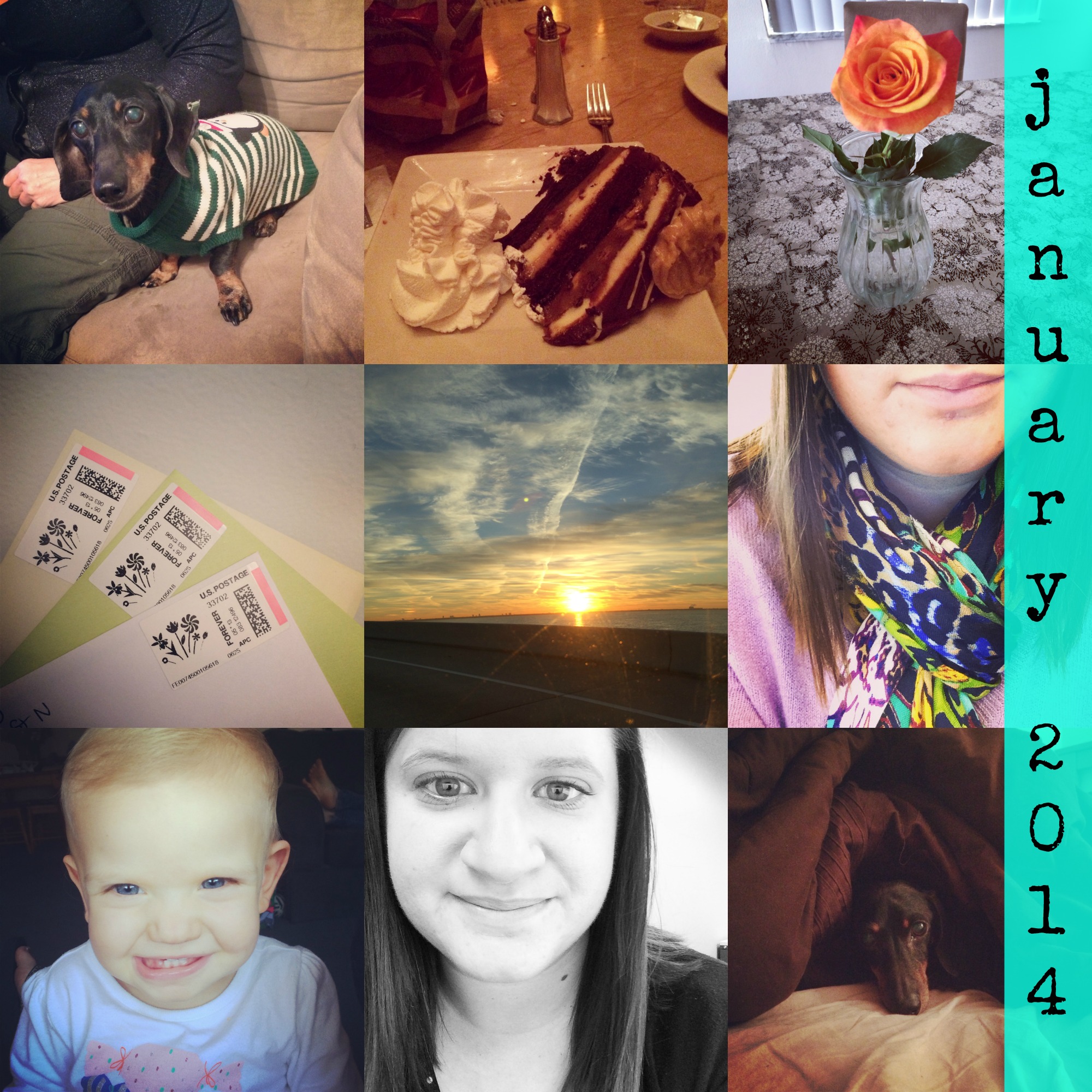 It's a new year and I have a new way to do my monthly recaps. Let's get this party started!
January was restorative. It was peaceful and calming, not filled with any big plans or things to do. It was month of relaxation, of settling in, and centering myself.
The highlight of my month was getting back into a healthier mindset, both in the way I ate and exercised. I'm back to long workouts 4-5 times a week, eating healthy around 70% of the time, and resisting sweets and soda when I can. It can be a struggle, but I'm really happy with the progress I made this month!
The lowest point of my month was watching friends going through the most traumatic and heart-breaking times any person to go through and not understanding why. I know life isn't fair but man, this is so unfair! My heart was absolutely shattered by the losses they experienced this month.
I was grateful for these things starting Best Body Bootcamp again, weekly check-ins with Allison, witnessing (once again) how utterly amazing the blog world is, falling into the world of Scandal, and lots of one-on-one time with my brother.
The best thing I spent money on this month was… new make-up. I've been using BB cream for over a year now, but have noticed that it's not providing great coverage anymore and leaves me shiny within a few hours. So I asked Twitter for their recommendations and it was Ashley, make-up guru extraordinaire, suggested Cover Girl's Outlast 3-in-1. I was nervous to go back to foundation after using a tinted moisturizer for so long, but I am loving it. It's light and airy, covers so well (way better than BB cream did for me), and keeps the shine away. I'm a fan!
In January, I wrote about my plans for getting out of debt, my obsessive goal for this year, my best job searching tips, and my thoughts on dating.
The progress I made toward my obsessive goal was I lost 5.7 pounds! My goal is to lose a little over 4 pounds a month, so I exceeded my goal and I'm very proud of myself. I just hope I can keep this up! I also started drinking water on a daily basis and following a healthy diet about 70% of the time. I could do a lot better, but I'm off to a great start!
A habit I would like to change for February is to cut down on the amount of sweets I eat in a week. I have a raging sweet tooth and honestly, there is very little in this world that makes me happier than freshly baked, slightly undercooked chocolate chip cookies. (I don't buy sweets when I grocery shop, but they somehow find a way into my mouth on an almost daily basis. Figure that one out.)
I am looking forward to February because I should get my tax refund, which means I'll (hopefully) be completely out of credit card debt by this time next month! February will be another quiet, calm month (this whole year will be, for the most part), but I'm hoping it will be another month of making major progress on my goals.
I also want to take the time to review the resolutions I set and do a monthly update. Usually, I do an update every three months but I'm finding I can easily forget about my resolutions if I'm not constantly thinking about them. Here is my progress report for January!
Lose 50 lbs. I lost 5.7 lbs this month! I need to average 4.2 lbs per month to meet this goal, so I'm off to a great start!
Train for a 5K. On hold for right now.
Pay off all my credit cards and stop using them. I am 14% of the way there. I wanted to put $500 towards my credit card debt, but it wasn't possible this month. The good news is that I didn't use my credit cards at all in January! That is progress, friends. MAJOR. PROGRESS.
Have $1,500 of emergency savings. I was able to put $100 towards my savings. Once my credit cards are paid off, I will be funneling most of my discretionary income towards this goal.
Complete Project 365. Doing very well with this goal! Sometimes, it's a pain, but mainly it's really fun to find a moment in my day to photograph. (Follow along on Instagram! The above collage is nine of my favorite photos from this month, something I'll be doing every month.)
Read 75 books (including 10 off this list). I read 6 books this month, which puts me on target to complete this goal. Doing well!
Visit NYC in the fall. On hold, may not actually get this one completed. (Debt goals come first!)
Travel to Miami to see a Miami Dolphins home game. On hold for now, until tickets go on sale.
Get a tattoo. Possibly will do this when I hit a certain weight. (30 lbs maybe?)
Start therapy. No progress made.
Go on more dates. I went on two in January! My goal is at least one a month.
Try yoga. Not yet. Maybe soon.
Read through the entire Bible. Doing well with this. I'm using the One Year Bible plan and it's really perfect for me. I usually read while I'm getting ready for the day. A great way to start the day!
Send snail mail to blog friends throughout the year. Yes! I sent out some cards this month. I'm hoping to keep this going throughout the year. Birthday cards, thinking of you cards, celebratory cards. I'm excited for this one!
Help my mom plan a beautiful wedding. No progress made so far. I need to get cracking! The wedding will be super small, private, and intimate, but we need to find a restaurant to do the reception at that offers great service, good food, and isn't too pricey. My goal for February is to find my mama a restaurant for her wedding reception!
What was the highlight of January for you? What's the best thing you spent money on this month? What's one thing you're looking forward to in February?