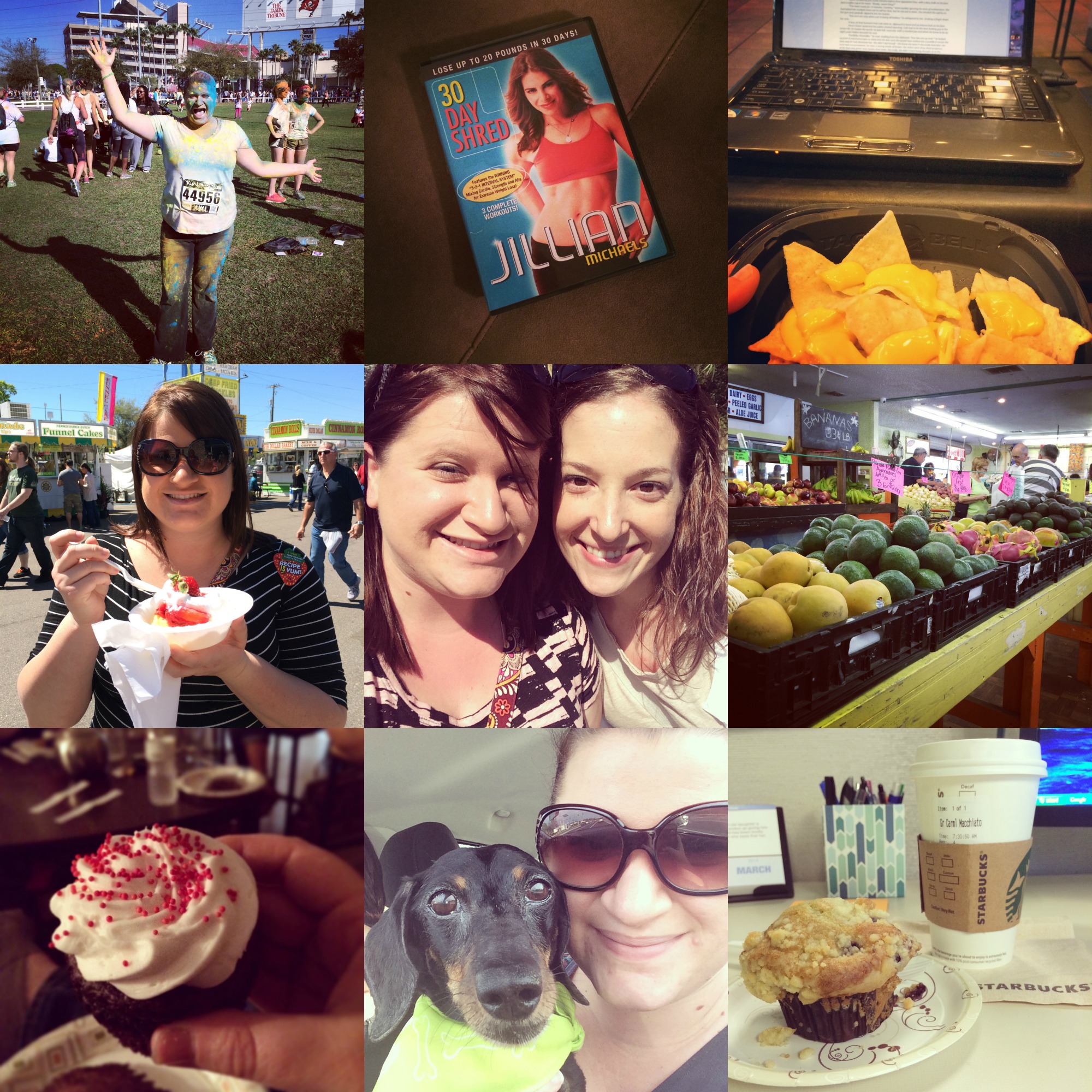 March was a bit challenging. There were some really great moments, and then some really low moments. All in all, though, it's one I can look back on and be happy with. It was just one of those slow, busy, tiring, enjoyable months.
The highlights of my month were participating in Run or Dye, meeting Lisa, and Dutch having a clean bill of health.
The low point of my month was dealing with a lot of panic and anxiety due to a work issue. I struggle with the Impostor Syndrome a lot and it reared its head big time, when I received feedback on something I wrote. It was a bit of constructive criticism and I probably took the email out of proportion and analyzed it more than it needed to be, but the fact remains that it really brought me down for a while and I had to deal with those feelings. I took time away to process and be with my thoughts, and I'm ending the month feeling much better than I did even a week ago. Growing pains, and all that jazz.
The best thing I spent my money on this month was another year of blog hosting through Whiskey Cloud! This is my second Whiskey-versary and I have been super, super happy with their service. I recommend them to anyone!
In March, I wrote about how I'm curbing my spending this year, my process for soothing myself when life gets overwhelming, and 10 things I like about myself.
The progress I made toward my obsessive goal was very little. In March, I had hoped to lose 10 lbs to put me on track to lose 40 lbs this year, but I only lost 3 lbs. Womp, womp. Just have to keep trying and figuring out how to make this work for me!
A habit I would like to change in April is being lazy about exercising. I know, I know – you can't outexercise a bad diet and I know there are some eating issues I need to rein in, but I also really want to establish a more regular exercise routine. Right now, I'm getting in about 3-4 workouts a week, around 30 minutes, which isn't terrible, but I know I can do much better than that.
I am looking forward to April because of the DietBet I'm participating in! I think this will be a great motivator for me to get serious about weight loss and drop more than a few pounds before my cruise in early May. (Still time to sign up – go here!)

1. Get to a healthy BMI and lose at least 40 lbs.
I need to lose 3.3 lbs per month to achieve this goal, which means by the end of March, I needed to be down around 10 lbs. Unfortunately, after losing 5 lbs in January, then gaining those 5 lbs back in February, I'm ended March only down 3 lbs from my starting weight. So I'm off track and in April, I need to lose 10 lbs to get back on pace to make this goal.
2. Pay off my credit cards, start an emergency fund (have at least $1,500 saved), and pay off one school loan. 
My plan has been to spend four months tackling one part of this three-part goal. My credit cards are paid off and now I'm working on that emergency fund. I haven't been able to put as much toward my emergency fund as I would like due to other expenses that popped up in March (more on that in my budget post on Friday!), but I'll get there. I'm still on track to meet this goal.
3. Read 75 books, including 10 off this list.
I read 8 books in March, putting me at 20 books read this year, so I'm a wee bit ahead of my goal, which is good.
4. Get a tattoo.
No progress made yet. Thinking about doing this as a reward for hitting a certain weight loss number (30 lbs, maybe?).
5. Travel to Miami to attend a Miami Dolphins game. 
No progress made yet, waiting on tickets to go on sale sometime this summer.
What was the highlight of your March? Any fun plans on the horizon for you in April?