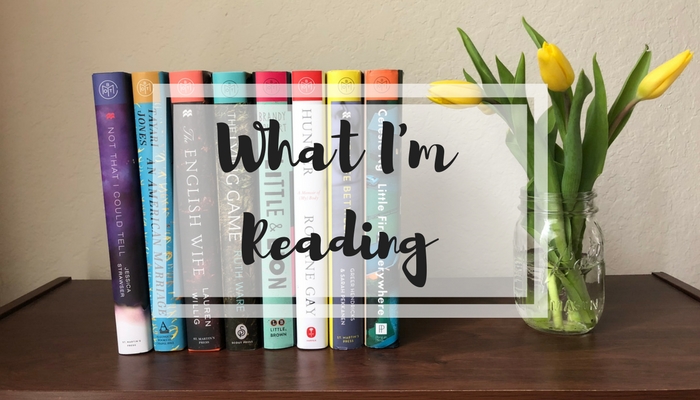 Happy Monday, friends! I am feeling good after a really relaxing weekend. There were plenty of naps, as well as family game night with my brother, nephew, and mom. We played a three-and-a-half hour game of Monopoly where we had these bouts of laughing so hard our sides hurt. I'm still thinking about some of the stuff that happened and giggling to myself! Those are the best kinds of nights. <3
This week, I finished reading one book, abandoned another book, and am currently in the middle of reading three books. The book I abandoned, Tell Me More by Kelly Corrigan, was a surprising one to me. I think it might be a case of reading a book at the wrong time, so I may try to pick it up at another time, but I wasn't connecting with it. The book also dealt with the death of the author's father and best friend, and I'm still heavily grieving my grandfather's unexpected and traumatic death, so that part of the book was too much for me to handle right now. I think I may try to come back to it in a year or so, when my grief isn't so raw.
Dozens of my friends have read this book and loved it. So many five-star ratings and exclamations of how sweet this book is. So, I picked it up thinking I was going to read a really sweet love story… and was sorely disappointed in it. It follows Lucy and Gabe, two people who meet in college (on 9/11, no less) and have an immediate connection with each other. But life has other plans and they don't meet again until a year later, and this time, their love feels fated. Unfortunately, when Gabe is offered a job as a photojournalist in the Middle East, they make the tough decision to break up because Lucy's life and her career in TV is in New York, and she's not willing to give it all up for him. What follows after that is thirteen years of pining, of desire, of love. Annnd… of really selfish decisions made on the part of both Lucy and Gabe. I found Lucy to be a difficult person to relate to and wanting to shake her due to the choices she made. Apparently, though, I was told that because I don't have a past love like the one Lucy and Gabe had, I couldn't understand why they felt this pull to one another. I call bullshit on that. I agree that there are just some loves we have where there's an intensity and a connection that cannot be explained or replicated with anyone else. But I don't agree that that means that love supersedes everything else. I don't believe that it gives someone permission to hurt people in their lives and to make selfish decisions that can have massive ramifications.
I'm currently reading…
> Josh and Hazel's Guide to Not Dating by Christina Lauren. Oh boy, do I love a good friends-to-lovers romance, and this one is delivering. I'm nearly finished with it (less than 100 pages to go), and it's been such a fun read.
> The Secret Life of CeeCee Wilkes by Diane Chamberlain, on audio. I've had this book on my Goodreads want-to-read list for years (originally added it to my list in 2013!), and I chose it because it was one of the few audiobooks available on Overdrive that didn't have a wait. I'm a few hours in, and it's so intriguing!
> The Grapes of Wrath by John Steinbeck. I was never assigned to read this book in high school, so I'm reading it to fulfill my yearly goal of reading four "classics." It's a pretty hefty book (nearly 500 pages), so I imagine I'll be sitting with this one for a little while.
What are you reading?