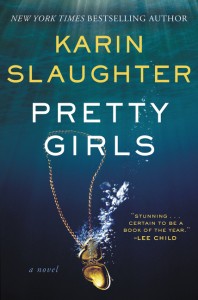 Pretty Girls is an intense thriller about two sisters who are on the hunt for answers to their questions.
Years ago, Claire and Lydia's oldest sister Julia disappeared from her college dorm, never to be heard from again. It was a tragedy that tore their family apart and nowadays, Claire and Lydia aren't even speaking to one another. Lydia is a struggling single mother dating an ex-con. Claire is a trophy wife married to a millionaire, and leading a charmed existence. But everything changes when Claire's husband is brutally murdered right in front of her.
After his death, Claire begins to encounter questions – from the police, the FBI, herself. Such as: how is their sister's disappearance connected with her husband's murder? In order to get some answers to their questions, Claire and Lydia form a wary truce and begin their own investigation.
It's hard for me to give a positive review of this novel, and I want to be honest with how I felt about it. This was one of the most gruesome and graphic novels I've read. I don't typically enjoy books that have such vivid depictions of torture, murder, and rape. Throughout the novel, I found myself reading passages with a sick look on my face. To me, this is not entertainment. This is not why I read.
Was the writing itself good? Yes. Would I have enjoyed the book more with less gruesome violence? Abso-fricken-lutely. The book had a fast-paced (if not entirely believable) plot and well-rounded characters that were interesting and frustrating and engaging. I just wish the author had toned down the violence because it was hard to focus on the plot with so many gory details.
I do want to mention that my views seem to be the minority, as I've read many glowing reviews of this novel. I think this book was simply a trigger for me, and I read it at a time when my emotions were very tender. If you've loved novels by Gillian Flynn and other such writers, I think you would enjoy this one (just be warned, it's a bit more gory than Flynn's novels). It's a crazy psychological thriller with a lot of different twists and turns.
Book synopsis (from Goodreads):
#1 internationally bestselling author Karin Slaughter returns with a sophisticated and chilling psychological thriller of dangerous secrets, cold vengeance, and unexpected absolution, in which two estranged sisters must come together to find truth about two harrowing tragedies, twenty years apart, that devastate their lives.
Sisters. Strangers. Survivors.
More than twenty years ago, Claire and Lydia's teenaged sister Julia vanished without a trace. The two women have not spoken since, and now their lives could not be more different. Claire is the glamorous trophy wife of an Atlanta millionaire. Lydia, a single mother, dates an ex-con and struggles to make ends meet. But neither has recovered from the horror and heartbreak of their shared loss—a devastating wound that's cruelly ripped open when Claire's husband is killed.
The disappearance of a teenage girl and the murder of a middle-aged man, almost a quarter-century apart: what could connect them? Forming a wary truce, the surviving sisters look to the past to find the truth, unearthing the secrets that destroyed their family all those years ago . . . and uncovering the possibility of redemption, and revenge, where they least expect it.
Powerful, poignant, and utterly gripping, packed with indelible characters and unforgettable twists, Pretty Girls is a masterful thriller from one of the finest suspense writers working today.
You can connect with Karin Slaughter on her website and Facebook. Her book is available to buy from Amazon, IndieBound, and Barnes & Noble. 
Click here to add this book to Goodreads!
I received this book for free from TLC Book Tours in exchange for an honest review. All words and opinions, unless otherwise stated, are my own.
No affiliate links were used in this post.
Do you have any trigger warnings when it comes to novels? If you've read this book, what are your thoughts?