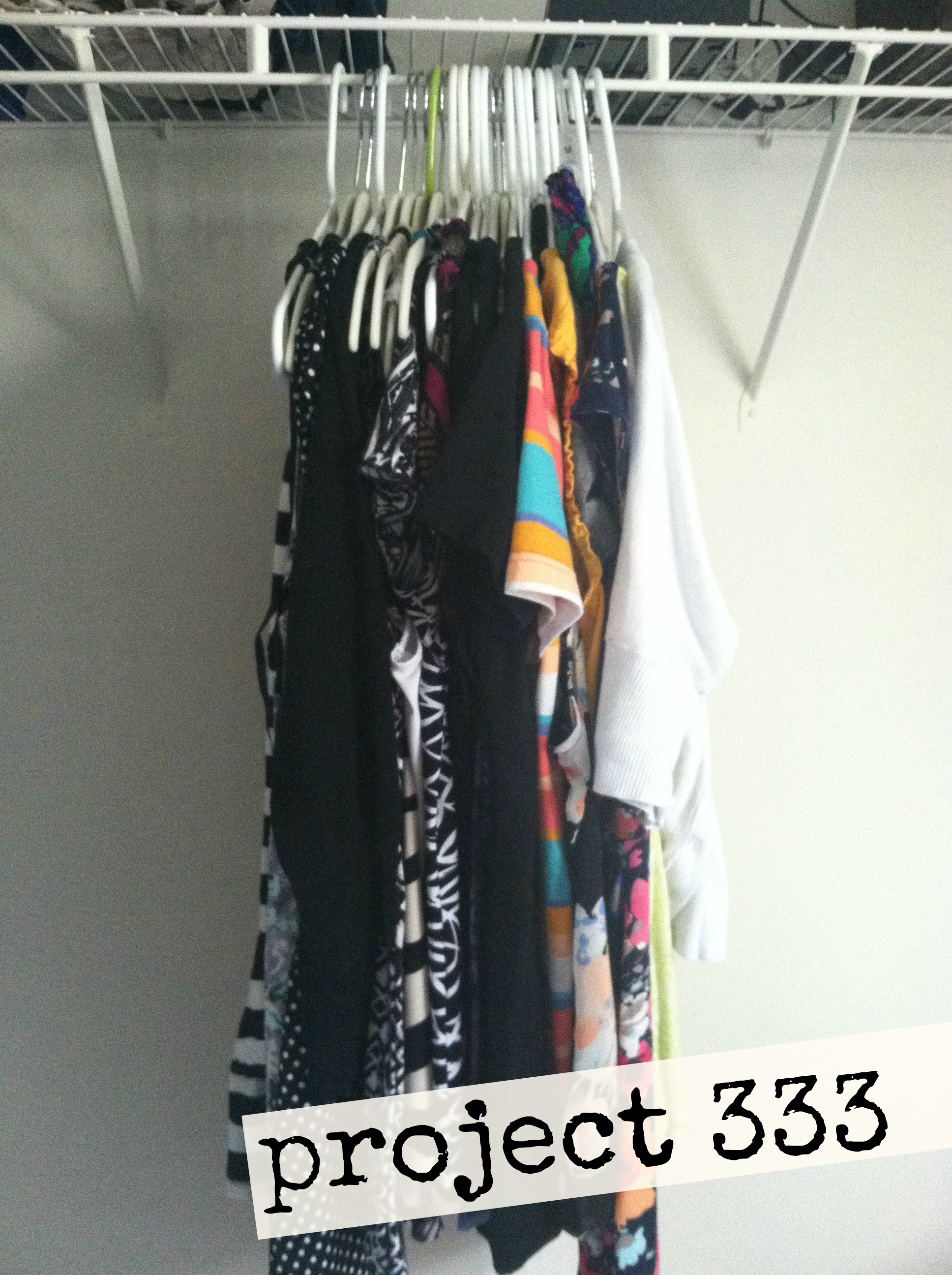 I am currently halfway through Project 333 and the challenge has been going so well for me so far. I've really loved having a more minimalistic wardrobe and what this challenge is helping me with is defining my individual style. Fashion has never been something I've had much interest in. I love and loathe shopping and to be completely honest, shopping isn't fun when you're overweight and unhappy with what you look like. Most times I go shopping, I leave the fitting room with my stomach in knots and feeling upset because everything I tried on didn't feel good on me.
I want to feel good in what I'm wearing and I know I have a ways to go before I can look in the mirror and be proud of my body. This post isn't about body image, though. It's about Project 333 and how I feel halfway into the challenge. The truth is, I need to begin to hone my style and find clothes that make me feel good now. Not thirty or forty or fifty pounds later. So this challenge is two-fold: to first, start minimalizing my wardrobe and getting rid of clothes I have no need for and don't make me feel great; and secondly, to begin to cultivate my own personal style.
While I wouldn't say I'm unfashionable, I also rely on comfort over style most of the time. And since my work is super casual (like, wear-yoga-pants-to-work casual), developing my own personal style hasn't been something I've made a priority. I get overwhelmed at the prospect of buying more clothes when my closet was already full, and again, it's hard to find clothes shopping fun when you're uncomfortable with your body and feel anxiety every time you step into a fitting room.
So how has Project 333 been for me so far? Have I begun honing my personal style through this process? I thought it would be easiest to do this in Q&A form, with questions I think some people might have…
Are you bored with your options?
Yes and no. There are some days when I look at my tiny selection of clothes and I feel so bored with what I have. I can usually go about 3 weeks before I have to repeat clothes. Usually, I love the simpler selections and the fact that I don't have a lot of options so deciding what to wear is a breeze.
Do you miss shopping for clothes?
Not really. I never enjoyed shopping that much before and it doesn't bother me much now. I've been to Target numerous times and I've never even ventured into the clothing section, and twice I've gone to Ross with coworkers and walked out with nothing in my hands. When I need to be strict about spending, I can be strict with myself. I'm sure I'll want to buy a few new things once the challenge is over, but right now, I'm doing just fine without buying clothes.
Will you continue with a 33-item wardrobe after the challenge?
I don't think so. I think I will continue to have a minimalist wardrobe and adopt the "one-in-one-out" rule of giving away an item of clothing when I buy something new, but sticking to just 33 items total for all clothing, accessories, and shoes is very strict so I will probably allow myself a bigger selection, but no more than 50 total items.
As far as developing my personal style goes, I am slowly figuring out what that is. I know I will always choose comfort over fashion, discount stores over the mall. I like dark colors and stripes and shirts that fit loosely (but not too loosely). Empire waist is not my friend, and dresses should be fitted (but not too fitted). I need a great pair of dark-washed jeans and a pair of black slacks that fit me comfortably (I have yet to find these, as being short and chubby makes everything difficult). If I can get away with never wearing high heels again, I am going to do so. I love t-shirts, hate tank tops, and will avoid wearing shorts as much as I can. I'm more preppy than bold, more casual than chic.
I'm eating up Jess Lively's "How to Build an Intentional Wardrobe" posts like candy and have begun the (slow) process of creating a vision of the type of wardrobe I love. (On Pinterest, no less. Here's my board. It's pitiful right now.)
What Project 333 has taught me is that I'm ready to start developing my style and that I don't need a huge wardrobe to do so. I can have a minimalist wardrobe, but still have a style that is completely me and feels good. I know how I dress has a direct effect on how I feel. I think it's important not to get too caught up in our looks, but I also think it's perfectly fine to take pride in our appearance and care about how we dress.
So the first six weeks of Project 333 have gone extremely well, and I look forward to what else I learn about my wardrobe and personal style in these next six weeks!
How important is your personal style to you?