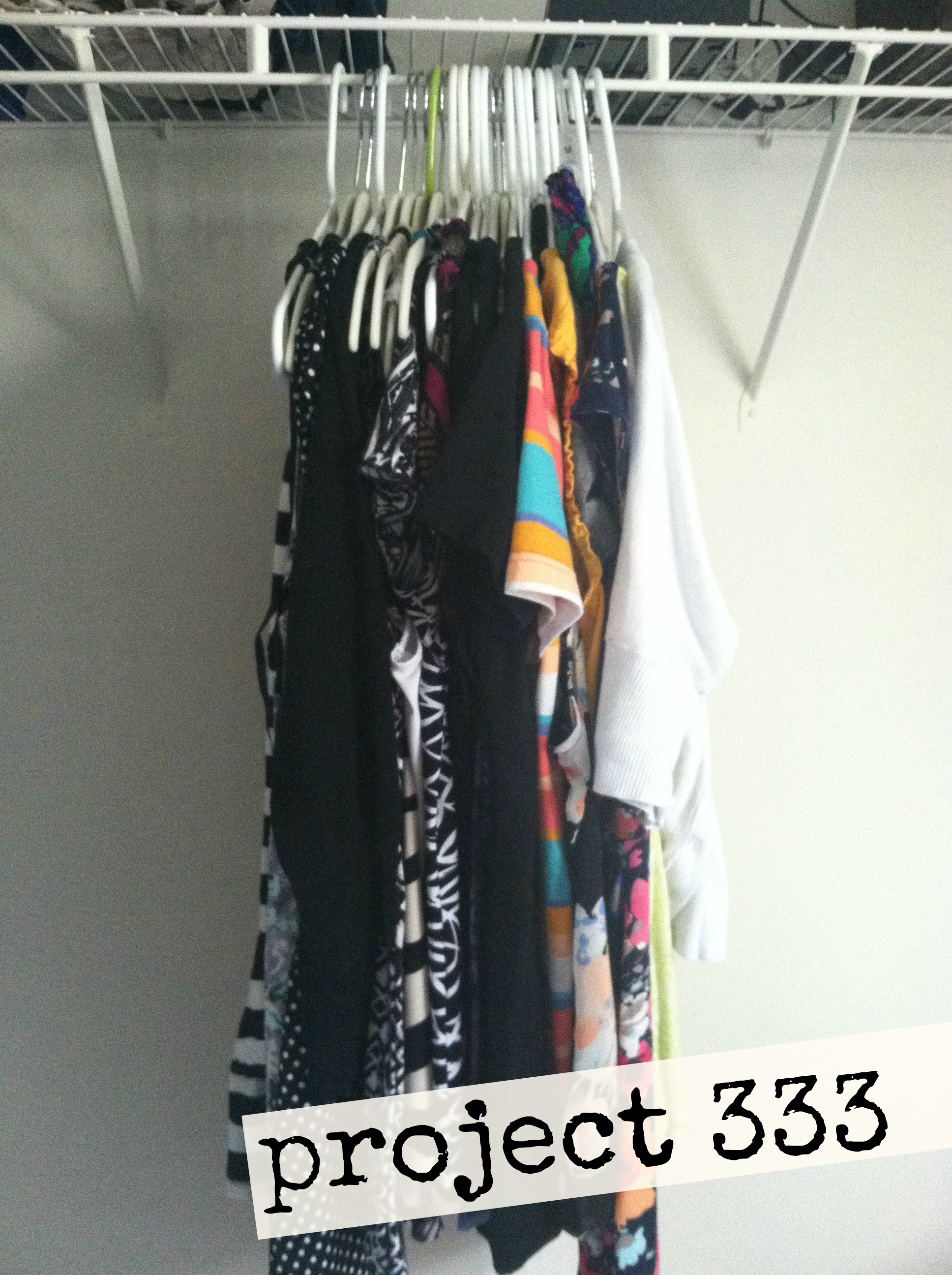 I am a wannabe minimalist. I crave space and openness and light. I don't want to see crammed bookshelves or overflowing closets in my home. I want as little room taken up as possible. I want to live with less, because that kind of life is appealing to me.
Over the past few years, I've bought into consumerism and the buy-buy-buy phenomenon. Shopping has become a drug to me, something to do to make me feel better. Yet I swipe that credit card and a hand grips me deep in my stomach. I don't get a high from shopping, I don't even particularly like it all that much. (Being at the mall usually puts me in a bad mood.) As much as having new things and wearing the latest trends is nice, it's not the kind of life I want for myself.
As I mentioned in a post last week, I long to live a frugal life because I want to. Yet I'm getting caught up in what I should be doing, not what actually feels right in my heart.
So, now, for the next three months, I am going to dress with just 33 items. Project 333 is a minimalist fashion challenge that urges people to whittle down their closets and jewelry cases to just the bare necessities. Undergarments, lounge wear, pajamas, and workout clothes are excluded but everything else is not. This challenge also includes accessories such as jewelry (though wedding rings and sentimental jewelry that you never take off are excluded), shoes, and any other accessories, such as purses, sunglasses, scarves etc.
I thought the easiest time to do this would be in the summer months, when all my winter clothes are put away and I'm already down to the basics of my wardrobe. (Always give yourself the best possible avenue to succeed when you're trying something new!)
Thankfully, I work in a very casual office where I could wear jeans, a t-shirt, and flip-flops every day if I wanted to. So this was very helpful when creating my new wardrobe.
When creating my 33 items, I made sure to pay attention to clothes that made me feel really good when I wear them and not frumpy or awkward. I knew I wanted the majority of my wardrobe to be shirts, that I don't wear jewelry at all, and would only need one purse throughout the challenge.
So, I whittled down and was left with the following:
– 2 pairs of jeans
– 1 pair of shorts
– 19 shirts (vary between dressy and t-shirts)
– 2 dresses
– 1 skirt
– 1 purse
– 1 pair of sunglasses
– 2 cardigans
– 1 pair of black flats
– 1 pair of TOMs
– 1 pair of flip-flops
– 1 pair of black sandals
I started this challenge last Tuesday and have already noticed a change in the way I view picking out what I'm going to wear for the day. My closet was never stuffed full, but there was always an array of dresses and skirts and nice tops and t-shirts and should I wear this cardigan with that shirt or should I wear those shoes with that dress… with a limited selection to pick from, it's made mornings go a whole lot smoother. I know the clothes that are hanging in my closet are ones that I love and make me feel good, so there's no trying on shirt after shirt and discarding it because I "feel fat" in it.
Right now, it's been nice. I enjoy the extra space in my closet and limited selection. And with the next three months being focused on not spending money on anything unnecessary, it folds in nicely with that (since I don't plan on buying any new clothes to supplement my wardrobe for the next three months).
It'll be interesting to see how this changes my outlook on how I want to present myself and dress on a daily basis. Who knows where it will go from here, but that's another blog post for another time. For right now, I'm going to enjoy my new minimalistic closet and the freedom I'm finding in less choices on a daily basis.
What do you think – could you whittle your closet down to 33 items to wear for 3 months? Have you ever participated in Project 333?