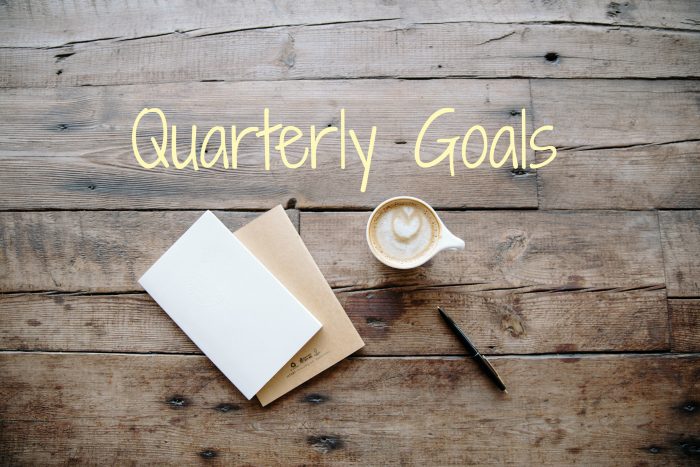 I go back and forth (and back and forth) on goal setting. Sometimes, I want to set monthly goals. Sometimes, I want to set quarterly goals. Sometimes, I think this whole goal-setting process is silly and don't want to do it at all. I know of only one other blogger who uses her blog to set goals, so it's not something I see very many people doing.
And yet.
I still love to use my blog to set goals. I still love thinking about what I want to accomplish. And I'm still way more likely to work toward my goals if I have to report back to my blog about my accomplishments later. (It's the Obliger in me.)
I never used to get excited about the start of a new quarter, but there's something refreshing about it. If we break our year up into three-month chunks, rather than looking at is as a whole or in monthly increments, it makes establishing goals and achieving them a little easier. There's enough time, but not too much time.
So, here I am. Setting quarterly goals once again. I know I'm a mess when it comes to how I set goals, so I thank you for bearing with me. I've broken these goals into six sections – finances, health, writing, nagging tasks, adventure, and personal habits – because these are the sections that I'm always striving for. Finances, health, and writing are the big areas of my life where I'm constantly looking to improve and take chances. Nagging tasks, adventure, and personal habits are areas for me to take care of things, step outside my comfort zone, and experiment with my life and see what happens.
FINANCES | Move my savings to a CapitalOne 360 Savings account.
HEALTH | Use MyFitnessPal to track my food and walk 5,000 steps a day.
NAGGING TASK | Finish my mom's wedding album (just in time for her second anniversary, oops).
ADVENTURE | Enjoy the hell out of Puerto Rico.
WRITING | Pitch an article.
PERSONAL HABIT | Stop snoozing my alarm.
Your thoughts on goal setting? Yay or nay?